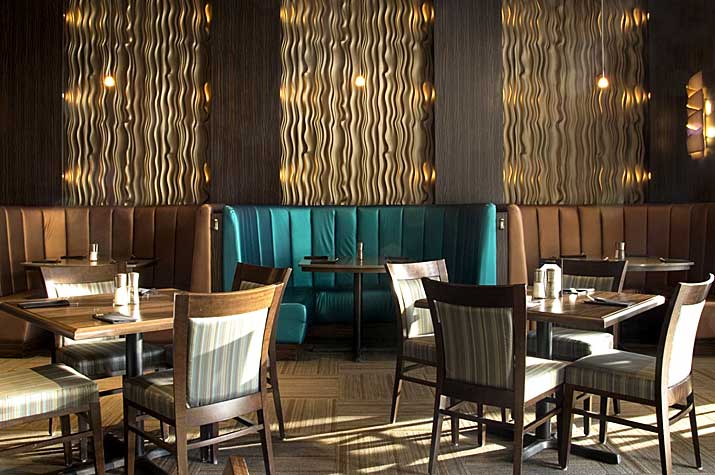 O Restaurant & Lounge revisited
Calgary has a diverse set of urban communities, most of which have the ubiquitous strip mall watering hole. In the South West community of Marda Loop, a reinvention of this paradigm has been established. O Restaurant & Lounge has set the new measuring stick for community saloons and the bar has been fixed high. Forget about the tacky wood paneling and say goodbye to the barkeep with the dirty towel slung over his shoulder. When you walk into O, guest are greeted by high ceilings, an inset wall fireplace and an elegant glass walled wine cellar. To say that the interior design was consideration is a major understatement. The goal was to give O a modern yet seductive feel and they were without question successful.
Choosing between the bar and dining room is a tough decision. The bar is perfect for getting together after a tough day at the office or as a venue to take in the big game via 3 massive big screen televisions. The dining room ambiance is outstanding for getting into intimate conversation and enjoying a drink or bite with friends. The service staff are approachable and ready to talk you through the menu or help you decide on a libation. Additionally, there is an in house sommelier to assist in navigating the perfect wine selection. I must admit that after being taken through a flight of reds, the wines by the glass were incredibly diverse and had a real focus on over delivering on value. For example, a bottle of red offered at $60 drank like a bottle that might actually retail for $60. This is a welcome approach that I hope more establishments adopt as consumers are becoming acutely aware of overpriced, under performing wines. There are also free corkage nights if you have a special bottle that you want enjoy with dinner.
Great food presentation
The menu at O has been recently subjected to a major overhaul by local chefs Michael Noble and Adam O'Brien. Instead of sticking with the usual ho hum approaches to lounge fare, they have switched gears in their gratuitous use of fresh, local ingredients for unique and exciting presentations. I hadn't experienced the food at O before but everyone in our party agreed that this new menu was colossal improvement over its predecessor. Here were the highlights:
Moroccan Lamb Flatbread – A great take if eastern spice is your thing. I was impressed by the supple and nuanced flavors of the lamb and spice presented here. I'd recommend it paired up with a IPA or lager for good measure as the heat from the spice does ramp up a little bit. – $12.00
Boar Bacon Flatbread – This was a real hit with the party as it was pure, unapologetic pizza goodness. This flatbread is a serious splurge with copious amounts of cheese and bacon providing a unique and tasty approach on this perennial combination. Besides, how often do you get a chance to eat boar, right? – $12.00
Oysters Rockefeller – These were simply magnificent with the salty freshness of the oysters combined with melted cheese presented on a crispy wonton. A symphony of flavors coming together, which could be complimented wonderfully by a crisp Sauvignon Blanc or glass of something bubbly. I am still dreaming about how good these were. – $15.00
Moules & Frites – No word of a lie, these were the biggest, meatiest examples of mussels I have ever seen in a Calgary restaurant.These mussels have to be experienced to be fully understood preferably paired with a beer of Belgian descent. – $15.00
Beef Short Ribs – A revelation, the ribs were executed perfectly in a delicate sauce which allowed the intricacies of the beef to stand out. These short ribs came at the recommendation of the sommelier and were fork tender. I would suggest a pairing of these ribs to a Cabernet Sauvignon or Brunello. – $32.00
As we left O, I lamented that at my neighborhood lounge / eatery, we are stuck with the status quo of menus filled with items like deep fried mozzarella sticks and have 10 different kinds of domestic beer on tap. The people of Marda Loop have a treasure in their backyard and the word is getting out to the rest of the city that the upscale, O experience is one that will keep you coming back for more.
O Restaurant and Lounge
2018 33rd Ave SW
403.249.0605

Adrian Bryksa

O Restaurant & Lounge revisited
by Adrian Bryksa
Published on January 19th, 2010
Where:

O Restaurant and Lounge
2018 33rd Ave SW 403.249.0605