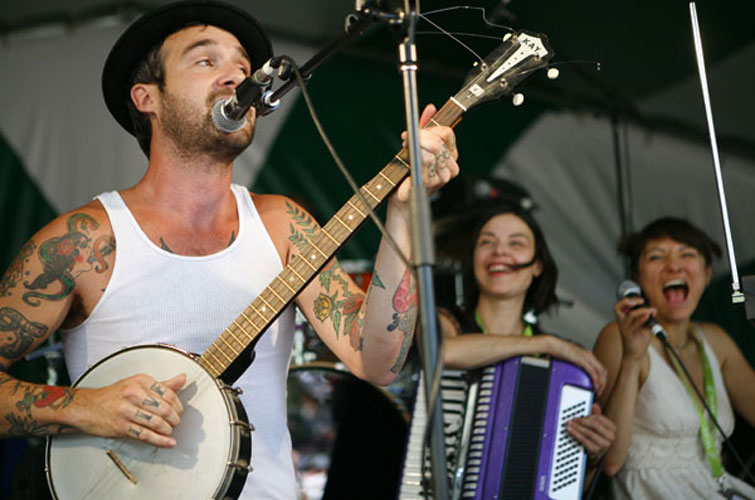 Calgary Folk Music Festival 2007
Time for a departure. When you have a local musical event 28 years running, it only makes sense for Reading For New Times magazine to provide our take on this institution. When you look up the definition of festival on the Web, you get a day or period of time set aside for feasting and celebration. The venue for this celebration was Princes Island Park in downtown Calgary; an urban oasis with towering trees and the Bow River flowing beside it.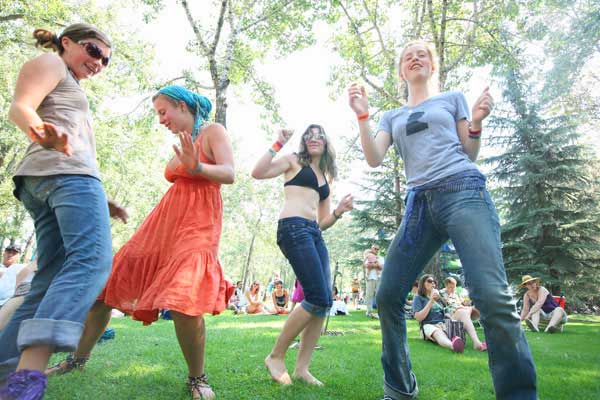 Dancing Folk – Photo: Dave Kenney
Musically, there are no guarantees, the festival organizers bring in an eclectic mix of over 60 Canadian and world artists representing various genres and sounds presented over 6 stages. I must admit, I hadn't heard of many of the artists before heading to the show. Thankfully, I was given a festival guide that talked a bit about the performers and the schedule and I had done some homework on a few of the artists. This can be the beauty of an event like this, you might come especially to see one performer and completely get blown away by another. Another unique aspect of this type of festival is that artists typically perform more than once as they may have a main stage presentation followed up by one or more side stages during the Saturday and Sunday of the festival. It is here that many festival goers think the best performances occur, as most artists group together to jam to create something more wonderful than the sum of its parts.
Some of the standout performances from this years folk festival came in my humble opinion came from City and Color and Rufus Wainwright. City and Color consists of Dallas Green, the tattoo adorned lead singer of the pop-punk Canadian band Alexisonfire. Green has a stunning, haunting voice and put on an outstanding performance. He seemed perplexed and humbled when the audience cheered for a second encore, and performed his critically acclaimed tracks "Coming Home" and 'Save your Scissors' along with unidentified Neil Young cover that was outstanding.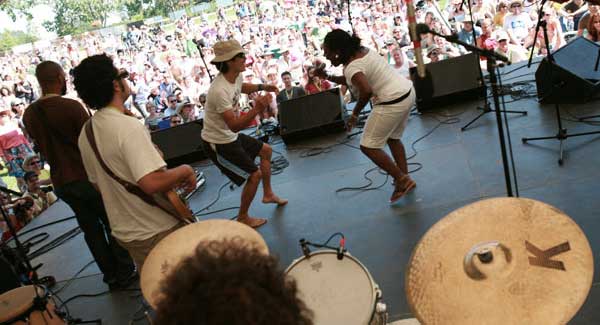 Sharon Jones & Dap Kings – Photo: Sarah Anderson
Friday night closed with Rufus Wainwright, who is supporting his recent offering "Release the Stars". I must say that I found the album a bit too theatric and a little bit excessive in its flamboyance, but when Wainwright performed the songs live, they were sped up and sounded more poppy over the baroque style they were recorded in . Wainwright is a talented performer and musician taking the stage in leiderhosen and thanked Canada for its tolerance and understanding. His efforts on 'Sanssouci' and 'Release the Stars' were highlights for this reporter.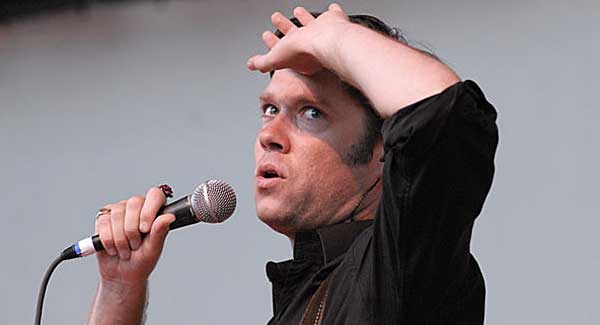 Rufus Wainwright – Photo: Lynne Hawrelko
When the music isn't interesting and you have stocked up on food and drink, a great pastime is to people watch. It always amazes me to look at people in various states of drunkeness, sunburntness or otherwise interacting with each other. Pretty much anything went keeping in mind this is a family event and I took particular interest in some mohawked kids dancing to the music of the Crooked Jades. It was also good to see the embrace of old festival friends as it becomes clear that people plan their lives around this event and make it a point to seek out each other to enjoy the festivities.
As if there aren't enough distractions, there were vendors selling a variety of folk art along with handmade boutique goods. One of the vendors that caught my eye was a wire sculpture artist. He produced an ultra cool life size wire motorcycle that looked as if it was ready to be driven. If you are looking to stock up on your hemp goods or some patchoulli scented item, some of these vendors could have surely helped you out. I wandered through without making a purchase.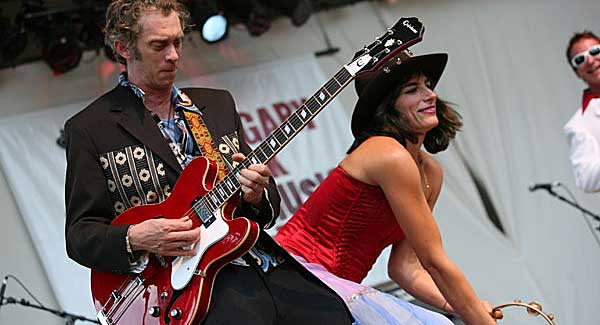 Squirrel Nut Zippers – Photo: Dave Kenney
There are over 1300 volunteers that give up a portion of their weekend supporting the Folk Fest. Typically, they are just like the regular goers with the exception of when the are needed. I received outstanding service from the media volunteers and had one more memorable experience. I was enjoying a performance on Friday night and all of the sudden one of the festival goers in front of me passed out and faell flat out on his back, narrowly missing me on the way down. Within seconds of his collapse, festival volunteers were aiding him, trying to revive him and figure out what happened. As we stood by, we were asked by the volunteers and eventually the paramedics as to what happened and once he felt able to, he was carted away for treatment. This gave me a sense of safety and community as the volunteers were professional and caring.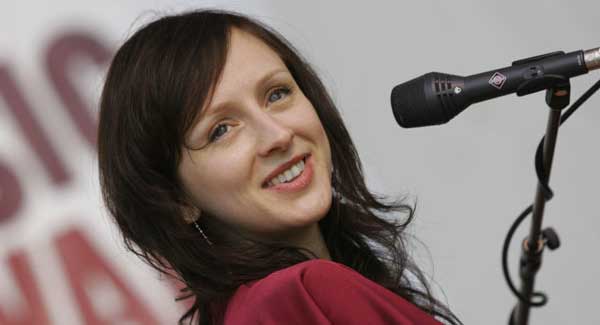 Sarah Slean – Photo: Dave Kenney
Gripes were few and there are always things to be improved on. Do not expect to try to enter the gates without at least 100 bucks in your pocket per day, as a ticket will cost you $45 (if there are any available), food will set you back between $7 – $12 per meal along with beverages and parking, If you want a souvenir, such as an artists disc, you can easily be walking off the island with a few coins left in your pocket. Bank machines were one resource that were few and far between. My advice is to be prepared to queue up for a machine that barely works at all. Also, I found the security around these machines were suspect at best. If you want your money to stay in your bank account, I would recommend using your bank ATM before arriving on site. To festival organizers, get rid of the gas powered golf carts and go electric. There is nothing worse than smelling gas engine exhaust when trying to enjoy a performance. Also, with regards to the Beer Gardens, the 5 dollar cost for a beer, wine or mimosa was to this writer excessive. With the amount of Big Rock sponsorship within the festival, I would think that a $4 beverage price would be in order. I think 5 beers for $20 after already paying $45 for daily admission would be appreciated by all.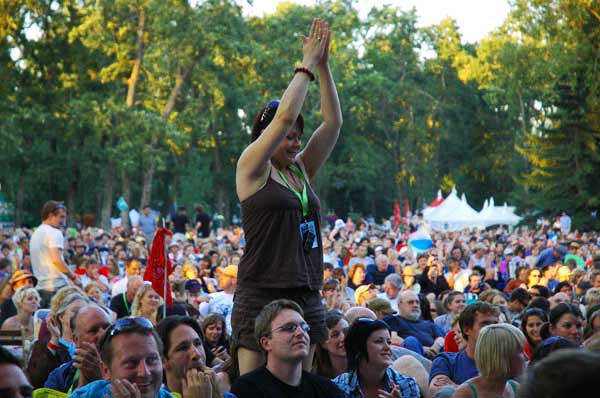 Photo: Sebastian Hanlon
A true Folk festival soldier comes prepared for anything. I must admit that the 4 days chewed me up and spit me out. Eventually the heat, sun, noise and the people got to me. Thanks to the good volunteer staff of the medical tent who provided me with some ibuprofen. You can expect the unexpected at the Folk Festival, but what you will get is some exposure to new music, a great party and a chance to experience a community that is 28 years young. Head down for a night, check it out and you might be pleasantly surprised.

Adrian Bryksa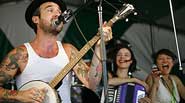 Calgary Folk Music Festival 2007
by Adrian Bryksa
Published on August 8th, 2007
When:

July 26-29th, 2007

Photos:

Cover: Doug Callow (of William Elliot Whitmore)

Website: