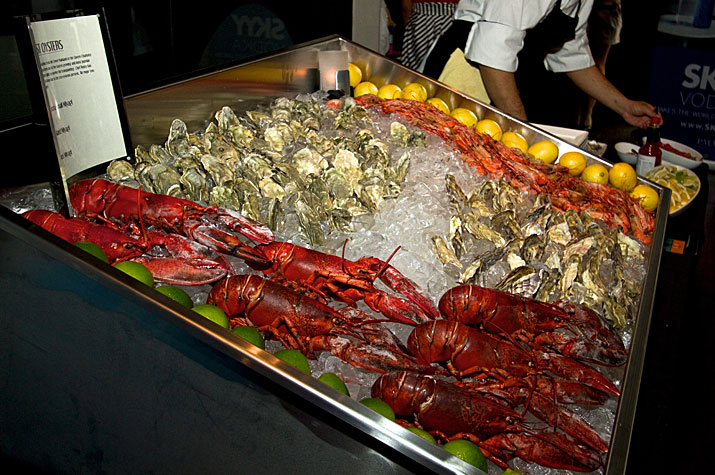 Summer Party Naval Styles at Seven RestoLounge
I must admit that I found the addition of Seven RestoLounge to the downtown Calgary scene a bit of a mystery. Here was another high end lounge / restaurant offering in a city already awash in premium dining options. Timing for its opening couldn't have been worse with Calgary not being spared by the global economic meltdown. Fast forward to 2010, Seven Restolounge has weathered the storm and is alive and seemingly well. We were invited to join them for their naval themed summer patio party. How could we say no to that?
While the party, sights and company were great, the highlights far and away were the seafood offerings. Seven along with their executive chef Garrett "Rusty" Thienes created a Crab and Chardonnay Shack that greeted party goers with mountains of oysters, spot prawns, shrimp and scallops. I must admit that I am a sucker for oysters and when I see them being shucked right in front of me, I tend to sort of well, lose restraint. The examples being served were from the west coast on Vancouver Island, more specifically Miyagi's from Denman Island and Nootka Sound. Oysters, like wine are affected by terroir and these Miyagi's flavour profiles ranged with one showing a cleaner, almost tropical profile and the other being more salty, marine driven. As I was devouring the endless plates put in front of us, I sipped on a glass of fine sauvignon blanc. Honestly though, what I really dreamed about was a glass of premier cru Chablis from William Fevre.
William Fevre Chablis Premier Cru 'Fourchaume'
Vintage: 2007
Region: Chablis, France
Varietals: Chardonnay
Alcohol: 13%
Price: $37.00
Eyes: Gorgeous clear greenish yellow hue with medium viscosity.
Nose: Bright green apple yielding peach with an undercurrent of mineral, marine air.
Mouth: Lemony citrus up front gliding effortlessly to a lengthy mineral, citrus rind finish. A well balanced wine whose acidity would pair perfectly with fresh seafood.
Along with the oysters, we were presented with a seafood sampler that was out of this world. Envision two inch thick scallops seared to medium rare that were so delicious, I could have eaten the entire platters worth. The spot prawns had an interesting sweet taste but being familiar with shrimps normal consistency and texture, they were a challenge to really enjoy. The snow crab was fantastic with its delicate meat showcasing a sweetness that for a crab lover is irresistible. Another chef Thienes creation on the platter was a Sambuca shrimp, that was rich, creamy and delectable all at once. If you are at all concerned about your cholesterol, you'll want to avoid it but as a one time splurge, it delivers.
Seven RestoLounge is going through a bit of a renaissance, with the promised delivery of a long overdue website and re-invigorated management team. Our group left the party with a positive impression of the food, service and the experience in general. Our experience dictated that Seven is more than just another similar face in a crowd and to us, it warrants giving it another chance if you weren't impressed the first time. If the seafood is any indication, it might just surprise you.

Adrian Bryksa


Summer Party Naval Styles at Seven RestoLounge
by Adrian Bryksa
Published on June 30th, 2010
Where:

Seven RestoLounge

Website: