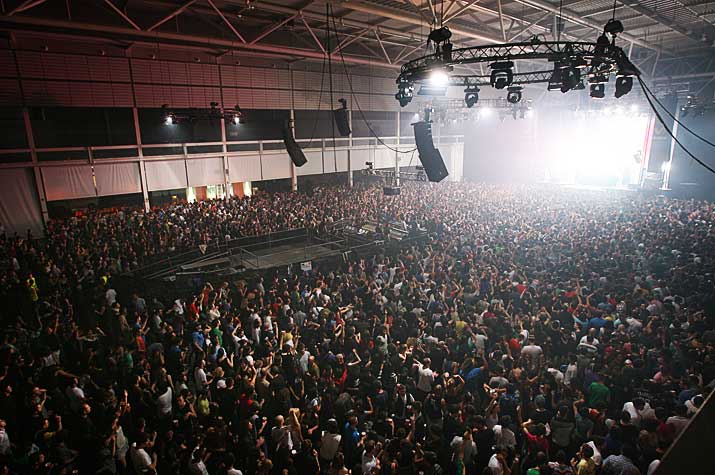 Sónar 2010 – Barcelona, Spain
Sónar is an electronic music festival of immense proportions. It is exhausting, but certainly worth the physical strain. One of the reasons that makes it so great is that it is split into two festivals. Sónar by Day offers relaxed vibes and experimentalism in beautiful city centre environs, set between two contemporary art centres. Sónar by Night is a full on clubbing extravaganza in a cavernous aircraft hangar on the outskirts of the city. Musically, Sónar works because of its mix of established and upcoming names. There are flavour of the month acts such as Roska alongside acts like 2020 Soundsystem, who've followed their own vision for years. Sónar also features a good mix of national and international talent. The hook up with the Red Bull Music Academy, who ran a stage during Sónar by Day 2010, brought a range of boundary pushing acts to the table.
Chillaxin' at Sonar by Day
What cannot be underestimated is the importance of the location of the festival. Barcelona is an exciting city and still undeniably rough around the edges, despite the Olympics driven gentrification of the 90s. In terms of people, Sónar appeals mostly to those in their 20s, 30s and 40s of European extraction. The festival attracts a lot of outsiders, but the Mediterranean, Spanish and more specifically Catalan nature of the people makes the festival what it is. Catalan people are passionate and this passion is infectious. The atmosphere is electric in Barcelona as a city and heightened by music and intoxicants at Sónar. Seeing people crying tears of joy was not a strange occurrence at Sónar by Night.
An indication of how Sónar has grown during its seventeen years of existence is the rise of 'Off Sónar' parties. Now arguably able to rival 'On Sónar', the city's clubs, beach bars, party boats and hotel terraces are booked up during the same period. Sónar 2010 saw label showcases from Bpitch Control, Ovum and 2020 Vision and parties with the likes of Robert Hood. The music focus away from the official festival was firmly on technoid grooves, with a smattering of dubstep and housier events. It proved impossible to do anything more than dip my toe into 'Off Sónar', whilst attending the official festival.
Caribou – YouTube
My Sónar experience started on the Thursday afternoon, where the vibe was chilled, the Estrella Damn beer was starting to flow and there was a faint smell of hash in the air. The surroundings were picturesque and the weather was beautiful. By early evening, there were queues for drinks, toilets and a people traffic jam when attempting to get into the Sónar Dôme tent to see Caribou. This Canadian act provided the highlight of Thursday's Sónar by Day, with their cool mix of guitars and keys. The bassy Odessa sounded particularly impressive and the atmosphere in the tent was infectious. There was plenty of time to sample Off Sónar on Thursday. My first stop was the breezy RA by Day party at Hotel Diagonal, where technoid grooves, northern European accents and sunglasses ruled. Thursday night involved a visit to the atmospheric Razzmatazz. Here, Tiga and Boys Noize provided synthilating grooves and local spinner Vicknoise played an excellent set.
Delorean – YouTube
Friday's Sónar by Day was altogether busier than Thursday, with crowds stretching back from the main stage. Here, Sheffield's Shake Aletti provided funny cosmic pop and tie dye clothing. New Young Pony Club (YouTube) proved their worth as a synth guitar band with the dynamic Chaos, but also showed they are a one trick pony. Delorean did their bit for Spain with ethereal melodies and intense synth laden grooves. Elsewhere, I enjoyed wandering through a courtyard that offered various treats and a quick peruse of the technology driven Sónar Pro area.
Air – YouTube
Sónar by Night provided an altogether different experience. Musically, it retained the wonderful diversity of its daytime counterpart, but provided a darker musical palate. Considering the huge size of the venue, it is surprising that the atmosphere was intense throughout. The music kicked off at 10pm, but as with most Spanish places, it didn't get going until 1 or 2am. Friday's Sónar by Night proved to be the best of the two after dark experiences, with a range of acts thrilling the huge crowds. French band Air kicked off the main room with their trademark expansive sounds and a mind boggling visual show. Hot Chip had clubbers crammed into the SonarPub arena and it was worth the crushed limbs and nearly lost companions to hear an epic version of One Life Stand. As expected, LCD Soundsystem rocked the main stage. The essence of their appeal is an ability to combine fragile beauty with gutsy rocky-electronics and they achieved this with winners such as a bongo heavy version of Pow Wow.
LCD Soundsystem – YouTube
At 3am, the Sugarhill Gang brought their old school hip hop showmanship and good times to the SonarLab stage. This provided an excellent respite from electronic heaviness, with teasing versions of familiar fair. Highs included Michael Jackson's Billie Jean and their theme song, Rapper's Delight. Germany's Booka Shade showed how much you can do with a drumkit and keys in SonarPub, as they let rip with a magical set of techy yet emotive tunes. As expected, a crazy drum version of Body Language got the best reaction from the crowd.
Hot Chip – YouTube
Closing the proceedings were Mehdi of French label Ed Banger and Riton as Carte Blanche. Knowing exactly what their audience demanded at 6am, they provided a truly life affirming experience as the sun came up. They dished out electroid, acidy and techy house grooves, where highlights included Crystal Waters' gorgeous Gypsy Woman and Hardrive's powerful Deep Inside. A squashed train ride back to central Barcelona put a slight dampener on spirits, but it was worth the suffering.
Uffie
The fatigue had set in by Saturday, but I managed to rouse myself for Sónar by Day. Uffie's performance on the main stage was a little underwhelming, proving that charisma on record does not always translate on stage. The messy electro-discoid-hop of MCs Can Kiss was easily the best moment of her set. Over at Sónar Dôme, Scottish DJ Jackmaster provided the high point with a varied set. Winning tracks included Model 500's scary No UFO's, and Thomas Bangalter's tough What To Do. Festival goers streamed into the tent during this excellent display from Jackmaster, which was one of the most clubby experiences of Sónar by Day.
Matthew Herbert (left) – DJ Hell (right)
Saturday's Sónar by Night was the turn of the big hitters. Musically less thrilling, there were still some impressive performances. It was worth catching Roxy Music to hear an awesome version of Love Is The Drug. Matthew Herbert's One Club was an unnecessary venture into self-involved electronica, where complicated sound patterns and crazy shrieks ruled (YouTube). The Chemical Brothers drew a huge crowd, filling the colossal mainroom with their trademark epic synth laden sound. Personally, I found their performance a little soulless, but it is difficult to deny the intensity of Hey Girl, Hey Boy in such surroundings. German stalwart DJ Hell provided my favourite moments of the night, spinning a set of the typical house and techno beloved of his Gigolo imprint. His 6am set satiated the crowd disappointed at how close we were to the end of the festivities. The high point of his set was a version of the spacey House Nation. This was a fitting end to an amazing Sónar festival.
Chemical Brothers – YouTube
From the beautifully chilled vibes of afternoons at Sónar by Day, to the intense clubbing experience at Sónar by night, this festival offers so much. I found it impossible to attend everything I wished to, but still had a very enjoyable time. I had to nearly become nocturnal in order to cope with the night time intensity. I would not hesitate to visit Sónar again in the future, if given the opportunity.
*You can find more of Jon's own photos of Thursday, Friday, Saturday and a few more on flickr.

Jon Freer

Sónar 2010 – Barcelona, Spain
by Jon Freer
Published on July 9th, 2010
Featuring:

Lots and lots and lots!

When:

June 17 - 19th, 2010

Where:

Barcelona, Spain

Photos:

Compliments of Sonar

Website: