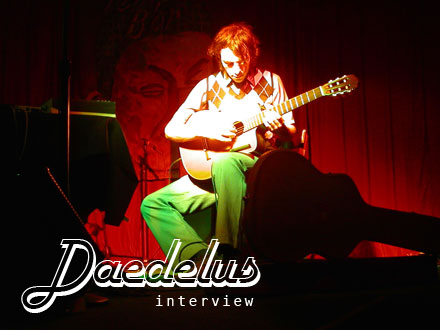 Interview with Daedelus
Daedelus, the eccentric, electronic maestro of the Pacific coast returns with "Exquisite Corpse" his most complete and baffling record to date. One of LA's most daring new artists this young musical romantic weaves together a true "love-sound" that falls between honeyed melody and avant-electronics. Daedelus chops and splices disparate acoustic sources into incredible works of staggering resonance. Contrasting IDM styled cut-ups with childlike arrangements from the 30's and 40's, he has refined a style that has no imitators. Exactly the kind of music you'd expect from a scarily well-connected hip hop nut who happens to dress in Edwardian clothing and names himself after an Ancient Greek Legend.
The album title, as well as the idea, is taken from the old Surrealist game in which a group of random French crazies and intellectuals write down part of a sentence, fold the page and pass it on to the next – 'Consequences' without the consequences. Or if that doesn't make sense, how about this? "A kind of collective collage of words or images" ("Dada & Surrealist Art" by William S.Rubin).
And there's definitely a collective at work here, Daedelus' trademark musicality running up against a slather of maverick talent from the worlds of hip hop and beyond. The performances range from traditional (MF Doom, Sci from Scienz of Life) to poetic (Mike Ladd, CYNE, Laura Darling) to experimental (Prefuse 73, Hrishikesh Hirway of The One AM Radio, TTC, Jogger), but Daedelus moulds the seemingly disparate elements of sound with a single-minded vision.
With a body of work including releases through Mush, Plug Research, Hefty, Tigerbeat6, and Eastern Developments, Daedelus' rep is long since established. At last he has given us the record about which journalists can use the word "surreal" without being lazy. And for this alone we must all be thankful.
We recently had the chance to meet up with Daedelus, and here's what he had to say..
---
David Gluzman: Firstly thank you for taking some time out of your schedule to talk to us today. Secondly, wow! You're upcoming album, "Exquisite Corpse" sounds super tight. Care to tell us about how it all came together?
Daedelus: The process began with a mandate to try and seek out co-conspirators from outside Los Angeles, I've the chance to work with some amazing talented musicians, but we all must move on at some point… So I contacted people I've respected and I thought could possibly happen, as it turned out I've gotten a dream roster for the record. So that became the heavy direction of the record (an exquisite corpse so to say) with my own solo songs being a contrast to the confusion. Ninja came on board along with Mush in America and insured this wouldn't go unheard, luckily for me.
DG: You've worked with some pretty high profiles such as MF Doom, but I was really excited to hear "Drops" where you collaborated with CYNE (one of my personal favorites from the underground), what was it like to work with them?
D: Fantastic! Michael (producer from CYNE) is a friend of a friend, but I first heard them while in Japan where they have a particularly strong following. They're mix of strong lyrical content and smooth dope beats is pretty intoxicating so they were high on my list to seek out. They killed "Drops" with a complete remix, which we then sent back and forth a bit making it more of a collaboration. Look out for more work together in the near future for sure.
DG: Anyone in particular out there that you haven't worked with that you are just itching to hook up with?
D: I don't want to jinx the future chance for some names, but I do enjoy working with others. As an often solo musician it's so refreshing to have someone else to share the chaos of creativity with. Be assured I'm going to cast my net wider when I next get the chance to release.
DG: Daedelus is well known as a Ancient Greek Legend, but how would you describe your style of music?
D: It does relate, I believe my efforts are similar in the sense I'm trying to invent something (like Daedalus with his wings of wax or labyrinth), trying for an emotional state. I don't have the right words for what genre is closest related, hoping that it'll make sense in the confines of HipHop-tronic-disco-nujack-swing or classical, someday the right words will come.
DG: I'm pretty sure I heard some samples taken from Wagon Christ in there somewhere.. What sort of process do you have towards production?
D: Funny that, A complete accident I only discovered later, I guess we have that record in both our collections (like a good confidant I won't give any names away). As for a standard process it really varies, I do often start with a melody or musical figure, layer it with a beat, or perhaps a sample, or other complications, and then just build, at other times I'll make some dense right away and then chop away at it endlessly until it's ruble. I'm not someone who's confident when the process is complete it's all trying for a moment somehow.
DG: What's the first record you've ever purchased?
D: First record with my own hard earned money would be Acen's "Trip to the Moon Part 1". First cd Fine Young Cannibals "FYI" (not sure if I've got that name right). I grew-up in a home full of music so it took extra time for me to really start collecting, now I'm on something like 10,000 vinyl, it's a problem I'm working on thru meetings and help-groups.
DG: If you could jam with anyone, regardless of when they lived, who would it be?
D: Eric Dolphy, perhaps Eric Satie, maybe the BBC in-house Orchestra circa 1960, gosh all of them together on a ballad, I've got to work on making that happen with a time machine or something.
DG: What would you call hip hop's greatest moment to date?
D: It's a continuing movement, but to my mind it's the release of "Planet Rock", it brought the whole world's attention on a completely vital moment in New York, thus ensuring everything since would be innovative and moving at it's best in HipHop. Can you imagine if it was all sunshine like the Sugar Hill Gang, all party vibe with no consciousness?
DG: Headphones or Earbuds?
D: Heads for sure, but can't deny the Ipod even if they misfit a bit.
DG: What are your thoughts on this "iPod Revolution"?
D: I'm on iTunes in the US and it's wonderful, but could be improved. Undeniably file downloading is quite important to a musician like me, I'm not made for broadcast, most of the music wouldn't fit in your average play list, but peer-to-peer is the new radio, and it's wonderful, but could be improved too. I'm happy that my music is available for people to seek and hear even if your miles away from a Virgin mega-store or the independent shop has been out of stock for months.
DG: Anything else you'd like to tell your fans?
D: You're the best I've ever had, can't wait to play live somewhere near you. That you prize music means the world to me, and that sought me out of that mess means even more.
DG: Well thanks again for you time we wish you all the best for the future!
D: Thank you and all the best.

David Gluzman
Interview with Daedelus
by David Gluzman
Published on February 1st, 2005