Bodegas Enrique Foster Reserva Malbec
Enrique Foster Reserva Malbec
Vintage: 2003
Region: Lujan de Cuyo, Mendoza, Argentina
Varietal: Malbec
Alcohol: 14.5%
Price: About $35
Due to the fact that people know I drink wine, it seems to be the standard gift gesture when people come to my home as a guest. Conversely, when I go to someones house, I like to do the same. I think this is a great way to share your interests and tastes and if at the very least, is a good conversation starter.
Such is the case with this wine which was a gift from my father in law, Paul. I really enjoy the styles of wines that he likes and he has taken the time to build his palate and knowledge which makes for interesting conversation whenever we get together. We both attended last years Rocky Mountain Food and Wine Festival and he remembered that the wine that I thought of as the star of the show was also a Bodegas Enrique Foster offering. Being that amazing guy that he is, he wanted to surprise us with a bottle from the same producer to celebrate the holiday season and the birth of our son.
Upon popping, this wine took a tremendously long time open up on the nose and palate. After some time in the decanter, there was some oak and some dark berry fruit notes peeking through on both the nose and palate. In the mouth there wasn't much as far an integration of flavors and the experience was at times, jarring and rigid due to the high alcohol levels. Honestly, it was good but not great and was a bit of a let down considering that the wine critics of the world had touted it so highly (routinely given 90+ points, Gold medals, etc).
I will close with a tip that I recently heard: before you have wine poured or pour yourself, smell your glass. The person who mentioned this to me alluded to an incident where at a restaurant upon smelling their glass, they noted the scent of wet dog. Nothing would be more frustrating than having a wine ruined by improperly laundered stemware.
87 Points

Adrian Bryksa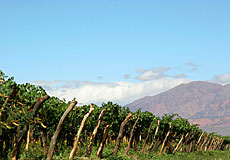 Bodegas Enrique Foster Reserva Malbec
by Adrian Bryksa
Published on February 25th, 2009
Rating:

87 Points

Website: