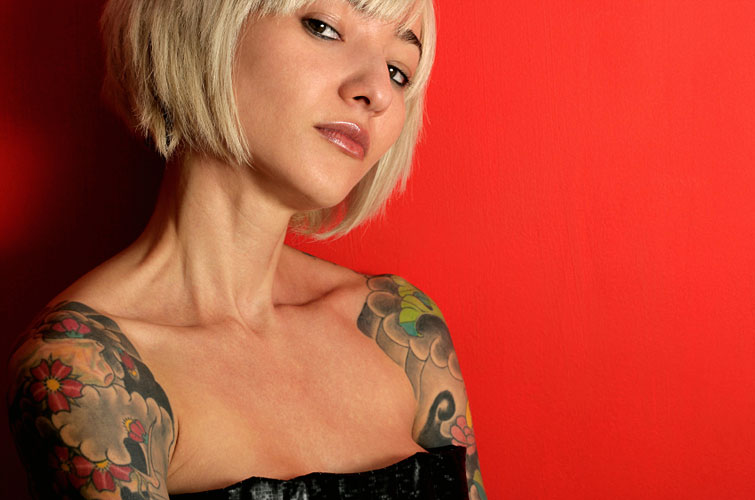 A Kiss Only Sweet Lady Ink Can Bring
I have never felt so passionate about something as to have it inked onto my body. I wanted to see if I could figure out the driver for that passion through attending the 2006 Calgary Tattoo and Arts Festival. I waited for 15 minutes in line and forked over 20 dollars to get in. Once access was gained, there were a throng of people already in the centre, milling around booths and checking out the displays. The setup of the event was in a trade show fashion with over 100 exhibits ranging from tattoo artists advertising and doing tattoos, tattoo supplies, tattoo and hotrod clothing as well as motorcycles and hodrods. The show gathers together artists from Canada, U.S.A and Europe and allows them to showcase their work. There are awards distributed to the best tattoo of the day, best Flash (tattoo art done on paper) and a host of other categories the artists and the inked can strive for.
To help me understand the passion, I wanted to witness and photograph a tattoo in progress. Not wanting to intrude on some strangers experience, I found out my friend Robbie McLeod, had a time booked at 2:00 pm. Robbie booked with Chris Hall from WayCool Uptown in Toronto, Ontario to get a skull with some wrenches behind it, making it his third tattoo. The cost for the art work and tattoo, $250.00. I took the opportunity to ask Robbie and the 7 year veteran artist Chris Hall some questions about tattoos and the industry.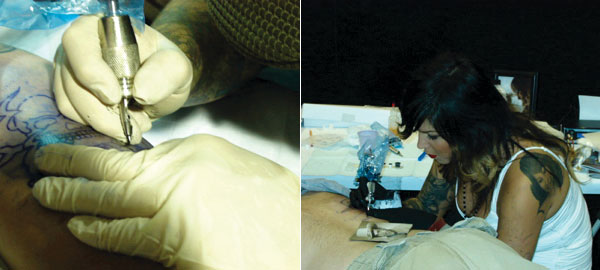 In talking about his shop Waycool Uptown, Hall differentiated shops between street shops and custom shops, "Waycool Uptown is a typical street shop, meaning that it is more of a spur of the moment type shop, where customers come in and select a design from the wall, and get it done." He stated that they also do some custom work, where the client consults the artist and work together on designs before the tattoo is started but that work is more limited. I had some questions about the current crazy of reality TV shows about tattoo shops. Hall was quick to say, "It has been a double edged sword, it has exposed the average person to tattoos and has been good for business, but it makes consumers misinformed in regards to the time it takes to get tattooed." It is easy to understand this as those TV shows like Inked and Miami Ink lead the viewer to believe that it is instant gratification when quite obviously, it isn't. It would also explain why the celebrity artist this year was Kat Von D from Miami Ink. Hall also chatted about the festival and raved about the organization and the opportunity for artists to network, attend seminars as well as meet and tattoo clients.
Seconds before the tattoo was to start, I asked Robbie a few questions about getting mentally prepared to have needles pulsated into his arm carrying ink with them. "You have to go to a special place, I mean, its like someone dragging a paper clip over your skin so doesn't hurt that much but I can't say that it feels good." I wondered if this was going to be Robbies last tattoo since between this latest one and his last, it had been over 2 years. Not surprisingly, I could sense a nervous excitement just seconds before the ink started to flow. Once the tattoo started, I gave the artist and client their space. I snapped a few shots and left the artist and his canvas to work on the task at hand.
Out of the artists showcasing, I was most impressed with the work of Larry Brogan and Heather McLean. Larry Brogan is an artist from Lockport, Illinois who has had multiple awards from various shows and has been featured in tattoo magazines from around the world. In watching him freehand a eagle design, it was clear you were watching an old school master. Heather McLean comes from the other end of the spectrum. Her stunning nu skool portraits and designs have a ethereal aspect that focus on greys and shading. I think her designs are fantastic and it is easy to see why she is now booking into 2008. She worked out of the now defunct Hide and Seek Tattoos and is now with Strange World Tattoos out of Calgary. Check out her portfolio and give her a call should you want something out of this world.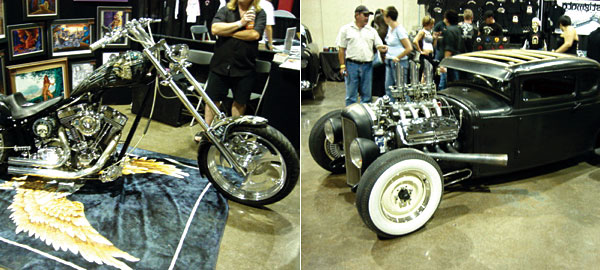 The custom hotrods and motorcycle section of the festival really were impressive, there were several clubs represented and a few of these machines were fantastic. There is something to be said for these ratty bikes and cars; they just have a mystique to them. To see a car with a beer can as part of the cooling system is truely outstanding. The neat thing about these cars is that they are far from fancy, so you can get up close to them and touch the welds where the car was chopped. You get the feeling that the people who build and drive these suicide machines keep their guitars a few turns out of turn and I could imagine these rides blazing down the street with the Dick Dale blaring heading down to the Tiki Bar with a surf board strapped to the roof. My imagination wanders.
The Calgary Tattoo and Arts Festival was an interesting experience and is a definate stop for those who are looking to expand their collection of tattoos. After wandering around the festival and watching people get tattoos and seeing people interact with the artists, it is easy to see the draw that people have to this art. There is a community here, as most of the artists themselves had bandaged up appendages, indicating that they recently had work done, no doubt by another artist from the show. It also gives consumers the opportunity to book some time with artists that they normally would not have access to. Since the birth of my daughter, I am contemplated getting her name and birthdate tattooed on my arm or shoulder. Now, to convince my wife.

Adrian Bryksa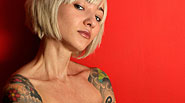 A Kiss Only Sweet Lady Ink Can Bring
by Adrian Bryksa
Published on September 29th, 2006
2006 Calgary Tattoo and Arts Festival
September 3rd 2006
Calgary Roundup Centre
calgarytattoos.com
Headline Photo by: caracterdesign

Other Links of Interest:
waycool-uptown.com
tattoocityskinart.com
hbomb.ca
strangeworldtattoos.com