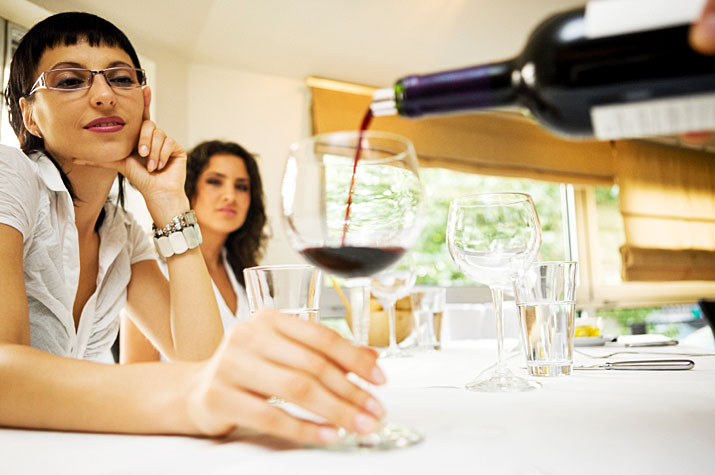 David Walker Wines launches Mission Hill's Perpetua and Quatrain
When you are a wine freak like me, getting sent invites to wine launch parties brings a combination of nerves, excitement and anticipation; the nerves around whether or not my schedule will allow for it, excitement when it does and anticipation around new people to meet and experiences to be had. I was pleasantly surprised when November 12th proved to be free and clear, and I was able to head down to the 100 Wines by David Walker location and join them in the launch of Mission Hill's latest Legacy Series wines Perpetua and Quatrain. From the moment I arrived, I knew that the night was going to be special as I was welcomed by an impressive looking crowd and the tunes of upbeat Spanish guitars. David Walker and his team have come up with a unique combination of methods to market wine that is refreshing in contrast to the non-descript wire rack approach that most stores in Alberta utilize when presenting wine to consumers. If you are tired of wine shopping feeling intimidating or like a chore and want some personalized attention, I would highly recommend checking out the retail location or at the very least, taking a peek at their website.
Getting back to the party, the invite indicated that 3 wines were being sampled, the night actually consisted of 5 tastings of a combination of 1 of Mission Hills Five Vineyards Collection, 1 of the SLC collection and 3 of the Legacy Series wines. To compliment the tasting, the 100 or so guests were treated to a selection of cheeses, meats and preserves to snack on while tasting. The stars of the night were the wines, so without further ado, here are the Legacy Series reviews:
Perpetua
Vintage: 2006
Region: Okanagan (British Columbia)
Varietal: Chadonnay
Alcohol: 13.5%
Price: $33.00
This is a single vineyard Chardonnay, showing a nice clear light sun kissed grain hue and a delicate perfume of peach and lime. On the palate, it presented good acidity with stone fruits and green apples coming through over a lengthy, elegant finish. It almost felt restrained as each characteristic was so subtlety whimsical and graceful, I couldn't help myself from smelling my glass and taking small sips to relish it . This is a Chardonnay that could stand with the best American and French examples and is one of the best Canadian chardonnays that I have encountered.
88 points
Quatrain
Vintage: 2005
Region: Okanagan (British Columbia)
Varietal: Merlot, Syrah, Cabernet Franc, Cabernet Sauvignon
Alcohol: 13.5%
Price: $48.00
Presented as an almost Bordeaux blend of Merlot, Syrah, Cabernet Franc and Cabernet Sauvignon, Quatrain acts as bridge between the Red SLC collection and the Legacy Series. It presented nice vibrancy in color and an expressive nose of berries, tanned leather with hints of smoke. On the palate, good complexity between the tang and acidity of sour berries (think cherries or chokecherries) up front, rolling into notes of chocolate and tobacco held together by rich tannins to an extended finish that lasted at least 5 minutes. While this wine is approachable right now, cellaring would do it no harm as it will continue to develop and mature in bottle and should age gracefully over a 5 year period.
89 points
Oculus
Vintage: 2005
Region: Okanagan (British Columbia)
Varietal: Merlot, Cabernet Sauvignon, Cabernet Franc and Petit Verdot
Alcohol: 13.5%
Price: $70.00
The 05 vintage of Oculus coming in at about 70 dollars retail marks a significant alteration in the blending ratios of Merlot, Cabernet Sauvignon, Cabernet Franc and Petit Verdot used by Mission Hill to craft this wine. The previous vintage was almost 3/4 Merlot based and winemaker John Simes and his team decided to shake things up and change direction by decreasing the Merlot levels and increasing the levels of Cabernet Sauv, Cab Franc and Petit Verdot. Color wise, it is what you'd expect with a richness and brilliance that is exciting to look at and displayed nice pencil lead / graphite notes and fruit on the nose in a tightly wrapped package. Make no mistake, this wine should be aged / cellared but right out of the bottle, was powerful and elegant on the palate with cherries and a smokiness coupled with lazer sharp tannins over a lengthy finish. As a consumer, I struggle with this example at $70 + dollars a bottle as I think that one could get 2 bottles of something comparable but I know that Mission Hill is using Oculus to set the standard for premium Canadian wine and this is an excellent bottle that will not disappoint even the most seasoned wine aficionado. I would expect Oculus to become a $100 dollar bottle over the next couple of years so some might view $70 as a bargain, I will leave that decision up to you.
90 points
It was a great night where I got to experience a new concept in wine retailing, meet some great new people and sample some of the finest new wines from a brilliant Canadian producer. I would like to extend a big thanks to the staff of David Walker Wines and to the representatives from Mission Hill for making the launch party entertaining, informative and most importantly fun.

Adrian Bryksa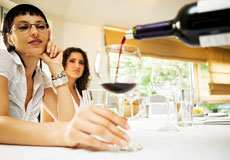 David Walker Wines launches Mission Hill's Perpetua and Quatrain
by Adrian Bryksa
Published on November 19th, 2008
Website: