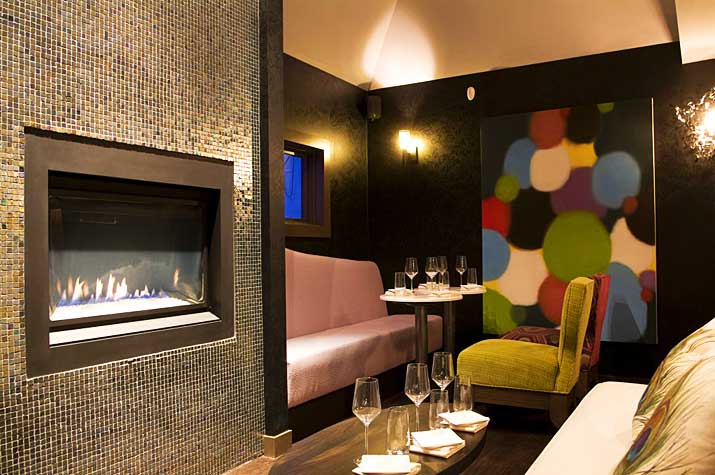 Wine by the glass at Vin Room
Trying to remain on the pulse of all things grape related, Reading For New Times decided to check out Calgary's newest and hottest wine destination, Vin Room. Vin Room, a wine bar and bistro, has been on the tip of everyone's tongue these days. Their extensive offerings of wine by the glass and the fact that everyone has either joined them for their experience or wants to go, is making this a hip new spot. I wanted to see if there was more.
Located in the heart of Calgary's Mission district, Vin Room has taken it's space over from the former Calgary institution Mission Cycle. Owners Phoebe and Ken Fung have made it clear that preserving the building's heritage and working those historic aspects back into Vin Room's design was very important. From the reclaimed wood from the Court of Queens Bench that make up the main staircase to the original bricks from Mission Cycle's old chimney used in the private cellar, the designers have hit their stride with combining old and new with Vin Room's modern design. Vin Room consists of 3 levels, each with their own personality. The main floor of Vin Room appeals to the modern wine explorer, to the sit down and socialize crown on the second floor which is complete with a patio, and to private cellar functions in the basement. Due to the fact that space in Vin Room is at a premium, some of the wine is stored in the walls of the main and second floor along with the rare and expensive in the temperature controlled cellar. This allows patrons access to the bottles that are available from Vin Room's expansive wine list which is a nice touch and a good use of space.
What sets Vin Room apart from other wine bars is the banks of Enomatic Wine Machines that serve 8 different wines by the glass per machine. Costing as much as a small car per, the Enomatic system is designed to preserve wine between 20 and 60 days using inert gas, all while being able to distribute various amount in the form of tastes, glasses, or even half bottles. This gives patrons of Vin Room access to 64 wines by the glass, which provides a wonderful way to try new wines or reacquaint with an old favorite. Tastes come in between $2.50 and reach as high as $13.00 for some of the ultra premium wines, which is reasonable considering these bottles range between $25 and upwards of $300. After talking with Mrs. Fung about the Enomatic system, she indicated that Vin Room has been so busy that they haven't had to store a bottle for much longer than 3 days, so that nice preservation system the machines afford hasn't yet been utilized. Along with this, even after being opened only 5 weeks, Vin Room have already updated their wine list and will continue to do so as with wine, variety of varietals is key.
I didn't get a chance to experience the offerings of the kitchen but Mrs. Fung indicated that the idea foremost is small plates that are designed for sharing with their charcuterie offerings being offered in 30 gram portions ranging from $4.75 to $5.75 each. There are both hot and cold bites ranging from Eggplant Chips to Croque Madame, all sounding delicious. Vin Room also has a sommelier on staff to consult for food and wine pairings, so if you do decide to dine, I would recommend taking advantage of that service as it may make a huge difference if you are unfamiliar or unsure.
There is so much more to Vin Room than just the wine bar that I am sure if and when the novelty and initial popularity wears off, they will have enough of what it takes to be a success. Check them out, but make a reservation first.
Vin Room
2310-4th St SW
Calgary, AB
T2S 1X2
Tel (403) 457-5522
www.vinroom.com

Adrian Bryksa


Wine by the glass at Vin Room
by Adrian Bryksa
Published on February 11th, 2009
Website: