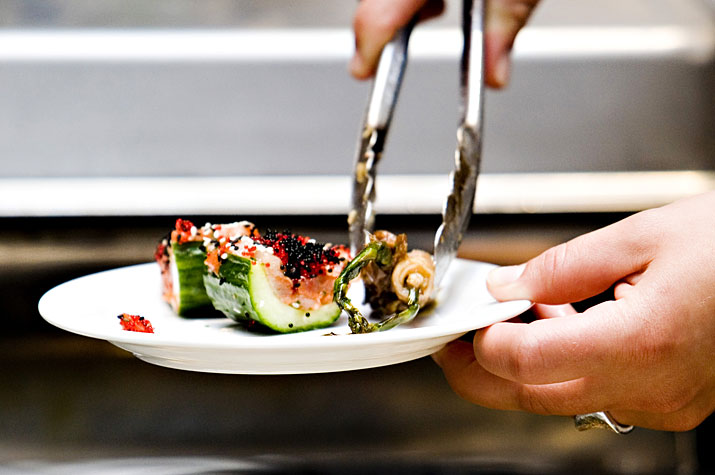 Rocky Mountain Food and Wine Festival 2009
Wow, has it been that long? 4 years of coverage, its hardly evident that Reading for New Times loves the Rocky Mountain Food and Wine Festival! For the first few years, we saw it through the eyes of guests and we kept coming for the wide assortment of beers, spirits and wine. We enjoyed the wide swath of restaurants and retails showing off their samples of delectable nosh. Topping our list of favorite things was the glitterati who make their appearance and add people watching to the list of festival benefits.
For the first time, we took in Thursday night festivities and admit that it was nice to talk with the reps while they were they were still fresh. The crowds were also less pronounced and although it took away from the variety in terms of people watching, it allowed for quicker queues and more face to face time at the sampling tables.
The show itself hasn't changed much in regards to location, admission and tokens so we wanted to talk about the stars of the show. We definitely approached it from a wine perspective so do not be shocked when no beer or spirits made the list. We are sure there were good ones available, we just didn't try any of them.
Wine Stars

Deerfield Estate Old Vine Zinfandel – Sonoma County, USA
The wine of the show from my perspective. A massive Sonoma Zin from winemaker Robert Rex that just so happens to be organic and vegan friendly. A powerhouse with a massive blackberry and licorice play on the nose and palate, this wine is unapologetic and unfortunately, not cheap at around $63 per bottle. If you are a big red drinker, keep your eyes peeled for this one.
http://www.deerfieldranch.com/

08 Peter Lehmann Layers Red – Barossa, Australia
The winemakers from Lehmann threw everything but the kitchen sink into this wine(maybe the sink too) in terms of the 5 varietals that make up the blend. It was remarkably approachable, despite its youth. A gorgeous, value driven red from Lehmann's Barossa Range line. If you are seeking it out, expect for this wine to ring in around the $20 mark.
http://www.peterlehmannwines.com
Food Stars

Charcut – Modern take on Comfort Food – The Smokey
Charcut is one of Calgary's newest chop houses (opening January 2010) and their approach to a classic BBQ presentation was amazing. They crafted a smoky filled with Quebec cheese curd and served with fennel kraut on a mini sesame brioche bun. As an accompaniment, they included deep-fried pig ears tossed in tobacco and lemon. If this is any indication of their creativity and approach, it is without a doubt that Charcut will become a destination of choice for Calgary foodies. Seriously rich and seriously good!

Silvertip – Hummus, Lamb Chop, and Carrot Cake
Chef Stefan Mahon and his two assistants were having a great time serving up their take on three mini-courses. It was by far and away the best food value at the Festival coming in at only 4 tokens. The hummus was spiced just right, the lamb chop execution was spot on, and the carrot cake was delectable. With a Wine Spectator Award of Excellence and spectacular mountain views, our motivation for heading out to Canmore to visit Silvertip just went way up.
http://www.silvertipresort.com

Leonidas Chocolates (Manon's)
For those with a sweet tooth for chocolate, the Leonidas booth was one not to be missed. The fine folks from Manon's were handing out wafer thin examples of dark, mint and milk chocolate alongside delectable butter cream pralines. We highly recommend checking out their store in Britannia Plaza in Calgary's SW and look forward to a new e-commerce presence soon.
http://www.leonidaschocolates.ca/
The Rocky Mountain Food and Wine Festival provided another great weekend of delicious food, wine and spirits. Is it bad that we are already looking forward to next year?

Adrian Bryksa


Rocky Mountain Food and Wine Festival 2009
by Adrian Bryksa
Published on November 4th, 2009