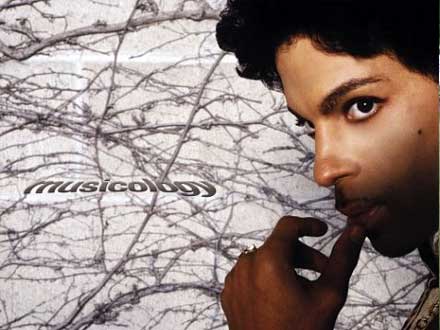 Prince – Musicology
Ok I admit it; I've been a fan of Prince's music for years. I say his MUSIC for a reason; the man is a bloody freak. Crazy freak or not however, you can't deny the sheer amount of talent and drive the man has. Like several other albums in his career this album is almost entirely written and performed by Prince himself.
I was happy to hear a return of the slinky funk-oriented grooves on Musicology, compared to the preachy and unlistenable Rainbow Children (side note: the live act he put together to support Rainbow Children was f-ing fantastic though). This record is not going to be breaking any new barriers in music, but rather more of what you'd expect from the Purple One of the days of old. In my opinion this is a welcome thing. The weirdness that were the past few albums were a little too self-indulgent and out-there for my taste. I'm all for experimentation, but not at the total expense of what came before.
It's also nice to see Prince's sense of humor has survived. The songs are fun, groovy and often poking fun at himself and his contemporaries (listen for the poke at MJ in "Life 'o the Party"). I think the better tunes on the disc are "Illusion, Coma, Pimp & Circumstance", "Life 'o the Party", "The Marrying Kind". The vocal rhythms and harmonies in "If Eye Was the Man in Ur Life" are pretty cool as well, but I found the lyrics to be trite and silly, but maybe I'm just being harsh? Who knows…
As much as I enjoyed the album I thought that it really lost steam by the time you get to the last three tracks. I think Prince's strength lies in the tunes with more jump and grind, as opposed to the slower numbers. I also thought that the package as a whole was a little light on the guitar. As many talents as he has I think he's probably one of the most under-rated guitarists to play in the last 25 years, so I'm always disappointed when he doesn't let that shine through with a rew rockers.
Only one complaint here. I *hate* audio discs that have auto-start interfaces on them. The reason being that I often listen to music on my computer, and there are few things more annoying than having media player AND the disc itself trying to load at the same time. The auto-play interface is pretty bare too, it's really just a window for a video of the title track and a link to his website.
If you like older Prince Albums I'd say this is a decent purchase. It might help wash away the nasty taste Rainbow Children and NEWS left in your aural channel.

Obsidian

Prince – Musicology
by Obsidian
Published on June 1st, 2004
Artist:

Prince

Album:

Musicology

Label:

Columbia Records

When:

April 2004