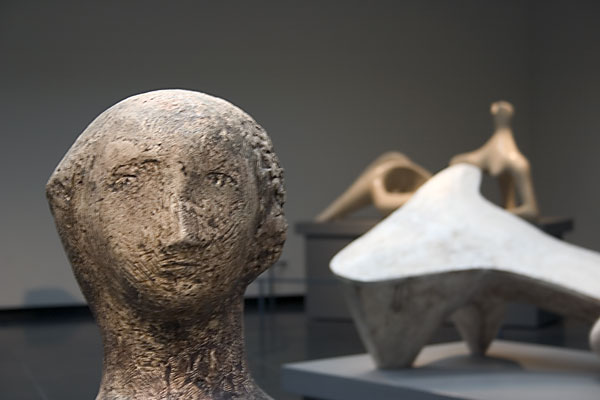 The Art Gallery of Ontario (Toronto)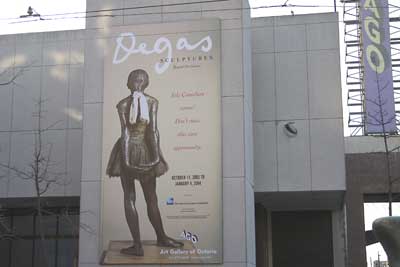 Degas at the AGO
The R4NT crew walked to the Art Gallery of Ontario (AGO) after visiting Toronto's famous CN Tower. We entered the lobby of the Gallery and found ourselves standing in a large room containing several information booths and pamphlet stands. The ticket line was pleasingly short, and we were able to get tickets for a variety of collections currently on display. Adult admission is $12, senior/student admission is $9, youth admission is $6, and children under 5 enter free (a general admission ticket also includes a visit to The Grange, Toronto's oldest remaining brick house and a national historic site- which we did not see). There are also group rates and guided tours. Everyone can get free admission on Wednesday evenings, from 6:00 PM to 8:30 PM.
However, the ticket prices are steeper if you wish to see one of the feature exhibitions, such as the one that we saw: "Degas Sculptures: Beyond the Canvas" (October 11, 2003 to January 4, 2004). The ticket price rises to $16 per adult, $13 per student/senior, and $8 per youth for this show, and this premium ticket gives you access to every exhibit in the Gallery. Whether you cough up the dough for this privilege is up to you, but there are a couple of things that you should know.
First, the AGO is the sole Canadian venue for the Degas show, so if you are a fan of Edgar Degas but don't plan on traveling internationally any time soon, this is your chance to see his works in person. Second, the Art Gallery of Ontario has been scaling back its core collection over the past two years, which means it has been closing some of its galleries (those that are viewable on the general admission pass), and dedicating more space to feature exhibitions and artist spotlights.
Since we were on a tight schedule, we knew we would be unable to see all of the exhibits in the Gallery. We decided to see the Degas collection and one or two others. We followed the signs to the Degas sculpture area, passing an exhibit on the way entitled "Uniform". It was a series of photograph, sound, and video displays, presenting the backgrounds and reflections of nineteen guards (they called them Protection Service Officers) working at the AGO. We paused to read a few, but moved on quickly. The Degas sculptures were what we really wanted to see.
The collection consisted of 73 sculptures of ballet dancers, horses (with and without riders) and female bathers. The Gallery's highlight was Degas' famous sculpture, "Little Dancer, Aged Fourteen". Most of the sculptures were displayed on pedestals or columns, allowing viewers to see them from all angles. There were also a number of information panels on the Gallery walls, detailing Degas' background and the history of the sculptures on display.
In one of the many rooms of the exhibition, there was an area set aside for people to try their hand at a little sketching. A wooden model was set up in the centre of the room, which was surrounded by sketching tables. There was plenty of scrap paper and pencils provided, and a projector screen cast a video of sketching techniques onto one of the walls. Anhedonia and Maxpower felt sufficiently motivated to join a few other gallery patrons at the tables, and challenged each other to a doodling contest. Their masterpieces went home with them to be displayed prominently on their refrigerators.
The R4NT crew agreed there were a few problems with the presentation of the Degas collection. The first problem concerned the name plaques for each sculpture. While each piece was labeled with its name, date, and composition, the plaques were small and hard to read from a distance particularly through a crowd of people. Another criticism was the lack of flow between the rooms- we wandered from rooms filled with sculptures of dancers, to horses, to bathers, and there didn't seem to be a logical connection between them other than they were all sculptures by Degas. It just didn't seem to connect properly. The last criticism is also the largest, and the most difficult to justify. It concerns the history of Degas' sculptures and the wishes of his heirs, so bear with me.
Degas didn't intend for his sculptures to ever be displayed, save for one. His sculpture, "Little Dancer, Aged Fourteen" was the only one he ever publicly exhibited. The others he crafted from wax and clay, so that he could constantly change and improve on them. He actually used his sculptures as a method of improving his paintings- by accurately capturing the human body in sculptural form, Degas believed the subjects of his paintings would be more precise and life-like.
After Degas' death, his heirs took about 150 of the statues form his studio, and took them to a Paris foundry where 73 of them were bronzed in "limited edition". Yet because Degas never intended them to be bronzed, they were not all suitable for the technique. The bronzer needed to take some artistic license with the sculptures in order to bronze them. In other words, some limbs were repositioned in order to facilitate the process. I would like to point out that such repositioning is not uncommon during bronzing, and is generally accepted by the artistic community.
This does raise the question, however, whether the sculpture in front of you is a "true" Degas, since it deviates from the form he originally gave it. This is a debate best left to the experts. My criticism is that the AGO glossed over this history in the exhibition, denying gallery viewers the opportunity to form their own opinion. When a newspaper reporter confronted the gallery's curator on this matter, the curator's response was something to the effect of, "the average person would not understand the issue". I think the average person can understand the issue just fine.
As for the rest of the AGO, the R4NT crew was pressed for time and not able to give the other exhibitions the time they deserved. However, there were many highlights that I couldn't possibly leave out. The Henry Moore Sculpture Centre, in particular, is sure to please. It is an interactive area where people of all ages (yes, kids will like the interactive displays) listen to audio programs, watch videos, flip through binders, use touch screen videos, answer quizzes, handle bones, draw, or just gawk at Moore's larger-than-life sculptures. Fans of Henry Moore will be pleased to view his largest sculpture in Canada, entitled "Large Two Forms". The facility was extensive, and it was a shame that we couldn't spend more time there.
Another highlight was the AGO Collection Galleries. As I previously mentioned, parts of this collection have been scaled back in favour of feature exhibitions. Fortunately, there are still many great artworks to see. My personal favorites were paintings by Claude Monet, Vincent van Gogh, Paul Cézanne, and Camille Jacob Pissarro, which reveals my fondness for Impressionist art. Art lovers will be pleased to know that the AGO displays paintings representing most of the key artistic movements from the 13th century to today, covering such categories as European art, Contemporary art, Canadian Historical art, and prints and drawings.
Overall, my experience at the Art Gallery of Ontario was positive. I love art galleries and try to see as many as possible, particularly when I travel to other cities. The AGO has many things going for it: it's the 8th largest art museum in North America, it attracts world-class exhibitions, and its Permanent Collection is both comprehensive and prestigious. As for my criticisms, I have already explained my disappointment regarding the Degas collection and the scaling back of the Collection Galleries. If you're in Toronto, be sure not to miss the Art Gallery of Ontario.

Beauty

The Art Gallery of Ontario (Toronto)
by Beauty
Published on December 1st, 2003
Where:

The Art Gallery of Ontario (Toronto)

Rating:

Must See

Website:

What:

Museum

Why:

8th largest art museum in North America