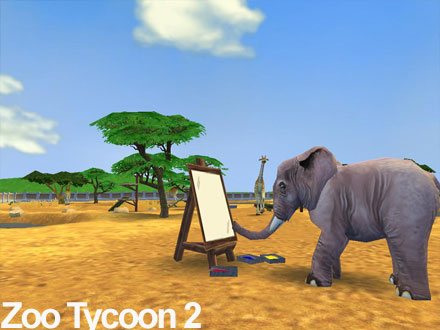 Zoo Tycoon
A few weeks ago I had the opportunity to see this game in its beta version, and I was pretty sure I knew what to expect. I don?t play many simulation games, but when I find one I like I tend to be very loyal to it. SimCity could never hold my interest for long, but I have been playing Roller Coaster Tycoon for years. I expected Zoo Tycoon to be much like the latter. For the most part, the game was what I expected, but there were many new features and pleasant surprises that should keep gamers interested.
First I should explain the basics. Zoo Tycoon 2 is the sequel to the best-selling game Zoo Tycoon. The broad goal of the game is to build and manage a virtual zoo. To be successful you must try to maximize guest satisfaction, animal happiness, and zoo profits. This is not as easy as it sounds? it requires careful management and planning. The focus is, of course, on the animals. Keep them happy and your guests will be happy, which might encourage them to stay in your zoo a bit longer.
When you first start the game, you can choose from 3 different game play modes. The first is a Campaign Mode, in which players tackle specific challenges in addition to keeping their zoos running smoothly. This mode is definitely the most challenging, and also defines goals for players to strive for. I usually don?t tackle these challenges because I inevitably end up bankrupt, but if you?re into micromanagement then go for it. For lazier people like me, there?s a Freeform Mode. It gives players more freedom to do what they want, but is still a bit challenging. Finally, for people that want to explore their creative side there?s a Sandbox Mode. In this mode you?re given limitless technology and funds to build the zoo of your dreams. This mode is perfect for children, or those who just enjoy the animal aspects of the game and want to ignore the economics.
Players should have no trouble getting into this game. The controls are intuitive and there are detailed tutorials for players that need help. The environments are beautiful and fully 3-dimensional. The game is packaged with 30 detailed animals and over 300 building tools and objects, which should keep players entertained for a while. The high number of building choices makes for some interesting dilemmas. For instance, you might decide to build a moat around your animal enclosure instead of a fence. Your guests might think it?s a great idea? until an animal escapes. The developers plan to release downloadable content on their website, which should keep the game fresh and interesting. There is also a devoted Zoo Tycoon online community who post pictures of their animals and enclosures; this fact has spawned some of the new game options I will discuss later.
One of the best features of this game is the number of viewing options. You can play in the standard top-down view, which is probably the most convenient when planning your zoo?s layout. You can also experiment with the nifty new zoom feature, which allows you to get right in and see your zoo and animals up close. You can view your zoo from a number of different perspectives. If you choose the Zoo Guest Mode, you can explore the park as if you were a guest visiting the zoo for a day. The Zookeeper Mode allows you to interact with the animals by feeding them, giving them medicine, or playing with them. This mode allows players to see the different personalities, behaviors, and moods of each of the animals.
There are two other game features worth mentioning. One is the game?s Photo Mode, which allows you to take pictures of your zoo?s animals and guests. You can then create photo albums or share your pictures with other players over the Internet, as I alluded to earlier. Sometimes random photo challenges also pop up during your game, challenging players to capture a specific situation on film. For example, you might receive a challenge to take a picture of a moose scratching its antlers on a tree, redeemable for a reward. You would need to have moose enclosure with at least one tree, and a lot of patience in order to be successful. These random challenges add some interest to the game, but you?re not required to complete them.
The last game element I want to highlight is something the developers have dubbed the ?Zoopedia?. It is an in-game encyclopedia containing interesting facts about your zoo animals. You can select any animal in your park and get a comprehensive history of that specific animal. The developers have introduced a clever educational element to their game that might make some parents happy, and I have a feeling this ?edutainment? component will be heavily advertised in the game?s marketing campaigns. However, like many other elements of the game you can choose whether you want to take advantage of this feature or not.
Zoo Tycoon 2 will appeal to people of all ages, with its intuitive game play and cute subject matter. Many simulation fans will be impressed with the game?s large inventory of building objects, and the ability to adjust the difficulty level. Players will have the ability to make the game as easy or as challenging as they wish. It was also a wise decision to make downloadable content available to hardcore fans, who may get tired of seeing the same 30 animals over again. The developers succeeded in creating a sequel that improved on the original game, which virtually guarantees it will be a bestseller.

Beauty
Zoo Tycoon
by Beauty
Published on October 1st, 2004

Genre- Simulation
Format- CD-ROM for Windows 2000, Windows Me, and Windows XP
System Requirements- Processor: 733MHz; RAM/OS: 256MB on XP, Me, 2000, 98; Graphics Card: 16 MB DX9.0 Compatible 3D graphics card; Hard Disk: 900 MB of available hard disk space; Online: Internet access required for downloadable content; Miscellaneous: DX9.0 compatible sound card, mouse, keyboard
Publisher- Microsoft Game Studios
Developer- Blue Fang Games LLC
Projected Street Date- November 2004
Projected Price- estimated at CAD $54.95
Rating- Rating Pending (but marketed to all ages)
Official Site
Buy it @ Amazon!