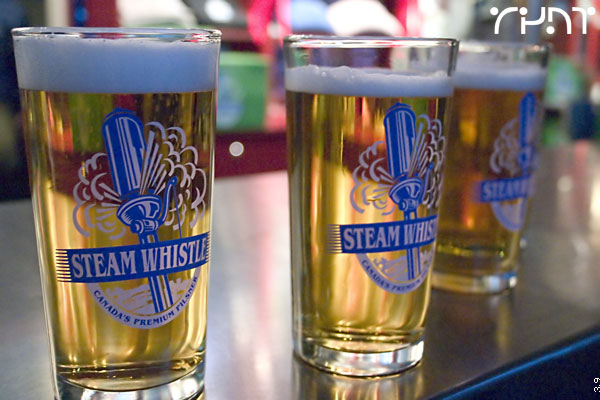 Steam Whistle Brewery (Toronto)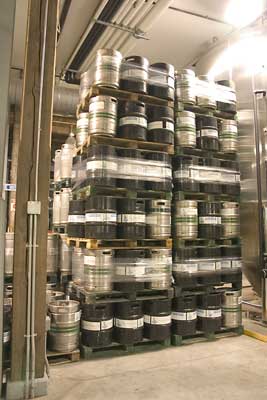 Bottoms up
Sure Toronto might be expensive *cough* CN Tower *cough*, but all you need is about $5 and a pint of beer to have a really good time. Funny enough good times are to be found right about a five minute walk from the CN Tower in an old converted Rail Station (CPR John Street Roundhouse). BEER TOUR!
Molson? No. We're talking about a relatively new Brewery called "Steam Whistle", who serves up a mean preservative free Pilsner. The beer has been brewed by an award winning Brew Master, 'Harald Sowade'. And since the beer is made with all natural ingredients you have yourself one smooth tasting beer (which you can get tanked on, and not get a hangover from). Sounds good doesn't it? (See R4NT cover shot).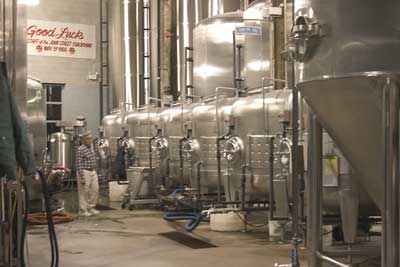 The minute you walk into the building you just know you are in a cool place. There is a giant stainless steel bar with a few taps along the way. You are almost immediately greeted by one of the staff that is working behind the bar with a big smile who is anxiously waiting to pour you a brewsky. While you wait for the tour to start you can take up a bunch of the history of both the building and the brewery. You can also take the time to checkout any souvenirs you might want to purchase before you leave (those pint glasses are cool). We didn't have to wait too long for our tour to start (we took in the last tour of the evening). Our group was pretty small about 7 or 8 of us which was really nice because you could easily see and hear what was going on, plus ask a question or two without feeling like an ass.
Steam Whistle is a golden beer with a distinctive hop aroma (learn all about hops and the ingredients on the tour, you can even taste the raw ingredients!). The beer is housed in an authentic 1950's green beer bottles (which was cast from an old school original). The beer itself is smooth and has great full flavor. To be honest all of the R4NT crew were pleasantly surprised by the quality of the beer. I'm really glad that Steam Whistle has managed to grow and is finally available in Western Canada now. I'm looking forward to ordering a pint in the very near future!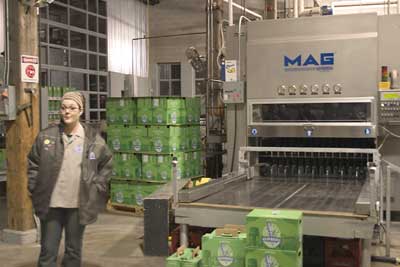 Our lovely tour guide and a bottle washing machine
Besides the fact that you can get loaded on the brewery tour, you can also learn quite a lot about how beer is made. The added bonus is that this beer is actually really good, and the people that work at the Steam Whistle are equally as cool. After we were all said and done with the tour, we managed to chat with some of the staff for an hour or so and got to know a lot about what were total strangers only an hour before hand. While there are many topics that could develop into interesting R4NT's in the realm of the brewing world, we also were able to learn some very remarkable company values about the steam whistle Brewery. One of them was the fact that they are fully supportive in all the arts and entertainment realms of Toronto. Not enough good things could be said about the brewery and their staff. This was a truly great highlight to our tour of Toronto, and a grand way to cap off a very fun and exciting trip out East.
** Tours run daily and take approximately 30 minutes. The basic tour costs $4 per person and includes a taste of their Pilsner and a souvenir glass or a bottle opener. Or, take the tour but select from other souvenir choices: $6 for the Pint Glass tour; $7 for the whistle tour or stemmed glass tour; $14 for the Ball Cap tour; $11.45 for the 6-pack tour; and $16 for the T-shirt tour. Tours begin daily at 1pm and run every hour. The last tour runs 1 hour before closing. Reservations are required for tours after 4pm and anytime for groups of 10 or more.

David Gluzman

Steam Whistle Brewery (Toronto)
by David Gluzman
Published on December 1st, 2003
Where:

Steam Whistle Brewery (Toronto)

Rating:

Must See

Website:

What:

Beer!

Why:

It helps you um.. grow