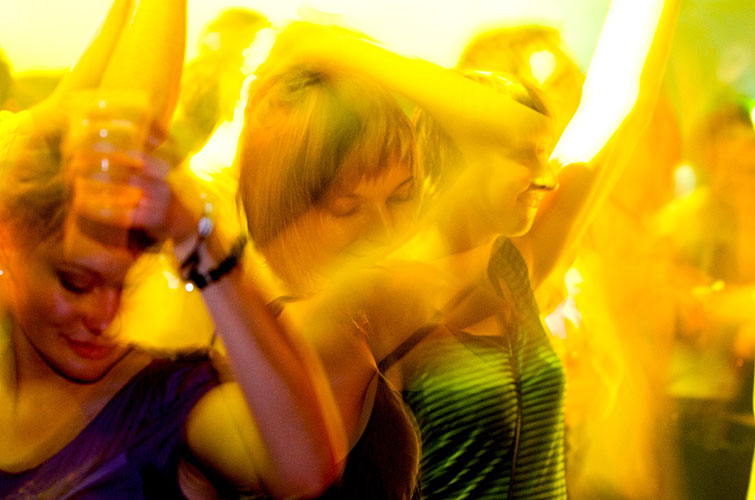 First Time Festival Goers..
My husband and I had the extreme pleasure of accompanying good friends of ours (and founders of this magazine) to the highly acclaimed springfestival in Graz, Austria this past May and we wanted to attempt to write our experience down.. This festival is so amazing I am not entirely sure that if a written description of our experience can do this event justice. It is merely something that needs to be seen and experienced for oneself in order to gain its full appreciation!! But.. here goes nothing!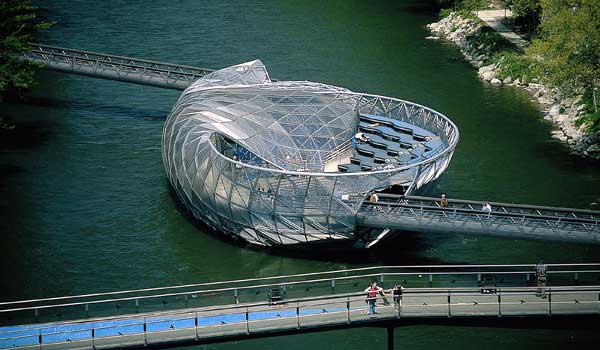 Aiola Island (on the Mur River)
It has to be kept in mind that prior to arriving in Graz, my husband and I had been married a mere 72 hours prior (taken into account jet lag and time changes I think this is correct) and if there was ever a way to keep the buzz of just getting married sustained as long as possible.. this festival is it!!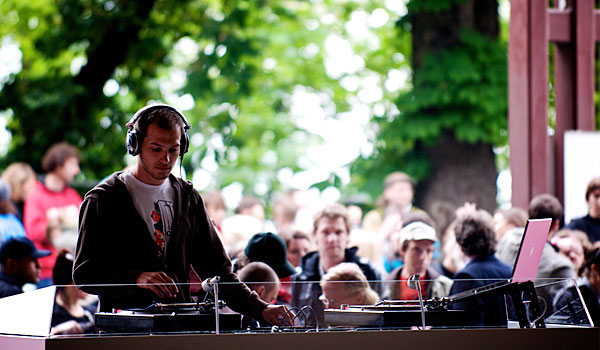 DJ in the back of the opening concert
Upon landing in Graz, the quaintness of this Austrian city is the first thing that strikes you. Not yet overrun with tourists, this city is a true gem to any traveller.. honeymooner or not! It's intricate architecture and characteristic mountains and river make this destination a place that any person wants to stay awhile and discover its hidden secrets!! My husband and I did not know that we were about to learn all of the secrets of this town while seeing and hearing some of the most amazing musical talent that we had ever had the pleasure of witnessing!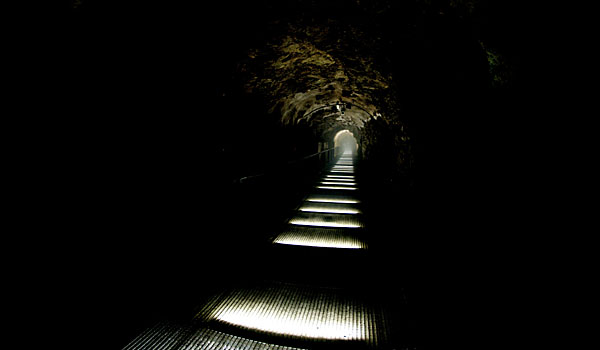 Pathway through the mountain
From the very first night of springeight we were enveloped into a trance of unbelievable scenery, venues that give you goose bumps and music that makes anything except listening to the beat impossible.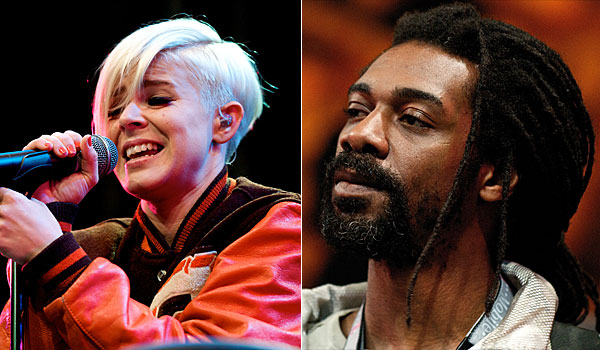 Robyn (left) and Inner City Dwellers (Right)
The first night of springeight starts relatively early (4pm) if my memory serves me correctly. To get to the first venue of the festival you are met with choices. You can either ascend up a perfectly solid staircase up the side of a mountain (approximately 300 steps or so) to get to the original mountain-top location or.. you can take the elevator that is conveniently located inside the mountain. The elevator got described to me as something from a "007" movie.. and this description is certainly not far off.. It provides a perfect contrast to the historical architecture that is found outside..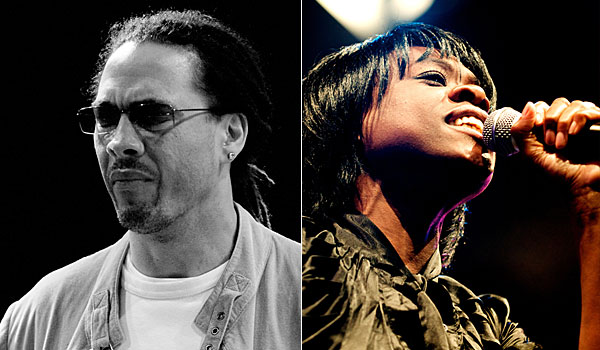 Roni Size Reprazent
Regardless.. as soon as the elevator doors open you are instantly met with the distant sounds of the first group that is performing! As you are walking closer to the venue you can turn around and take in the most spectacular panoramic view of Graz that the city has to offer, or you can simply enjoy walking through the lovely tree lined path that you are on. Once through the gates, you can grab yourself a Heineken, a wine spritzer or a red bull and step back to take in the entire scene. Stereo and sound equipment that would bring anyone to their knees, a fashion culture that I believe, can only be experience in Austria, and a location that makes anyone who has ever had an appreciation for, well, the beautiful and original weep! (Weep may be a bit of an exaggeration for my husband but he was certainly blown away by it all.. as for me, I was still on a high from the wedding). And this is only the scenery and location.. on the first night!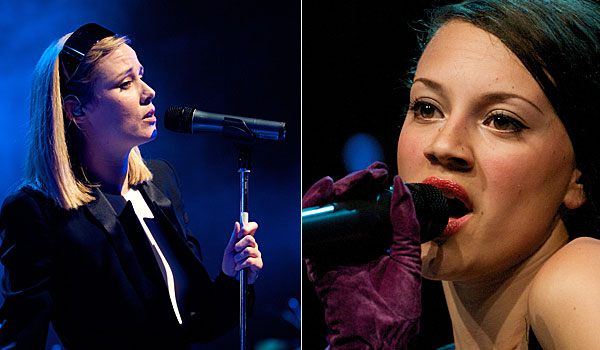 Roisin Murphey (left) w/ backup singer (right)
Band after band did not fail to deliver. Just like the city and the venue. Each band was different and original in their own right. I do not think at the time I was able to give the proper appreciation for the talent that we saw..As I am writing this we are a month later into our travels and it has happened more than once that we have been in a store or a restaurant and we have heard a song by Robyn or Roni Size and we find ourselves realizing with disbelief that we just saw these groups very up close and personal not so long ago. It was really fascinating that I said this to one store clerk when a Robyn track was playing.. Well, this girl was pure envious as this was her favorite group "..like, ever!" and it was then that I believe it hit us just how amazing this first night was and just how lucky we were to have front row passes to see it all!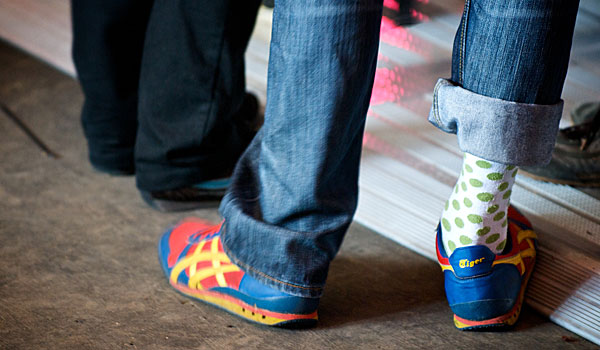 Fashion
The first show on the first night ends at about 11pm.. but this does not mean that the festivities are over.. For those who are so compelled (and there are many that are) there is entertainment available until 6am every night of the festival!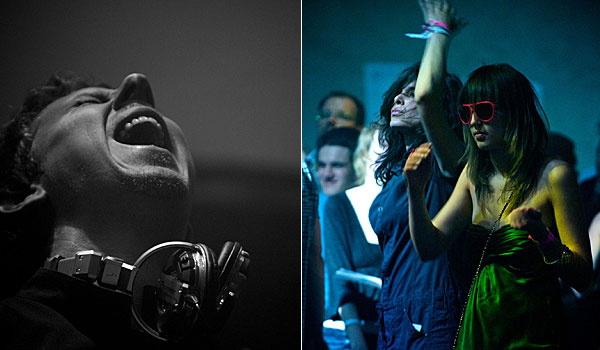 Gilles Peterson and some girls dancing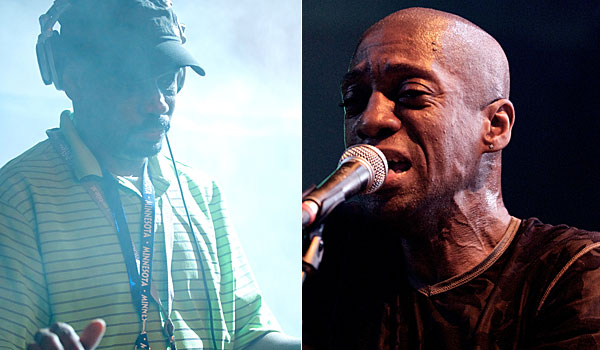 Larry Heard (left), and Robert Owens (right)
I will not go into so much detail for every night.. but I easily could. On any given night we saw unbelievable talent in an old army bunker inside a mountain.. clubs with turning dance floors and chandeliers. Locations in which the entire walls and ceiling are nothing but a mesh of small lights.. all of these locations simply add to the surreal experience. I had my eyes open to the wonderful sounds of the Balkans (with Shantel) as well as had a touch of nostalgia as the Arabian Prince (one of the founders of NWA) mixed in some familiar sounds. We had the opportunity to listen to some of these talented individuals talk about what inspires them or, if the mood is right, what doesn't. You can take a walk back in time, synthesizer style in a building that really looks out of this world or you can sit back and people watch like you can no where else.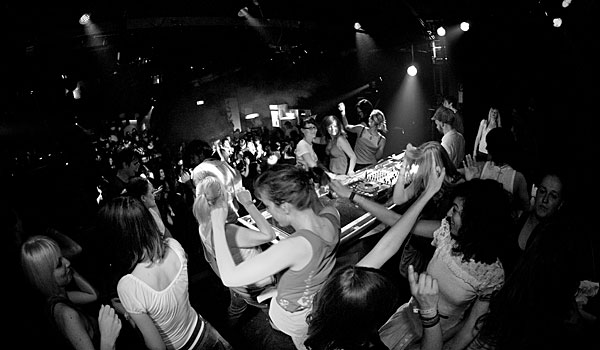 Shantel cranking it out, and having a party on stage with him!
What really struck us Canadian Honeymooners is how much the entire city gets behind this festival. We travelled from venue to venue for free either in buses that have the sole responsibility to take festival goers from venue to venue in as timely a manner as possible so that not a single act is missed. Or you can jump in the backseat of a mini and be temporarily part of 'mini-convoy' which is nothing if not fun.. all while listening to the festival being broadcasted live on the radio (via FM4)!! Venues are strategically scattered over the city so that you see all of what this place as to offer.. And this.. all of this is the result of the vision and dedication of the event planners
… (big ups to Daniella and Stefan!) Our hats are off to them and we give them a standing ovation. These people have single-handedly created the most memorable music festival that, in our opinion, exists.. in any part of the world (that we have visited at least)!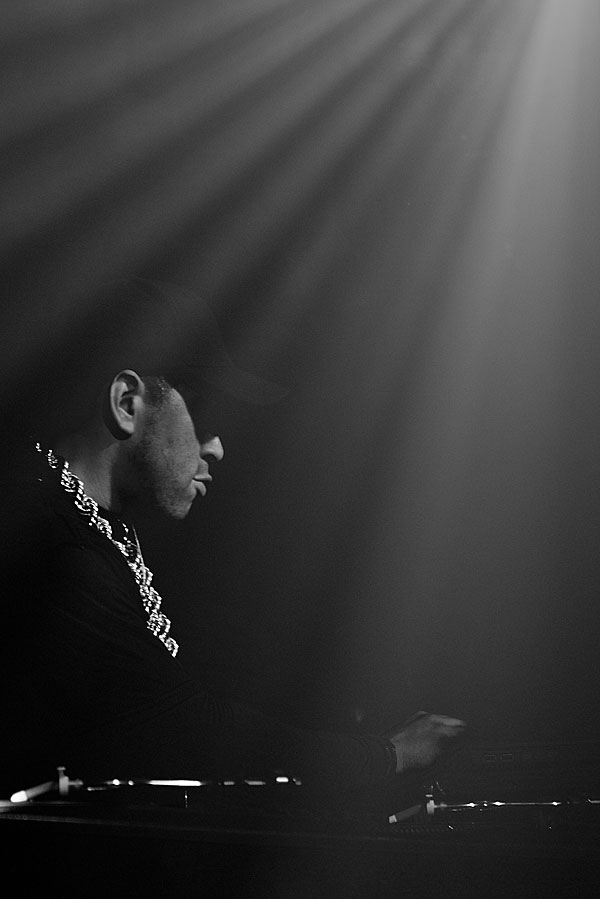 Arabian Prince
My husband and I wanted an original honeymoon.. something out of the ordinary!! Well.. springeight gave us just that and more. It may have been the amount of Redbull we consumed, the overwhelming way that the bass gets under your skin during each act or a combination of it all but it was all an experience not to forget.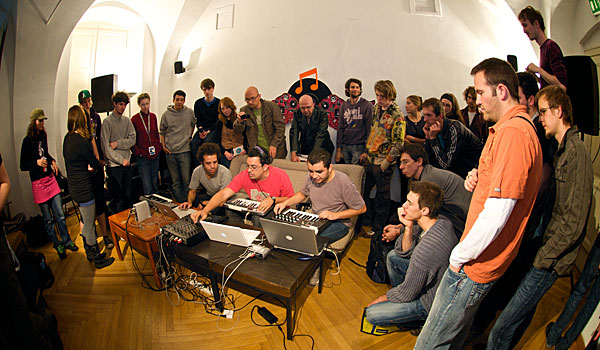 Scenes with XRS at the Red Bull Music Academy
We got asked many times in disbelief whether or not we really came all the way from Canada just to see this festival and each time we had to answer "absolutely!"
Wouldn't you?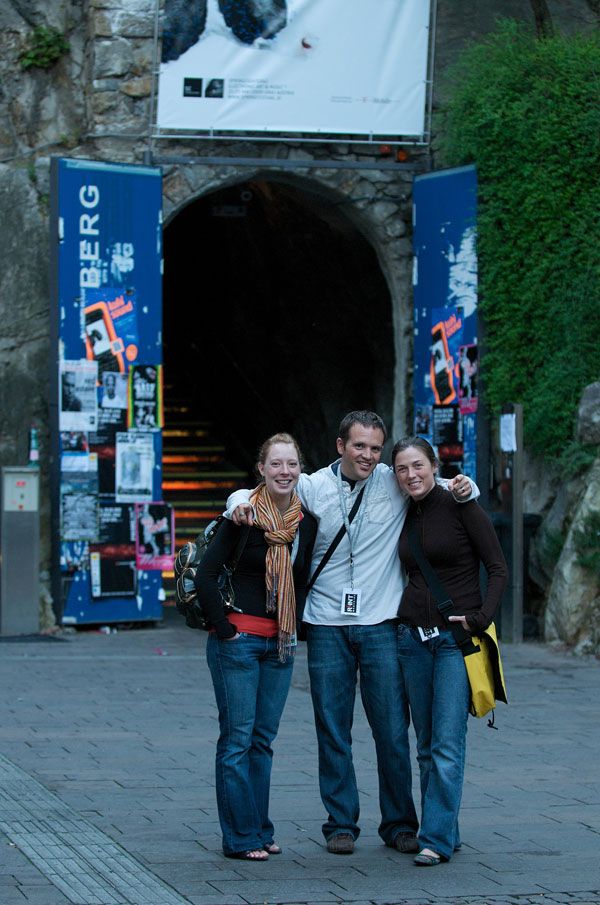 The Night is over 7am: Pam, Jay and Jaymi (the author)

Jaymi Newington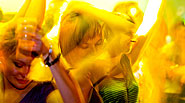 First Time Festival Goers..
by Jaymi Newington
Published on July 18th, 2008
When:

May 21-25th, 2008

Where:

Graz, Austria

Photos:

Website:

More from the blog: