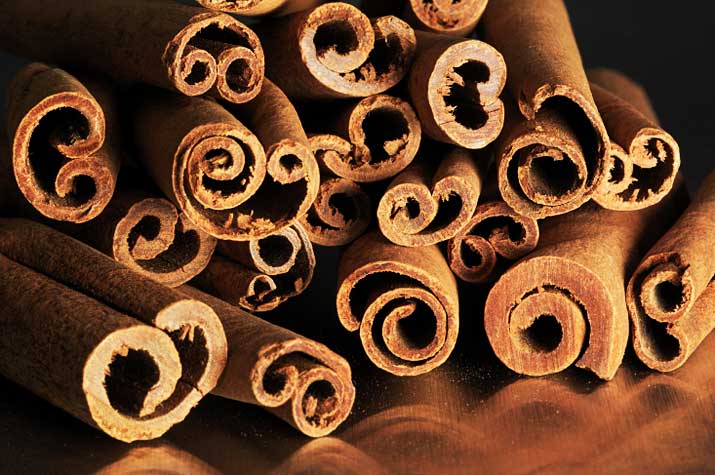 Cinnamon
As we find ourselves neck deep in the white stuff that marks what we call 'winter,' we find ourselves enjoying more than our fare share of tasty treats. Everything from candy, to chocolate to tasty beverages finds their way to our stomachs. In amongst all of these delectable creations there is one common ingredient. An ingredient that was once thought to be more precious than gold; an ingredient once traded amongst monarchs; an ingredient not only mentioned in the bible but also used by many classical writers. This ingredient is what we know as Cinnamon.
Cinnamon, commonly found accompanied with cloves and nutmeg, is one of the key ingredients in chocolate, is part of the supporting cast in the traditional holiday treat; egg nog, and is one of the stars of many savory curry dishes. Cinnamon, a spice so common that it can now be found in a shaker at every trendy coffee house is not only known for its earthy sweet taste, it can now also be known as a spice turned healing agent!
Cinnamon is commonly found in two forms; the ground powder form known as cassia and the dried tubular form known as quill. Whether it is cassia or quill, both types of cinnamon come from the bark of a small evergreen tree native to Sri Lanka. This bark contains essential oils that have been discovered to contain anti-clotting agents and potent anti-microbial. The natural anti-microbial found in cinnamon have even been used as an organic alternative to traditional food preservation. However the benefits of cinnamon do not stop there. Cinnamon has also been known assist in controlling blood sugars, boost brain function and can be used as a traditional warming agent. Cinnamon is also an excellent source of manganese (an essential nutrient found in all forms of life), dietary fiber, calcium and iron.
So what are some points to consider when buying and storing cinnamon? When possible try to use organic cinnamon. If cinnamon is not organic some pesticides can decrease or alter some of the best benefits of this multi-dimensional spice. Ground cinnamon, or cassia, can be stored up to six months and quill, or dried tubular form, can be stored up to a year. However, cassia has been known to have a stronger, longer lasting flavor. When possible, try to smell the cinnamon before purchasing. A potent sweet smell will be a good indicator of its freshness. Cinnamon should be stored in a tightly sealed, glass container in a cool, dark, dry place. You can increase the shelf life of cinnamon by storing it in a refrigerator.
So the next time you want to take that extra chocolate or perhaps order an extra hot, double shot, extra thick egg nog latte – go ahead and do it without guilt. You may even be doing your body good by giving yourself that extra dose of fiber or calcium that perhaps your body needed anyway. And if sweet treats are not your thing, try the delicious savory recipe bellow for healthy, tasty alternative.
Cinnamon Chicken with Nutty Relish
You will need:
6 x large bone in, skinless chicken breasts, pounded to ¾ inch thick
Chicken Rub
1 tbsp ground cinnamon
½ tsp nutmeg
1 tsp chili powder
1 tsp coriander
½ tsp cardamom
1 tsp garlic powder
1 tsp kosher salt
1 tsp freshly ground pepper
1 tsp brown sugar
Prepare the rub by mixing all of the ingredients together in a small bowl. Rinse and pat the chicken breasts dry. Sprinkle equal amounts of the rub mixture on each piece of chicken and rub it into the meat. Be sure to rub the mixture into both sides of the chicken breasts. Place chicken into a sealable plastic bag – seal and refrigerate for a minimum of two hours up to overnight. Preheat Grill to 325 degrees or medium heat. Make sure chicken is room temperature before grilling.
Nutty Relish
¼ cup chopped onion, soaked in hot water for 20min and drained
2 tbsp of diced red pepper
2 tbsp of diced yellow pepper
2 tsp of sherry vinegar
1 tsp of honey
½ tsp of curry powder
1 cup of coarsely chopped unsalted cashew nuts
3-4 tablespoons of minced fresh mint
Add all of the ingredients of the relish except for nuts and mint – set aside. Once chicken is finished grilling (approx. 6-8 min each side) tent the chicken with aluminum foil and let stand for five minutes. Add mint and nuts to relish. Top chicken with relish and serve.
Recipe courtesy of Rob Rainford: Food Network Canada

Jaymi Newington

Cinnamon
by Jaymi Newington
Published on January 9th, 2009