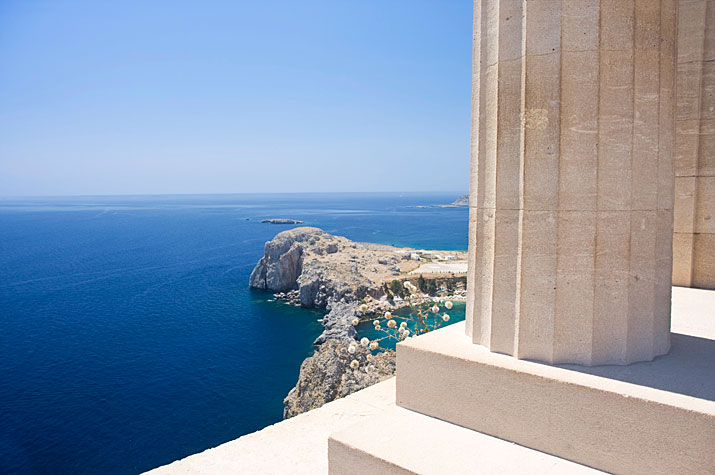 Dining in Paros, Greece: Sho-Sho
We said goodbye to our dear friends and we parted ways at the tip of Croatia, my husband and I were halfway between Italy and Greece when it hit me like a ton of feta cheese that.. why not? Here I am about to feast my eyes on the some of the most amazing cuisine that has ever come out of the civilized world.. why not try my hand at writing about it?? So here I am… It has been a long time dream of mine to write food reviews but I quickly learned that although I love most food – it is difficult to find food that is worthy of taking the time to write about. About two weeks after my epiphany I was starting to get worried that I was never going to find anything that I actually wanted to write about, but then we found Sho-Sho!
In order to accurately portray how much I loved this quaint little restaurant on the island of Paros, Greece. I believe that I have to write more of a food story than simply a food review. I could plainly describe the food at this restaurant as a refreshingly contemporary edge to authentic local cuisine and perhaps you could formulate your own opinion, picture or perhaps even imagine what food described this way could taste like. However, it does nothing to properly prepare one's palate for food that makes this restaurant reason alone for making the trip to get to Paros Island, Greece.
When my epiphany hit me while we were making our way to Greece I had visions of thick flavorful moussaka's calling my name, plump stuffed tomatoes begging to be savored, and octopus so fresh that it almost crawls its way to your mouth. I heard of how generous the Greek culture is with their food so I also imagined heaping portions large enough to satisfy any sized food lover.
By the time that my husband and I had found Sho-Sho, we had been met with loads of… um, lets simply call them, culinary experiences. We had tried the mainstream, easy-to-find tough-to-miss them restaurants where all tourists seek out based on how many other tourists they can spot in the same restaurant. We tried asking local residents of each place we went to where we should go (this one is tough as I cant for certain if we ever did find any of the restaurants that were recommended to us as anyone who has been to Greece can attest to the fact that no two signs for the same place are written alike and arrows never point you in the right direction.. so who knows) And we tried wandering off the beaten track on our own trying to find the diamond in the rough. We tried different price points, different methods of choosing restaurants and finally out of desperation we finally asked one of the waiters that come out on to the street to harass you to come in simply if the food was good..one waiter said 'no..not really'! We thanked him for his honesty! My husband and I then decided that no matter what at each restaurant that we went to we had to try something different.. maybe that was how we were going to find something worthy of the written word. Despite all of our efforts each meal we left sadly disappointed and completely unsatisfied. All we got served was bland, 2 day old casserole labeled as moussaka with a gelatinous topping, leather also known as veal steak – once served with 4 (I will say it again) 4 soggy french fries, microwaved goat (we can confirm the microwave as you could hear the 'ding' of the new aged cooking machine and it turned out there was no oven is this particular establishment), potatoes that perhaps only resembled potatoes weeks before they were actually served, and octopus.. well I would like to say that we tried it but as it turned out neither of us were brave enough.
In Paros
I would like to briefly comment as well as to some of the service we also encountered to make each of these culinary experiences even more memorable. Since our travels I have come to the conclusion that the smiles that my husband and I attempted to use to greet each restauranteur with must do something to culturally offend each person that we met so badly that the only response is to grunt with annoyance in our general direction. I will never figure out what we did to one chef that literally tapped his cigarette ash into our food after we genuinely smiled in his direction but whatever it was it must have been awful and I apologize for it.
On the day that my husband and I found our favorite restaurant in Greece we headed into the town of Naoussa on the island of Paros. As soon as one enters this town you are instantly faced with the dizzying display of restaurant after restaurant shoving their menus that are the same size as the local phone book right at you. My husband and I did our best to escape these food peddlers and found ourselves on a quiet, beautiful street. We were walking along with nothing but the sound of our grumbling stomachs in the background when we came around the corner and there it was like a shiny pearl in a dull grey oyster. The one page menu was neatly displayed out front. Simple yet elegant with no pictures that were faded from sun exposure and salt water. A server walked by with a dish and I almost fell to my knees. It looked fresh, it looked good and it looked like the portions we fantastic. The food looked like works of art and in my world this means that the chef must be a genius! We asked about a table – it was full. We could not eat there tonight but we were informed that if we came early enough the next night that would be better. My husband and I were crushed.. to be so close to good food and not taste it was torture. We were there at 5pm the next day! It was full again but I would leave without at least asking. There was one table in the corner as long as we did not mind sitting inside…of course not! I would have sat in the kitchen sink to try the delicious food I had seen the night before.
The atmosphere of Sho-Sho would appeal to the pickiest traveler. Like the menu out front, the decorating is simple, yet elegant. The owners, a lovely husband and wife combination, chose a perfect blend of local art as well as modern accents that make you feel as though you are out for a special night without the pretentious flare of some fine dining establishments. The husband of this restaurant duo is the only server and his wife the only chef in the tiny kitchen then have in the back of the quaint restaurant. This makes the fact that the service we received here was the best we received anywhere. Wine, bread, appetizer entrée all arrived in such perfect succession that it was obvious that these owners are just as excited for you to taste their delectable creations as you are to taste them. Another nice treat was the large selection of exclusively local wines that this restaurant stocks with a description of where in the country they come from. You can have a historical tour of Greece while you are having a culinary tour.
Paros: Night-time near the water
Now I might be exaggerating just a bit but my husband was there to also confirm that as our salad was served we heard a choir sing out a song of praise. In front of us was the most beautiful bowl of local greens, home made vinaigrette and the most delicious grilled cheese fillets you have tasted. That is correct grilled cheese… a slab of cheese that has been grilled to perfection. Not runny, not gooey like you would think a piece of grilled cheese would be but this slice of grilled Halomi has the perfect density to tolerate high heat without melting. And knowing that is was also made right there on the island of Paros and shipped to the restaurant that morning also helped confirm its unbelievable freshness. The vinaigrette was sweet, the greens were fresh and crisp and the salty goodness of grilled cheese made the perfect combination once inside you mouth to satisfy all your taste buds.
We were enjoying taking our time with our salad so much that we did not want it to end. It had been our experience so far that while dining out in Greece one of two scenarios can occur if you have ordered multiple courses for your meal. Either your first course comes out then you wait for hours as the cook comes out of the kitchen, sits down at the table next to yours, takes their shoes off, rubs their bunions, has a cigarette, eats their dinner watches a soccer match then will eventually go and re-heat your dinner. In all fairness to them I suppose the cook, out of loyalty has to wait to see what the hundreds of cats that reside in each restaurant are going to leave behind to be served to patrons before they can just assume that they can serve all of the items on their menu. Or…. the second scenario your first course, second course, drink s and bill will come flying to your table with such urgency that you think that they are practicing for the national Frisbee competition.
This was not the case at Sho-Sho. After reluctantly finishing our salad. We had just enough time to set down our cutlery, have a sip of wine, comment again on the wonderful atmosphere when our main courses were in front of us. I am certain now that there is a choir just waiting in the kitchen as I heard the same song of praise… it was perfection. The myriad of different colours on the plate in front of me was nothing short of spectacular. The sight alone appealed to your senses, the sight, the colour the smell, even the temperature of the plate. The dish in front of me was simply described as meatballs with zucchini sauce. It does not inform you that the meatballs are a wonderful blend of lamb, pork and beef with the perfect blend of fresh herbs – freshly picked sage being the star in this dish. The zucchini used in the sauce was also freshly picked that day then cooked and blended with yellow peppers, cream and a light homemade curry. The supporting dishes to this already award winning main dish is a potato salad – but not like your grandmother used to make. These new potatoes have been sparingly mixed with peppers as to not take away but simply compliment their delicate flavor then served with a light dusting of oil and white wine vinegar. Although you only can detect a suggestion of vinegar this lightly acidic dressing really does make the perfect compliment to the creamy zucchini sauce of the meatballs.
My husband tried a pork dish and it was nothing short of amazing either. His pork fillet was perfectly paired with a delicious light mustard sauce but the real star to this dish was the lentil salad meant as a side dish. The lentil vegetable salad was a light but incredibly satisfying partner to the breaded main attraction not to mention and refreshing sight to see such a healthy accompaniment to a main course.
Peter the co-owner choose a dessert for us that would bring even the biggest critic of desserts to tears. This freshly baked coconut cake with fresh strawberries and melted chocolate topping made this final food course as appealing to the eye as it was to the palate.
The time that my husband and I were fortunate to spend at this restaurant enjoying something for all of our senses makes this restaurant the best reason to visit the island of Paros, Greece. It doesn't hurt that you can leave this restaurant and follow the cobblestone road that runs in front of the restaurant as it winds through one of the most historic parts of Paros right to the ocean front – it simply adds to making the night that you visit Sho-Sho to be one of the most memorable moments that you will have on your trip to Greece!
I have not mentioned the price. Just to clench the deal for anyone considering making the trek to Greece for dinner tonight – we paid considerably less for this phenomenal dining experience than we did for the microwaved meat that we had only days before on the same island… As well, you better hurry. We were shocked to find that Peter and his wife Kalypso and only opened this restaurant 3 weeks before we arrived – this place is destined to be a favorite for tourists and locals alike! I congratulate Peter and Kalypso on their tremendous success and thank you for the wonderful experience that you both provided!
*Find out more (in German) regarding Sho-Sho.

Jaymi Newington

Dining in Paros, Greece: Sho-Sho
by Jaymi Newington
Published on December 12th, 2008
Website: