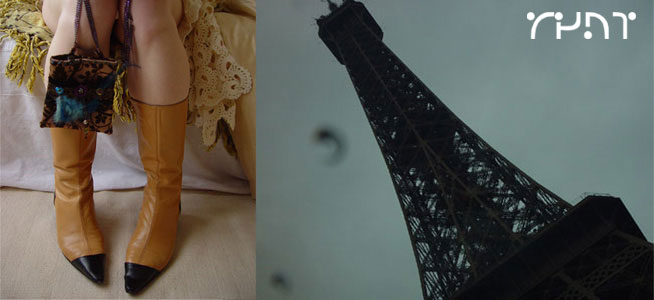 Beth Orton – Daybreaker
Goosebumps. That is what the album opens with: big, gigantic, and spiky Goosebumps. Headlines should read: Huzzah! Melody not yet dead! Long Live The Orton of Beth! And they will, well… at least here they will.
The 51-minute Daybreaker launches with the haunting Paris Train, which fits the smoldering backdrop with a rickety train percussion track and a delicately plucked 1/16th note arpeggio riff that continues throughout the briskly paced 6-minute opener. It is an awfully orchestral song, dripping with violins and accompanying strings that appropriately swell when the melody escalates and hums in a low-key affair when the melody bottoms out. And no, not like a brain-mashing Jerry Bruckheimer film, but more like something taken out of the non-brain-mashing scenes of Braveheart.
For the uninitiated of her previous solo LP efforts, 1996's Trailer Park and 1999's Central Reservation or her collaborations with Beck, William Orbit and The Chemical Brothers, London-raised Beth Orton is essentially the culmination of Sarah McLaughlin (with the fulfilled promise of potential), Tori Amos (without the unbearable urge to be known as "artsy"), Sinead O-Connor (without her losing her bit), house/trip-hop influenced club-hopper, vintage country-music lover and a wo-"man don't give a fuck" attitude.
Oh yes, then there's the voice: "The voice of an angel", as Chemical Brother Ed Robinson states, playing the part of a 30-second television promo.
Well, I've always envisioned angels to sound like an overzealous church choir singing "Halleluiah" over and over again to the early break of dawn. But Orton sings her songs in such an extremely hushed, laid back, laissez-faire nature that it sounds as if she is too relaxed to even close her lips for the P's, B's and M's or roll her tongue for the L's and R's. She seemingly exhales out her words oddly reminiscent of a warbly Magpie (no, I've never heard a "warbly" Magpie before either, but I imagine it to sound a lot like her) on a bleak and overcast day, but believe me: absolutely none of this comes close to resembling a bad thing. Her sullen, raspy delivery manages to be a full and rich one because of her unique ability to sound as if she is singing solely into your ear and unequivocally, into your core being. When she croons on track 8's acoustic & strings-only This One's Gonna Bruise, "Ok / Ok / What a thing to choose / This one's gonna bruise / You'll learn one day, won't you? / You'll learn someday, won't you?" it's terribly convincing because it sounds genuine and true, you truly believe every word. With an industry more concerned with churning out cookie-cutter images of artists writing lyrics and melodies more akin to caricatures of what lyrics and melodies used to be, believability in its conception and delivery is a much-valued commodity.
However, Daybreaker is not without its blemishes. As minor as they may be, the album suffers from spots of redundancy where Orton's voice simply cannot swoop to save the day. The Emmylou Harris-backed "God Song" starts in the regions of alt.country, head-bobbing, archetypal country sing-a-long fare. Ultimately, the song veers painfully into the barren, status quo Lilith Fair territory where the pleasantries of the Chorus have worn thin.
Indeed, there is a certain sense of sameness that repeats throughout the album and her previous LP's. Everyone from The Chemical Brothers, Johnny Marr, Ben Watt, Ryan Adams (on the infectious and sure-fire single, "Concrete Sky") and the aforementioned Emmylou Harris spring up like giant billboards to buy the album. Despite the diversity of Daybreaker, the album will not do much to change her image of "just another folkie singer/songwriter with a trip-hop shtick" to an image of "a rare artist that comes along once per decade… if we're lucky enough". Perhaps there will be one album in the future from Orton that will change the image. Hopefully, it will be an album that leaves the quasi-filler material of "Ted Waltz" and "God Song" to the land of the b-side.
Quite frankly, who could and should care less about image? It's just disappointing to see a false image projected upon an artist's career simply because of a two-bit music-jock too disenchanted with the last Sarah McLaughlin remix/live marketing monster or the next Meredeth Brooks/Paula Cole imitator that the label "female singer/songwriter" becomes affixed to all artists of one specific gender. Will this album make top ten album lists of the year? Possibly. Will it make top albums of all time? It probably will not. Daybreaker is not so much a masterpiece than it is everlasting. Will it make your top ten of the year list? I can't say, it certainly makes mine, but that's the point. An album this sincere and this full of emotion should not be privy to subjective opinion (like the one you are reading here), it should just be heard. Rare then that, something like that should happen. Innit?
Long live the Orton of Beth!

Terence Leung

Beth Orton – Daybreaker
by Terence Leung
Published on August 1st, 2002
Artist:

Beth Orton

Album:

Daybreaker

Label:

Heavenly Records

When:

July 30th, 2002

Rating:

8.9/10