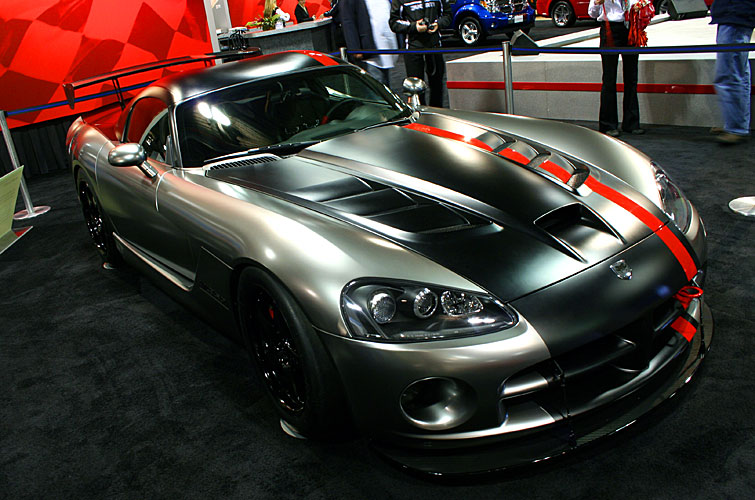 AutoShow 2007
And so the saga continues. As it does every year, the Calgary International Auto & Truck Show took its place at the Stampede Park Roundup Centre this March (14-18), showcasing some automobiles of all makes and models to the thousands who visit each year. As with every new year there comes the repetition of old models as well as the excitement of new models.
If you read my previous auto show articles (2006, 2005), you would recall that D4V and myself hit up the show on a Saturday (in 2006), which is quite possibly the busiest time to go, so this year we decided to get ourselves in early in an attempt to avoid the massive crowd of stroller browsers. Going opening day proved to be a useful strategy.
From the get-go, all seemed similar to the years before. Lights, cars, and lots of representatives greeted us as we entered the massive show room. Lights to guide your way to the cars and representatives to try and sell you the cars, interrupting the experience of browsing your favourite wheels that you had come to witness up close.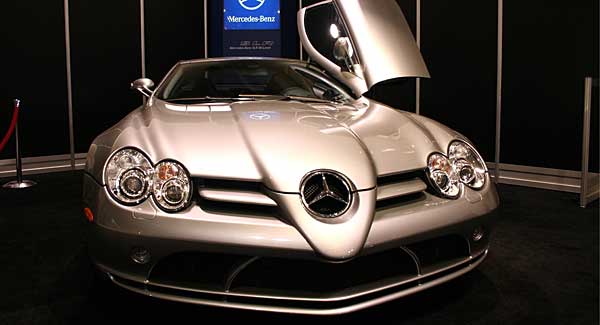 Mercedes-Benz SLR McLaren
After making our first steps onto the floor, we noticed a Mercedes-Benz SLR McLaren sitting peacefully in the corner of the room next to some Smart cars. We decided this would be an excellent machine to adjust our cameras on, but after messing around with his flash, D4V decided he was going to pass on the photos this time around. Not me though. This year I had my new Canon DSLR and I was eager to put it to use capturing a mug shot of every interesting thing I saw.
The SLR McLaren was stunning. Its fancy wing-style doors and its rippled gill-like intakes were definitely something to draw attention, but for some strange reason, I didn't care. For some strange reason, I was instantly bored with this car. Was it because I had seen it so many times before in photos? I don't think so. With practically no one around it to gasp at its amazing curves I was quite surprised. In fact, the Smart cars next to it had more viewers from what I recall. Poor SLR McLaren… so wanted, yet so blatantly unattainable.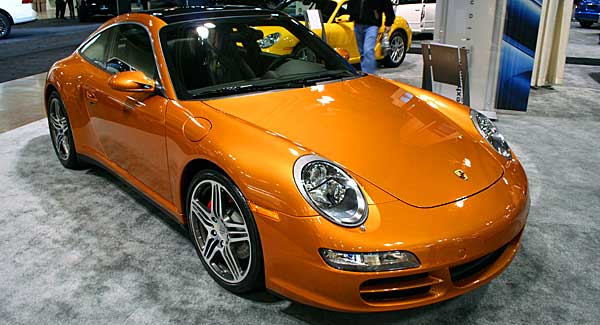 Porsche 911 Targa 4S
Once my camera was ready and set to 'stun', we moved on. Making our way passed the other Mercedes cars we quickly scanned the cheap looking Lexus' and the never-popular Lincolns, and then stopped over at the ever-popular Porsche booth. Porsche had their usual Boxsters and the new Cayman, but what really grabbed all the attention was the 911 Targa 4S. What a hot looking car. Complete with an electrically operated glass roof panel that can be retracted at all vehicle speeds in only seven seconds revealing a spacious 4.8 square-foot opening, the speedy 355bhp Targa 4S had my attention. The colour might have played a role in catching my eye as well, as this Targa 4S was painted a crimson orange, screaming "LOOK AT ME!" to all who passed by.
As we later passed Volvo, we stopped to see the new C30 T5. It's a new 2-door hatchback with a unique styling applied to its hatch. Props go out to Volvo for doing something different. I found it a tad ugly, but at least it created some interest. D4V will tell you otherwise.
Onward to Acura where we saw that the new 2007 Acura RL was selling for $77,165. A decent looking car it was, but for that price I'll take something else thanks. And don't expect to see any new RSXs rolling around. Acrua has discontinued that model for 2007 in an effort to separate itself from Honda (and their new 2007 Civic). You can read more about this on AutoWeek.
Onward! We had a quick listen as a rep from Land Rover gave us the "deets" on the new Range Rover and how they had a Jaguar engine in their hottest ride. I wasn't interested, so we moved on to the real Jaguar gems. And by gems, I mean the XKR. Priced at $117,000 (only a mere $5K more than the regular XK), the XKR, to me, was basically a cheaper version of an Aston Martin. However, the XKR is not necessarily the worse of the two choices. Boasting a 420bhp supercharged V8 engine and sending 413-lb-ft of torque to its feet, this car would easily look nice in anyone's laneway and can still keep up with an Aston. Something I did happen to notice was that Jaguar hadn't changed anything regarding their back seats. Its almost like to make the Jags different from the Astons, they simply added back seats. Yet the backseats are so tight that there is no room what so ever for anyone taller than a sapling.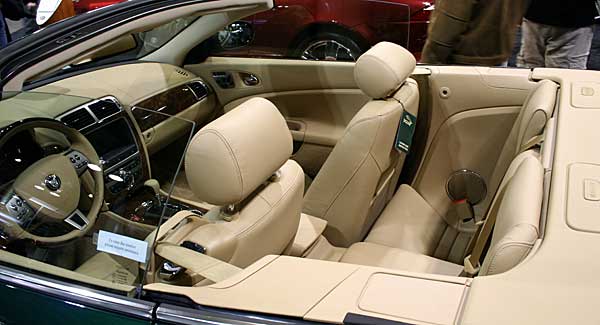 Jaguar XK Seats (who needs legs?)
Anyway, I've got lots to cover, so I'll move on. We had a quick browse at the Infiniti QX56's electronics and gasped at its monstrous size, then quickly shuffled on over to see the Saturn Sky. We didn't stick around long though, as this was nothing new. Some people can't even tell the Sky apart from a similar GM car, the Pontiac Soltice. Shame on them I say. The Sky is WAY nicer looking.
We didn't even look twice at Cadillac as we made our way through Mazda. I stopped and had a look-see at the Mazdaspeed 6, which in my opinion, looks like a pretty decent automobile. Priced at only $38,800, I admired its clean interior and sleek sides. I quite like this car because its not something you see every day, yet it still has a little "umpf" under the hood with its turbocharged 274bhp engine and 6-speed manual transmission. I'd drive one.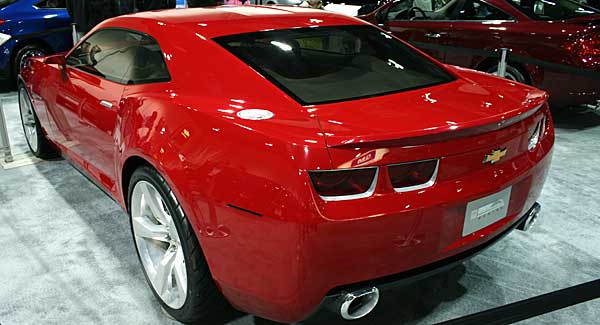 Camero Concept
With its mile-long hood, the Honda S2000 was the same as I remembered it and before we knew it, we had passed the new Jeep Wranger Unlimited (which is frickin' huge this year) and were entering into the world of Chevrolets. The GM vehicles have long since left my mind since working at a dealership a few years ago. They have clearly gone back to a rounded look with their trucks and have even gone as far as slapping the GM logo onto each and every one. Almost as if you say, "Hey, this is a GM vehicle. Yes, we're still here." Deep down I've always been a slight fan of the Silverado, being a country boy and all, but we didn't spend much time here and after quickly shooting some photos of both the new Camero concept as well as the still large and in charge Hummers before making our way over to Volkswagen and Subaru, we completely passed by Hyundai. Meh. Who drives a Hyundai anyway?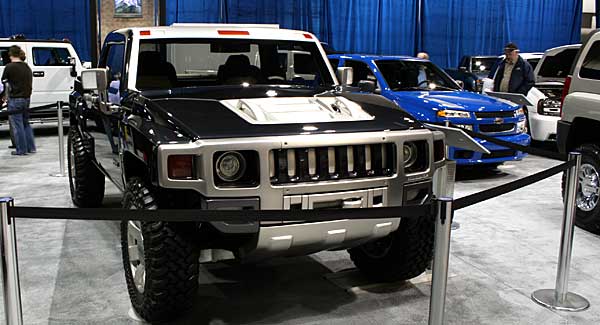 Hummer HUT
Volkswagen had an impressive lineup this year showing off their new EOS convertible and the Golf GTI and Rabbit. D4V recently added the Rabbit to his collection of goodies, so after having the opportunity to ride in one, I have to say it's a very nice and zippy little car. Also on display were the City Golf and City Jetta, which are so popular here in Calgary, it's a good 6-month wait to get one.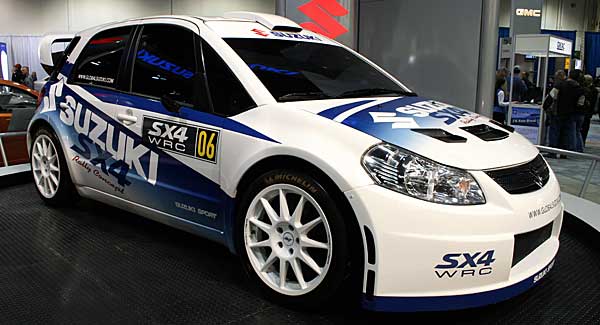 Suzuki Rally Car
Beside Volkswagen, Suzuki had an impressive rally car on display with a tail fin as large as the car (exaggeration of course, but it was still pretty big). That was pretty neat to see, which was more than I can say about Subaru. Even though the WRXs and Legacy GTs are sweet cars, there wasn't really anything special here, so we didn't spend much time with them, as there was much more to see, including the hot girls working for Mitsubishi. I remember first seeing the new Eclipse at the 200- show (link to previous article). I really liked it when it was on display, but once I saw it on the road a few weeks later, I lost interest. Then the Spider came out, which was on display this year, but I'm now having a hard time picturing myself driving one.
The Mini Coopers were neatly arranged in a line and had a lot of viewers, as did the new Toyota Tundra and Tacoma pickup trucks. Man those trucks are big… and expensive. The new Tacoma breaks the $45,000 mark this year. With so many out on the roads today, one would think they are a dime a dozen. Apparently Toyota had test drives going on outside as well, which D4V and I missed as there was nothing advertising the fact.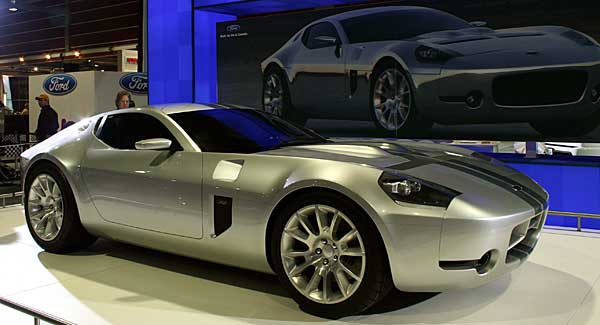 Ford Shelby GR-1 concept
By now we had been on the floor for a fair bit of time, so we decided it was time to finish the same way we did the previous year, gawking at the exotics. On our way, we couldn't help but stop and notice the Ford GT racer, the Ford Shelby GR-1 concept, and the Dodge Viper SRT-10. The Ford GT was, well, it's a gas-guzzler, so it's for show mostly. The Shelby GR-1 concept was definitely impressive, yet still similar to the GT. And the Viper, still a gas-guzzler like the others, was easily the most impressive. If I were to give any car at the show this year an award for style and presence, I'd have given it to the Viper SRT-10. That car just looks mean and awesome from all angles (see cover shot).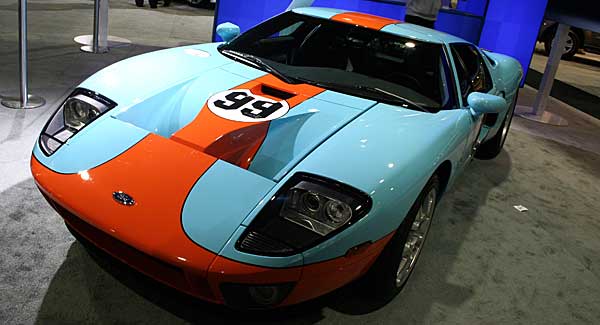 Ford GT
The first new Bentley dealership in North America within the last 5-10 years came to Calgary a couple of months ago, so it was no surprise that they had the Continental Flying Spur and the Continental GT on hand for viewing. Bentley… HA. That's a rapper's ride, and I 'aint no rapper. What I wanted to see, as usual, was Aston Martin. Making an appearance for Aston Martin this year was the Vantage and the Vanquish S. Despite the massive price differential (the Vanquish's $300,000+ price tag almost doubles the Vantages), the Aston Martins still amaze me. To be that close to my dream car takes my breath away. All I could do was visualize myself at the reigns of the 520 bhp beast, its hand-built 6.0-litre V12 engine roaring and informing people 50 miles away that I was coming. The only thing I dislike about the Aston's is that you rarely see them in an interesting colour. Then again, not sure what I would make of an orange Aston Martin, which was the colour of a Lamborghini Gallardo Spyder that was also drawing onlookers' attention while it sat so comfortably beside a black Gallardo and a yellow Lotus Exige. And yes, this time this really was an Exige, compared to last year's Elise, which I had mistaken for an Exige. We were able to get right up to them this year as well, however, I resisted the urge to drool on them, as I didn't think the reps would've liked that very much.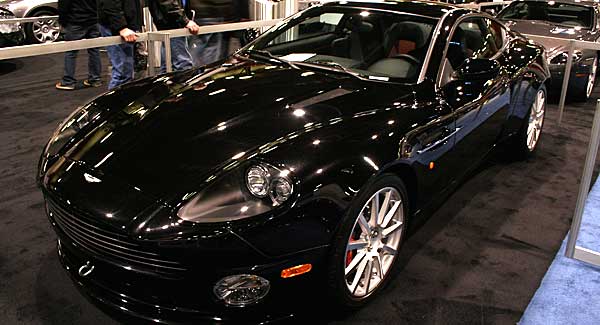 Aston Martin – Vanquish
Still, the exotic cars are always a nice way to cap off yet another auto show in Calgary. With a booming oil industry that has been drawing in people from all over, many of the cars at the show can easily be found on our streets at any time of the year thanks to the warm western Chinooks we get every couple of weeks. This year's show was fun and predictable as we had thought, but you can be rest assured that we'll be attending the show next year. Now, if we could just find a way to stay clear of all those damn representatives.

Ian Harding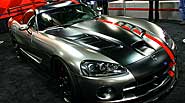 AutoShow 2007
by Ian Harding
Published on April 6th, 2007
When:

March 14-18th, 2007

Photos:

Previous: