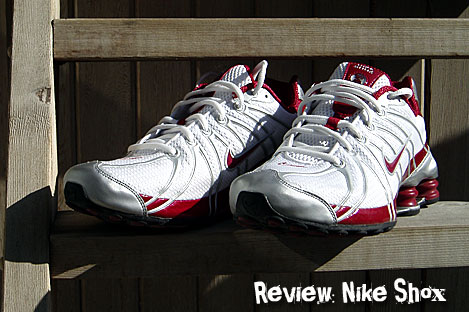 Nike Shox Shoes
Buying new shoes, or anything, is always a hard task for me. I?m a very picky person when it comes to buying things, especially shoes. I don?t know why, I?ve just always been like that. I first saw the Nike Shox at Footlocker. They didn?t seem that appealing to me, being Nike and all, and since I?m a picky person, I never even try on a pair if I don?t like how they look. Since I got to the point where I was jogging five days a week, I needed something, and fast. I had a pair of Nike shoes a long time ago, and after the sides of them split after 2 months and sending them back directly to Nike, I vowed never to buy Nike again. Well, people change.
The Shox caught my eye the second time I passed them. There was something about them. Was it was the fact that everything else sucked? Was it the funky webbing that wrapped the shoe in a spider web-like look? Maybe it was the spring-like thingy?s in the heal that appealed to me? I have never owned a shoe with, well, ?springs? in them. Was it a gimmic? Even though I?ve heard the rumors that Nike shoes actually create injury, I was still at a point of desperation when it came to getting some new running shoes, so I was willing to find out.
Retailing for $169.00 CAN, the Nike Shox are some very interesting shoes. The tongue of the shoe is made with perforated EVA foam, which allows for more airflow to the foot. While running I could actually feel a small sort of breeze on my feet, allowing them to feel cooler and not cook inside as they did with my Adidas runners. They also have flat webbing loops for the laces to reduce pressure on the top of your foot. Flat laces stay tied a hell of a lot better than round laces, so you?re not always stopping to re-tie them. Definitely a bonus in my books.
The Nike Shox also includes something that you can?t see. Built into the forefoot sole of the shoe there is the Nike Zoom Airbag, which greatly reduces pressure under the front of your foot. These things also come with quite the grip on the sole. Works very well when running uphill.
This passed May I had the chance to take part in the Forzani Mother?s Day Run & Walk. I was a little nervous since I heard that over 11,000 people take part, but I was also totally pumped to be taking part in a competitive run. Well, it wasn?t considered to be competitive, but I?m a competitive individual. In the end I placed 119th out of over 2,000 racers in the 10Km run. I was 99th out of 913 men, 25th out of 170 in my division, and finished the full 10Km run in 43:50. And not once during the entire race did my feet ever hurt. My Nike Shox worked perfectly.
The thing about the Nike Shox that I like the most is that they have really adapted, if you will, to my feet and the way I run. Like my father, I walk on the outside of my foot, causing the soles of my shoes to wear down a lot faster on that side. When I first got my Shox, it was a little difficult to run in them since they were new, stiff, and wouldn?t allow my feet to lie ?naturally?. However, the Nike Shox incorporates a very unique yet effective technology.
At the rear of the shoe, there are six urethane columns. They say that when you run you put 2-3 times your body weight on your feet. These columns collapse as your body weight puts pressure on your feet, reducing the amount of pressure between the ground and your body. When you release, the columns expand, giving your foot a sort of ?boost? off the ground. Each column has plastic plates built in to absorb the impact. It kind of feels bouncy as you run, but you get used to it.
In summary, the Nike Shox are an overall decent shoe. They?re flashy, functional, and do the job of keeping my feet feeling great while running. The only main downside I can think of is the cost. After tax you?re looking at almost $200 for these things. Add on a can of waterproofing spray, and it?s easy to crack that $200 mark. Still, if you are an active runner and are looking for a new pair shoes that will allow your feet to breathe, will adapt to your own personal running style, and have laces that will stayed tied (important), then I would recommend the Nike Shox. 4 out of 5 stars.

Ian Harding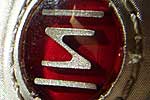 Nike Shox Shoes
by Ian Harding
Published on June 1st, 2005
Rating:

4 / 5