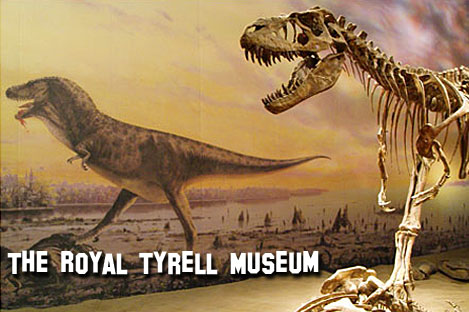 The Royal Tyrell Museum
I recall back in 1993, on a trip to Alberta with my Scout troop, visiting a place where the ground protruded the planes of Alberta like tiny mountaintops. At least that is what my memory told me. However, I could not recall where that place was exactly. A few weeks ago that memory was re-lived when a friend of mine asked me if I wanted to go to Drumheller, Alberta. ?What for?? I asked. Obviously, her answer was to see the Dinosaur museum. After going, I don?t see why anyone would go there for any other reason.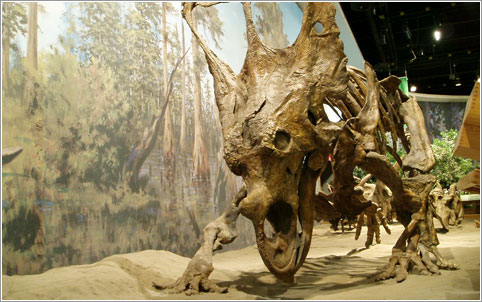 Ah yes. It all comes back now. That was where I must have seen the unique landscape. I agreed to accompany my friend on a weekend back in time. I was very excited to go, as I?m always excited to go somewhere that I had visited years before but have little remembrance of for the simple reason that when you get there, the memories flood your mind with thoughts of the past.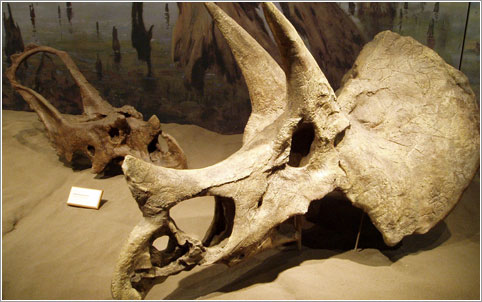 Now, let me just say that I had no recollection of the town of Drumheller which is located in the heart of the Alberta badlands. Once we arrived, I realized why. Drumheller is 100% Dinosaur oriented… but that?s about it. It appeared as though every single human being that was below the age of 24 had left town to attend a school in an area that didn?t appear to be inhabited by moles. There are dinosaurs on street corners, sidewalks, besides the grocery store, everywhere. In fact, Drumheller even has the world?s largest Dinosaur. But before we checked out the gigantic T-Rex, we went for the goods, the Royal Tyrell Museum.
Snuggled away in the heart of Drumheller Valley is Canada?s only institution devoted entirely to paleontology. The museum first opened in 1985, and although it doesn?t look very big on the outside, I assure you that once you?re inside, time can be well spent. The day was brisk and windy with a slight rain, so we only took a couple of minutes checking out a lookout from atop one of the small mountaintops that was located directly in front of the museum. After passing by a set of Triceratops? and a Velociraptor that greeted visitors with a large toothy grin, we entered the main doors and were hit with a gust of warm air as we walked through the doors. Twenty dollars each was the fare, which like everyone else, we eagerly handed over and then trotted off into the world of fossils.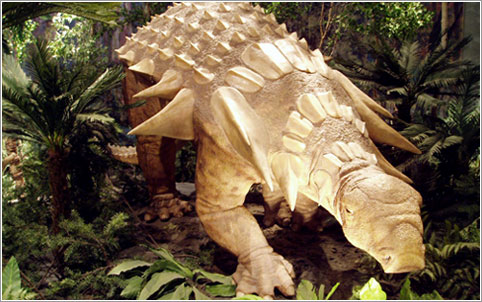 The museum has an excellent layout. The path that walks visitors through geological time, passing through different ages of life on earth, is clearly laid out to ensure that nothing is missed. The atmosphere was something like a library. It was quiet and subtle with people only whispering as they gazed through glass at rocks with ancient life forms encased within. The screams of children who are too young to know better also echoed occasionally, but they would quickly pass.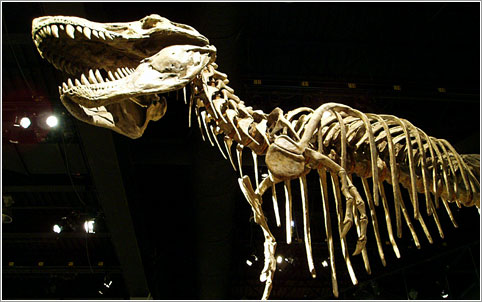 Buckle your seatbelt, because this journey takes you 3.9 billion years into the past. A giant globe greets you as you enter the first exhibit simply showing the rotation of the earth and the effect the sun has on night and day. This was accompanied by various mechanical demonstrations. Turn a handle and see a model show you how water levels rise and decrease, or see mountains form in sand right before your eyes. This hands-on portion of the visit was really neat, but it wasn?t what I was eager to see.
Further along the road you?re introduced to everything from Precambrian plants forms and fish, to creatures of the great seas that once covered many now exposed portions of the earth, right up to the most odd looking land mammals and beyond to the birds of the prehistoric skies. Creatures so big they make a hang-glider look like a flying chicken. I made sure to take in absolutely everything. They had the layout of the journey so that you couldn?t peak ahead to the other exhibits, so every room you entered was like entering a new age of life (or death, whichever way you want to look at it).
I would have to say that the most spectacular area of the Royal Tyrell Museum is most definitely Dinosaur Hall. Featuring over forty dinosaurs? skeletons on display, it feels like you?re on the set of Jurassic Park.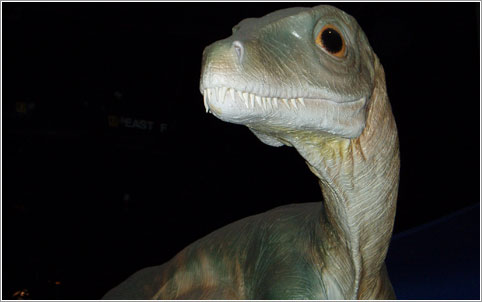 Also along the way is the preparation lab where visitors can watch paleontologists uncover new fossils for display, the Theropod room which displays the great Tyranosaurus Rex (The most popular display in the museum), Burgess Shale featuring a full-colour, three dimensional walk-in diorama that is home to forty-six of the Burgess Shale creatures scaled to twelve times their actual size, a reef created for the Devonian era which is also dubbed ?The Age of Fishes?, the Cretaceous Garden featuring a collection of prehistoric plants in Canada, the Age of Mammals that you enter through the Cenozoic Arch, and finally the Ice Age in which giant wooly mammoths and sabre-toothed cats roamed the glaciers long before the polar bears or penguins of today.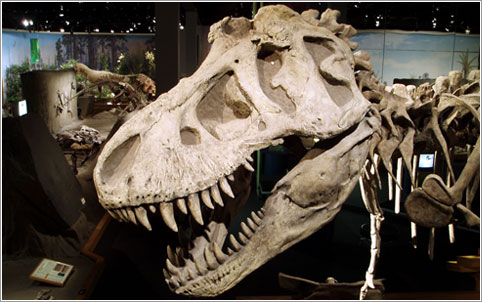 Finally to finish off the two-hour journey you take a stroll through the modern ages. Also known as ?the gift shop?, the room was entirely devoted to allowing you to pick out a souvenir that you could take home with you to help remember the day. I did so by purchasing a plastic replica of an Ankylosaurus, which now sits atop my computer monitor at the office. That way in another twelve years I will remember my trip and not be stuck wondering where that strange place is that I once visited.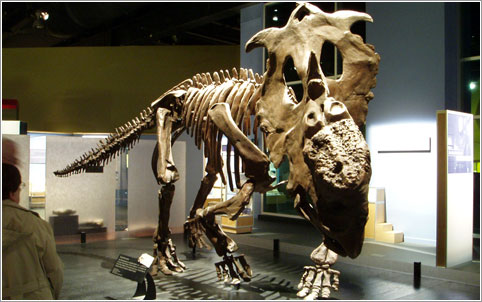 I highly recommend checking out the Royal Tyrell Museum if you happen to be in Alberta. It?s only an hour and a bit outside of the city of Calgary, and if you were a dinosaur fanatic as a kid like myself, then you will definitely enjoy a day at Canada?s most famous Dinosaur museum. Oh and don?t forget to climb the staircase within the world?s largest dinosaur as we did. For $5/person you can climb over 100 steps and gaze the landscape from within the giant mouth of the T-Rex that towers over the trees and homes in the area.
At any rate, a good weekend get-a-way. I mean it must be popular since I saw one of my co-workers while I was there. Heh.

Ian Harding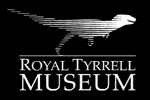 The Royal Tyrell Museum
by Ian Harding
Published on October 1st, 2005