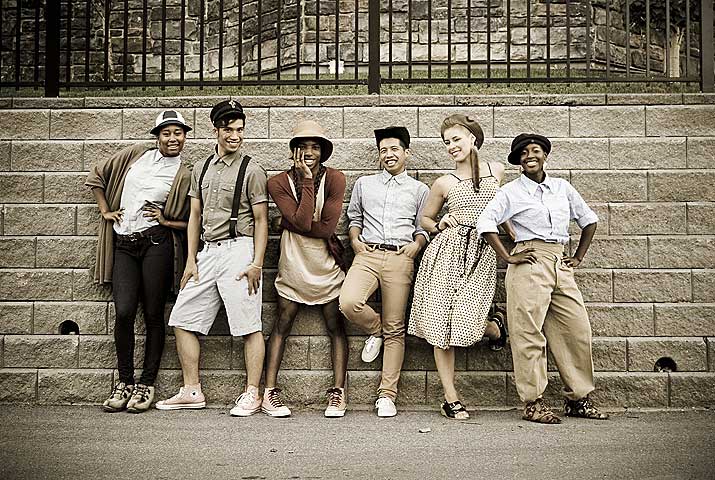 Pushing The Corporate Boundaries
There is a problem in Calgary, Alberta. There seems to be a haze of fad culture dust sprinkled over the city as everyday a new restaurant opens and condos settle upon the city.
Members of the art community, the dance community and even the the fashion community are finding Calgary lacks an appreciation for creative groups pushing the boundaries of what is considered the norm. It seems as though Calgary wouldn't know good taste if it slapped them silly.
We have in this city – what I call mannequin culture – nobody has their own taste. You have artists doing their own stuff, people don't know it's good unless they are being told to think it's interesting. In Montreal, Toronto, London, you will see people embracing the art and fashion, in Calgary you see people wearing what they just saw on Melrose Place or Gossip Girl.
"I find in Calgary, the people are fad jumpers so when there are dancers or artists doing avant-garde things, pushing things, there is a lack of an audience. To be a real artist you don't stay in Calgary," says Patti Smith.
"There is a lack of awareness, a lack of taste and a lack of support. I've been in Moncton, New Brunswick where people are pushing the boundaries as artists more than they are here in a city of more than a million people," says the local animator who has worked extensively with the Quickdraw Animation Society and with Aboriginal youth on reserves through youth outreach projects.
The questions of why there is not a certain environment that is conducive to the "artist" is one that has began to crop up in many circles. More and more creative inclined Calgarians are  venturing away from the city of Calgary to further their careers.
According to MacLeans magazine, Calgary is one of the top spending provinces in Canada when it comes to donating money to the arts. However, the problem remains similar to the problem of funding distributed on reserves. What is done with the money fits a general standard with no room for new initiatives or ideas. Movements to put Calgary on the map with large art installations has still left many wondering if it was all done in vain.
Four years ago, Travis Taddeo was an unknown name in the fashion industry. In 2007, Taddeo was just about to graduate from La Salle College in fashion design. At the time, Taddeo's biggest problem was "getting past the "small guy" label. "I'm trying to get production and financing in order to produce work. Coming out of school, you have to find someone to back you up. Being the designer is very challenging, trying to get my stuff across Canada when I graduate will be the most challenging goal."
Travis Taddeo Fall 09 at LG Fashion Week © Studiolit 2009
Today, Taddeo can speak of an accomplished feature presentation at the highly recognized LG Fashion Week in Toronto. Taddeo has also gone on to release his first in store collection and can now be found in stores across Eastern Canada.
Crossover is still yet to happen in the West, but for now the independent designer has accomplished much in four short years. His online boutique is set to launch this Fall and he is currently preparing to show his Spring/Summer 2010 collection once again at Toronto's LG Fashion Week. His designs from the Fall/Winter 09/10 collection were featured this summer in editorial spreads of Flare and Fashion Magazine and was recently labeled a "One to Watch" in the October issue of Elle Canada Magazine. Fashion journalist, Natalie Atkinson has even labeled the celebrated designer Canada's "it boy!"
The problem not only lies in fashion, the story of singer/songwriter Feist, who has paid tribute to Calgary in more ways than one; as a dancer at the opening ceremony of the Calgary Winter Olympics and as an award winning singer, only met fame and fortune when she pursued a career away from the province.
Feist would also meet great success when the song "1234" off the album The Reminder was used by Apple for an iPod commercial. Time magazine would go on to name "1234" as one of the 10 best songs, ranking it at number 2 and on 6 April 2008, Feist won a Juno Award in Calgary, Alberta for the single as "Single of the Year."
Tim Okamura, who is a graduate of the Alberta College of Art and Design is a contemporary painter known for his giant sized painting of his depictions on African-American and minority subjects in the urban setting. He has been featured in several motion pictures and could at one point be found at the National Portrait Gallery of London. Okamura was even shortlisted in 2006 for a proposed portrait of the Queen of England. Okamura now resides in New York and has only shown work in Calgary twice. First in 2006 for the solo show Urban Portraits + Brooklyn Mythology and second in 2007 for the two person show titled Brooklyn Mythology: The First Nations Cycle featuring local graffiti artist The KidBelo at the Axis Art Gallery.
The KidBelo, one of Calgary's leading graffiti artists would face scrutiny this past September when an initiative by the City of Calgary to control a graffiti mural project went awfully wrong.
Kaiti "Dangerkat" Pasqualotto of House of Dangerkat
As many continue to cross the borders, collecting world wide praise, a new realization has begun to settle amongst other young artists. Moving to pursue a career in the arts is beginning to have more appeal. During London Fashion Week, the House of Dangerkat would be known across the world for their "muscular thighs in their sexy lycra" and fast high energy dance performances as publications such as Vice Magazine, Dazed Digital and other fashion publications set their eyes on the dance crew from Calgary.
"Calgary doesn't seem designed for artists' survival and if you do want to survive then you have to sell yourself to corporate people and then your art is not what you wanted it to be. The funny thing about how it all works is that when you get international attention, that is when Canada begins to pay attention. It means more to people when you do things somewhere else," says the director of HOD, Kaiti Pasqualotto.
"That is just how it works, so people get excited when we go away and come back again," she says. "They get excited that people are putting Calgary on the map, we let people know wherever we go that we are from Calgary. My mentality changed when I started realizing that at the end of the day it really doesn't matter, being from Calgary doesn't mean your work is not on the same level as other people doing things that you sometimes think you can only wish to do. The key is to have faith in your work and just live."
For Pasqualotto, the fame and world wide appreciation wouldn't have come if she did not see the voguing and wacking dance house as a lifestyle. "It's something you live, it's our art and it is who we are and there is no line. Work is life and your life becomes your work so it all blends into one. That is why we are not just doing a job, we are coming together creatively. The friendships that we have and the shared passion and the shared decision to live our life this way keeps us motivated. We have a shared understanding. Some people don't have the understanding."
As the press continues to roll out on the national and international red carpets on Calgarians succeeding elsewhere, the question now asked is when will Calgary take notice of it's talents before it's all gone?

Kimberley Jev

Pushing The Corporate Boundaries
by Kimberley Jev
Published on October 1st, 2009
Photos:

Courtesy of House of Dangerkat