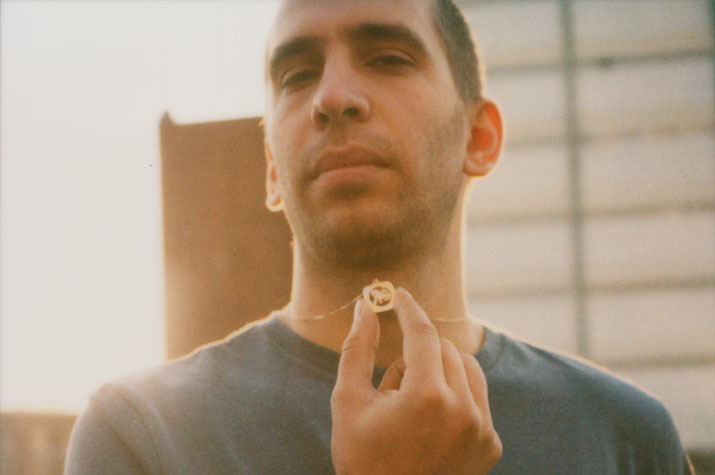 Runnin The Poirier Riddim
If you plan to Run The Riddim and cannot pronounce the artist formerly known as Ghislain Poirier's not so unfamiliar name…Poirier, (pronounced PWA-RI-AY), then you will be sent to the back of the classroom to practice until you get it right. If you get it right the first time, you get a funky sticker with the Montreal native's "new" name. Okay… maybe we made that part up, but since Poirier dropped the "Ghislain," he's been making the literal phonetics known. Just so you get it right, once and for all. Don't say we didn't warn you.
Second, if you can't handle hard hitting, body jerking, up tempo beats and heavy bass fused together with dancehall, kuduru, soca, afrobeat and blaring horns, then you are in no way ready for the riddims Poirier has to deliver.
The DJ/Producer is a busy man. At the time of interview, the bass pumping pioneer of what people have labeled "lazerbass," was at the tail end of a steady month of promotion for his new concept night Karnival, which aims to provide a mixture of soca, UK funky, dancehall, kuduro, and electro on a semi-global scale. "Things have been crazy!" he says exhaling deeply. "This is my new night and we got a pretty big venue, I'm bringing in Dub Boy from Bristol and Paul Devro who is with Mad Decent," says Poirier in the distinct grounded tone he carries.
In the field of thumping bass, Paul Devro, has been referred to as "the head and heart behind" the Mad Decent label as well as the "right hand to the label's frontman Diplo. Mad Decent, not to be "punny" here, are a "mad decent" crew with heart. Dub Boy from Bristol, aka Tim Dub Boy aka Dubbers aka Tim Rayner, is the bass heavy DJ and promoter behind Ruffnek Diskotek and Karnival & Monster Bass. Two nights of which have been said to make the United Kingdom tremor from the bass bashment parties put on by Dub Boy and his colleagues.
Join three rumbling, bashment boogie forces together and the night would be set to explode.
In the midst of organizing all that, Poirier remains constantly multi tasking as he promotes the release of his latest EP, Run The Riddim. The second three part series released through Poirier's label Ninja Tunes which was unleashed digitally, August 25th, 2009 and features right hand man Face- T, Burro Banton, MC Zulu and YT. "There are a lot of features, so you know if you follow dancehall or reggae there are like four countries represented, Canada, Jamaica, the United Kingdom and the United States, so it gives a taste. I believe there is music made by the diaspora and there are other people getting influenced by that and Run The Riddim reflects that vocalist wise." The third installment Low Ceiling, is set to expose Poirier's play on Karnival and what comes as a result of that.
With all this set in motion, Poirier is also in the middle of plans for a big tour of Latin and South America. In addition to that, the non stop preparation for the release of the highly anticipated album, Running High, a 2 disk special compromised of the Soca Sound System EP, Run The Riddim EP and the Low Ceiling EP are set to be released March 2010, delivering a hand picked selection of fresh new material and remixes. "Right now at the moment I'm gathering the remixes and vocal editions and all that," said Poirier. He's also planning a tour of the States and just got invited to play the Cervantino 2009 Festival. Come November, Poirier is set to literally run to his riddims, spreading the lazerbass sound waves on a Mexico wide tour with the deeply energized vocalist Face-T.
The magnitude of how much bounce Poirier can actually generate came to light this summer in Montreal, after a non stop North American and European tour. The third annual Bridge Burner celebration under the Van Horne pass would give the producer more home support than expected. The night of celebrations featured not only Poirier but long time friends Khiasma and Spkrbruzr of Sixtoo fame where the trio would welcome over 5000 people.
Although Poirier receives little to no radio play in Québec, the result of Bridge Burner would make a statement about how much work goes into the Poirier Sound system. The outcome would also keep the constantly on the clock architect of sound zeroed in on future projects. "I've been focusing a lot. I'm working on an EP for MC ZULU so far we have produced one track and the second is on the way. I have to produce Face-T's album during the next winter, these are very big plans." With hard work comes triumph and in most cases success comes with a range of situations that deflect artists from the vision, but Poirier is solidified in his work.
"It's not about the ego right now, it's more about doing the work that needs to be done. I have it together, I can understand when kids in the music industry get crazy with the ego but I've been in the music thing for many years so I'm ready for all the possibilities; from the worst to the best, but that won't change my goal to do music."
Free stuff!

Kimberley Jev

Runnin The Poirier Riddim
by Kimberley Jev
Published on October 9th, 2009
Artist:

Poirier

Label:

Ninja Tunes

Website: