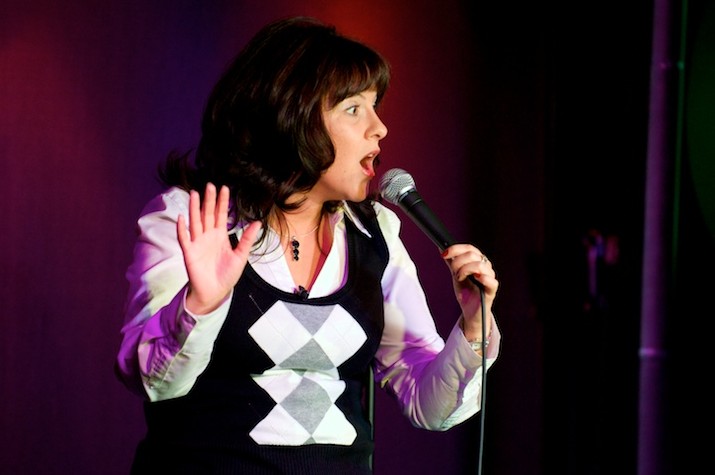 Comedy of Allyson Smith
In June 2009, Allyson Smith headlined Calgary Yuk Yuk's and Broken City's Comedy Monday. Having seen Allyson perform at Comedy Detour back in 2008, I knew she was worthy of R4NT's patented 5 camera coverage!
Fact: John Woo still owes Reading For New Times licensing fees for his use of our camera technique during the making of Hard Boiled.
First inspired by Janeane Garofalo, Allyson is currently a big fan of Debra DiGiovanni but had few contacts in the industry when she first walked onstage in 2001.
"I started comedy and drama (teaching) on the same day. I went to YukYuk's after I taught my first day of school because I was so angry at myself for doing the fallback plan… For becoming a teacher, instead of pursing what I wanted to do which was to be a performer and entertainer." -Allyson
So how funny is Allyson? The quality of a stand-up comedian is inversely proportional to the quality of their website, providing they are able to sustain themselves strictly on comedy income. Inferior comics take part time jobs to supplement their income, slowly starve to death or desperately offer up some sort of schedule on their website to help fans find their next show.
As of July 2009, Allyson's website simply states, "A new website it on its way!"
Sure, she's a contender for Canadian Comedy Awards 2009 "Best Female Standup" (to be announced October 2nd). She's played Massey Hall, and recently recorded a CTV Comedy Now special which will air in September.
But what is truly awe inspiring is to see a comedian able to sustain a 9 year career without the assistance of a modern website. Or as the most talented comedians like to say… "without cheating."
Janeane Garofalo's entire website is embedded Flash, and Debra DiGiovanni's site features embedded private videos which visitors to her website can't watch.
However they DO offer a schedule of events.
Well why don't you just loop in a laugh track while you're at it? What's the matter Janeane & Debra? Can't handle a fair fight!?!
While collecting footage for this video (and helping D4V record his interview), I watched Allyson perform in 3 different venues. The performance was hilarious each time, but also tuned to different levels of filthiness. Sadly, Allyson's "It goes to eleven" moments can't be represented on YouTube, lest the Internet's pristine reputation become sullied.
"I live off Comedy full time, and half of that income is from corporate gigs. It could be a party with booze or a dry luncheon where I clean the act up a lot. I go through the act with the client on the phone. Is the audience over 18? Can I say shit? Can I say fuck? We go through the list. Sometimes the combination of what is allowed or not can be pretty surreal." -Allyson
In retrospect, I'm lucky to have caught the word-of-mouth which led me to Allyson's Calgary shows. I'm no comedyologist, but if a random night of stand-up comedy was as fun as my Allyson evenings, I'd hit comedy clubs more often.
Supplementary interview footage is available for review and recycling under Creative Commons Attribution Share-ALike license. The two good photos above by: David Gluzman. Allyson Smith events can be sought on her official website or Facebook profile.

Gordon McDowell

Comedy of Allyson Smith
by Gordon McDowell
Published on August 8th, 2009
Photos:

of Allyson by David Gluzman

Website: