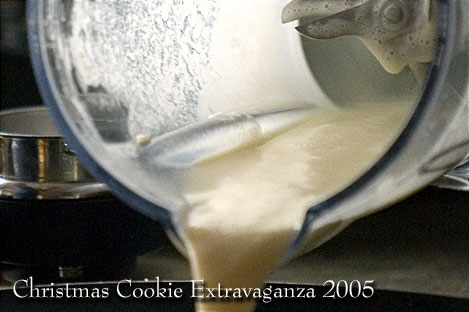 Christmas Cookie Extravaganza
It just wouldn't be December if you weren't able to surf on over to R4NT.com to get some yummy Christmas cookie recipes. In the Christmas Cookie Extravaganza 2004 I gave R4NT readers recipes to Butterscotch Confetti (easy & fun!) and Gingerbread Cookies (you can decorate them anyway you want). And in Christmas Recipes 2002 I told you about Chocolate Peanut Mounds, Shortbread and Cream Cheese Cookies. This year in celebration of the season (and Martha Stewart being out of jail) we're going to bake Chocolate Cloud cookies and Lemon Slice squares. I realize that squares aren't technically cookies but this is my extravaganza and the squares are really tasty!
Chocolate Cloud cookies
3 egg whites
1/8 teaspoon cream of tartar
3/4 cup sugar
1 teaspoon vanilla
2 tablespoons cocoa
2 cups semi-sweet chocolate chips
Heat oven to 300 degrees F and cover a cookie sheet with foil. Beat egg whites and cream of tartar in large bowl with a mixer at a high speed until soft peaks form. Gradually add sugar and vanilla, beating well after each addition until stiff peaks hold, sugar is dissolved and mixture is glossy. Sift cocoa onto egg white mixture; gently fold until combined. Fold in semi-sweet chocolate chips. Drop mixture by heaving tablespoons onto prepared cookie sheet. Bake 35 – 45 minutes or until dry. Cool slightly and then peel cookies from foil and let cool completely on a wire rack. Store covered at room temperature. Makes about 30 yummy cookies!
Lemon Slice squares
1 cup graham cracker crumbs
1/2 cup butter or margarine
1/2 cup sugar
3/4 cup sugar (yes there is two different measurements of sugar – all will be explained)
1/3 cup flour
1 tablespoon water
3 egg yolks
1 lemon, juice and rind
3 egg whites
1 handful of graham cracker crumbs
First Layer: Mix first three ingredients together (graham crackers, butter, sugar) until mealy and press into an un-greased 9 x 9 inch pan. Bake for 10 minutes in 350 degree F oven.
Second Layer: In double boiler combine second amount of sugar, flour, water, egg yolks, lemon juice and rind. Cook and stir over boiling water until thick. (If you don't have a double boiler you can use a heavy pan but make sure you stir it continually so that it doesn't burn). Beat egg whites until stiff and fold into hot thickened mixture. Spread over first layer from step 1. Sprinkle with crumbs. Bake in 350 degree F oven for 3 minutes until set. Makes 36 holidaylicious squares.

Beauty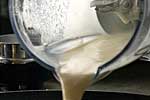 Christmas Cookie Extravaganza
by Beauty
Published on December 1st, 2005