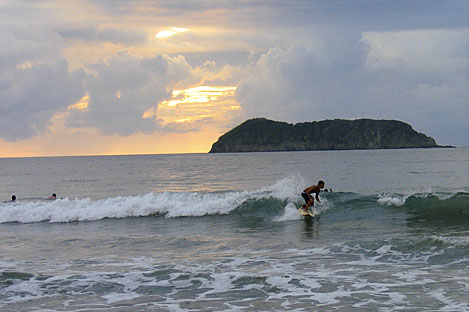 Surf
God it was so amazing… I got to the beach bright and early and suprisingly the beach was empty. Any direction I looked the horizon line layed clear with no people. For some reason I brought a surf board; I don't remember buying one though. None the less I was quiet happy to have the open waters to myself.
The last time I surfed was 2 summers ago. I was a little bit afraid of how I would fair. Would the muscles in my body remember what to do and how to balance? As the whitewash slapped against my thighs I smiled and pushed the board out in front of me, slid my body on top and began paddling. I pushed myself past the waves that were reaching for the shore and found a spot where I was satisfied to take off from. I straddled my board in the open water and enjoyed that moment of solitude before eyeing the swell that was going to break into the perfect wave. Quickly and aggressively I stroked the water hoping I would gain the speed I needed. I felt the momentum of the water behind me taking me and my board forward. The time was now. I rose up on my board in perfect position… the water beneath me felt smooth….
… then I woke up in a dank and dark room… curled in a bawl… with the blankets pulled around my head… shivering from the cold. I wanted to cry.

Dijita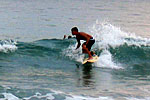 Surf
by Dijita
Published on December 1st, 2005