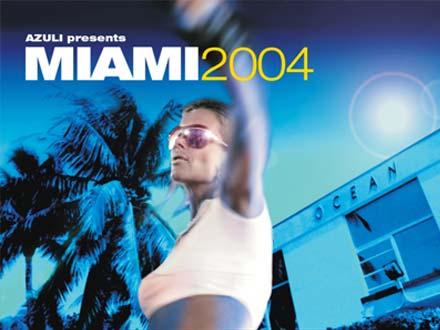 Miami 2004 – The Underground Sound of the Miami Music Conference
On behalf of our friends at Azuli we have the pleasure of delivering you three uplifting, audio gems, taken from the latest compilation in the series, "Miami 2004 – The Underground Sound Of The Miami Music Conference, mixed by David Piccioni".
Here we go once again, Azuli's now highly respected annual round up of the future sounds of the summer. Having trawled through all the parties, clubs and promos, in Miami, we have put together what we think is the definative Miami showcase lp featuring tracks you will know already – along side those destined to be the summers anthems and booty shakers.
Disc one delivers the soulful hooky grooves with which Azuli is renowned.
Disc two takes the more dark twisted route , but don't worry its not too
scary! All mixed with care and attention live in the Azuli loft by David
Piccioni.
Artist: Martin Solveig
Song Title: 'Rocking Music (Joey Negro Club Re-Edit)'
Windows Media Stream
Real Media Stream
Artist: DJ Chus & David Penn feat. Concha Buika
Song Title: 'Will I (Discover Love)'
Windows Media Stream
Real Media Stream
Artist: Psycho Radio
Song Title: 'Sound Is Shocking'
Windows Media Stream
Real Media Stream
Many thanks to 'Azuli Records' for supplying this special feature. For more information checkout www.azuli.com

Azuli Records

Miami 2004 – The Underground Sound of the Miami Music Conference
by Azuli Records
Published on April 1st, 2004