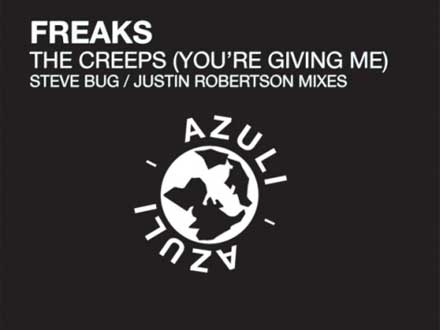 Freaks – The Creeps
On behalf of our friends at Azuli we have the two mixes from the latest 12″
release from The Freaks – 'The Creeps'..
Freaks – Justin Harris and Luke Solomon formed an illicit partnership in north London four years ago and have been tearing it up worldwide ever since. The track made its first appearnce in its original form on the 2003 lp ?The Man Who Lived Underground? and features stella attar on vocals. This was followed by a selection earlier this year on the Azuli Miami 2004 compilation.
The latest release from Azuli Black features brand spanking new remixes from the one and only Justin Robertson and germany?s man of the moment Steve Bug.
Justin Robertson needs no introduction. His remix is a complete re work whilst retaining the bleepy quality and vocal synonomous with the original.
Steve Bug has been busy this year. With an ever increasing remix and production portfolio he makes his debut on Azuli with a exquisite remix flying closer to the original but still adding a unique twist that has seen him becoming an ever more prominent figure on the international scene in 2004.
Freaks: The Creeps (Justin Robertson Remix)
Freaks: The Creeps (Steve Bug Remix)
Many thanks to 'Azuli Records' for supplying this special feature. For more information checkout http://www.azuli.com/

Azuli Records

Freaks – The Creeps
by Azuli Records
Published on December 1st, 2004