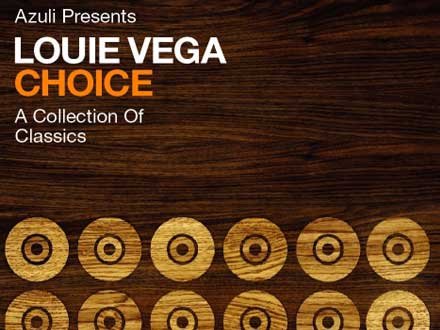 Louie Vega – Choice
On behalf of our friends at Azuli we have the pleasure of delivering you a choice selection, taken from their latest compilation release, Louie Vega
– "Choice – A Collection of Classics".
As one half of the celebrated MAW/Nuyorican Soul team, Louie Vega's legacy as a prolific remixer and producer has been etched into thousands of slabs of black vinyl. But when Vega first started out, he was driven by the pleasure of selecting and spinning music, and to this day the art of DJing
– the communal, spiritual, above all, musical line of communication that runs between the spinner, the sound system and the dancing crowd – is what propels him forward. If Vega isn't DJing, he isn't happy.
Vega started to spin at neighbourhood parties in the Bronx in the early 1980s and broke into Manhattan in 1985 when he was headhunted to spin at Heartthrob, which was situated on the site of the legendary Funhouse. The spinner subsequently played at the Underground Network and Dance Ritual, two of the longest-running nights in Manhattan. And since he first travelled to Japan in 1989, Vega has tirelessly spread the music – a music that often sounds like New York but is global in its Latin, African and European influences – to an international audience.
For the best part of twenty years, Vega the DJ has been blessed with an unfair advantage – the ability to play acetates of his own remixes and productions before anyone else could lay their hands on them. Yet the mixmaster has also drawn in the crowds because of his uncanny ability to select and mix other people's records, and Vega's Choice compilation, which brings together some of his most heavily rotated vinyl in one sublime collection, encapsulates the breadth and depth of his "field of sound" (the aural equivalent of a "field of vision"). "There was a lot of musical variety back in the days of the Loft, the Gallery, the Garage and Zanzibar, " says Vega. "Now everybody plays the four-on-the-floor house beat, but DJs used play four-on-the-floor with funk, jazz, Euro and syncopated rhythms. I mixed all of those things together on this record. I'm very proud of it."
Audio
Artist: Cymande – Bra (Louie Vega re-edit)

Artist: Salsoul Orchestra – It's Good For The Soul

Artist: The Clash – Magnificent Dance

Many thanks to 'Azuli Records' for supplying this special feature. For more information checkout www.azuli.com

Azuli Records

Louie Vega – Choice
by Azuli Records
Published on June 1st, 2004