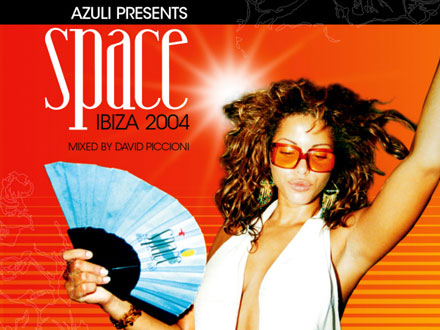 SPACE – Ibiza by David Piccioni
On behalf of our friends at Azuli we have four audio streams for you to offer your readers, from this essential summer album, 'SPACE – Ibiza 2004 mixed by David Piccioni'.
Space is an Ibiza institution, emblematic of the island, a 'must see', 'must feel', 'must do' experience that represents all of the best aspects of the Balearic isle's crazy cosmopolitan club lifestyle. The venue thrives upon the enthusiastic support generated by its multi-cultural clientele, an ideal human cocktail of international types, nationalities, languages, fashions and sexualities that somehow gel into a dynamic and beautiful whole, a diverse congregation blinded together in perfect harmony without conflict! At Space an understanding has developed that it's attitude that counts, not passports, with music the reason for this – music is the answer.
This amazing atmosphere has in turn created a situation where all of the Worlds top DJ talent want, indeed NEED, to play there. Space crowds receive great sounds with such pleasure and emotion – it's a perfect synergy between spinner and listener – a magic. For any DJ, however famous, spinning at Space is considered to be a kind of musical medal of honour; one earned not from taking part in the intensity of battle, but from taking part in the intensity and PURE ENJOYMENT of the best party place on Earth (Space has twice been awarded the World's Best Club accolade at the prestigious Dancestar Awards).
It's a venue where no single national force dominates (an increasingly rare phenomena over recent years in Ibiza), the convergence of an exotic and erotic mass of rhythmic music lovers, a special breed of positive people who adore to dance all day long, be it on the open air Terrace, or inside the large darkened interior.
1.
Artist: Shapeshifters
Song Title: Lola's Theme (alternative mix)

2.
Artist: Debbie Pender
Song Title: Movin On (Soul Rebels Vocal Mix)

3.
Artist: The Scumfrog
Song Title: Simmer

4.
Artist: Spektrum
Song Title: Kinda New (Tiefschwarz Vocal Mix)

Many thanks to 'Azuli Records' for supplying this special feature. For more information checkout http://www.azuli.com/

Azuli Records

SPACE – Ibiza by David Piccioni
by Azuli Records
Published on August 1st, 2004