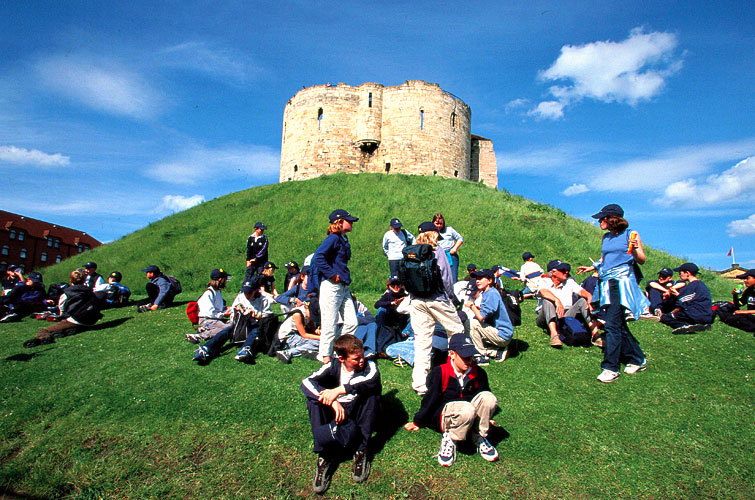 Jon Freer's City Guides – York
York is a pretty city, whose own history plays an important role in its present day. Many of the city's attractions are of a historical nature, and the centre of York is bound by a Roman wall. Pleasant and compact, the city lends itself to visitors rather well, so it comes as no surprise that York has a well-developed tourist industry. A huge number of sightseers flock to the city, especially in the summer months, with the high proportion of foreign visitors giving York a misleading cosmopolitanism. Whether visiting one of York's 'attractions' or strolling through the city, it's possible to hear conversations taking place in a multitude of languages, normally voiced by visitors. York is a fully functioning city and thus also offers residents and travellers everything one would expect to find in a modest sized modern metropolis alongside all the trappings of a place that panders to tourists. York is unspoilt by the sort of over-zealous building work rife in many cities in northern England today.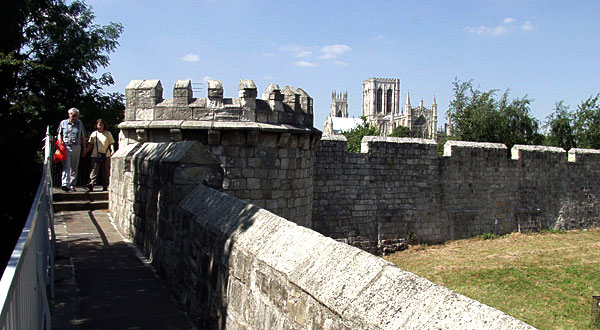 York's centrepiece and perhaps finest attraction is the breathtaking Minster, a monstrous grey stone cathedral that stands head and shoulders over every other building in the city centre. Dating back to 1200s, the Minster is worthy of a visit for its awe-inspiring architecture and calming atmosphere. The picturesque Dean's Park flanks the Minster and is a perfect place to relax in after taking in the spectacle that is the cathedral. Another impressive piece of visual history is Clifford's Tower, a hilltop circular building, which is all that remains of York's Medieval castle. Speaking of visual artefacts that date back to Medieval times, the Merchant Adventurers Hall, constructed in the 1350s, still stands tall today in charming gardens.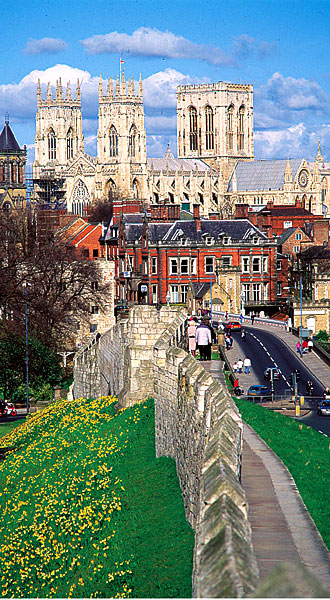 It's difficult to get away from the Roman walls that skirt round the centre of the city, but this in actual fact is a blessing and not a hardship. It is enjoyable to stroll along the lofted stonewalls and accompanying paths that provide an enjoyable route to circumnavigate York. The walls elevated position means they give impressive views at regular intervals. York has a compact centre and so walking round is the simplest option, but the city is well served by buses and easy to cover by bicycle. York sits at the converging point of two rivers, the Foss and the Ouse. These rivers stretch through the centre of the city and the riverbanks offer a lovely place for a respite after exploring the city.
York has its fair share of museums, which cover a range of historical periods. The Yorkshire Museum, sat in the exquisite Museum Gardens, charts the city's development through Roman, Anglo-Saxon, Viking and Medieval times, whilst the York Castle Museum looks into life in Britain since the 1600s. A taste of Viking life can be gained from a trip to the pricey Jorvik Viking Centre, whilst the National Railway Museum caters for train travel enthusiasts. Various festivals and events, many with a historical theme, such as the Bible inspired York Mystery Plays, take place throughout the year in the city. There are many more attractions for the casual visitor and hardened tourist in York. A trip to the 'visitors information centre', either virtual or in the flesh, will be beneficial for those wanting to see what else is on offer in this attractive city.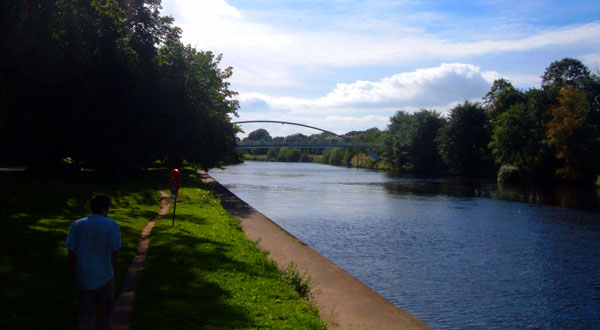 Cobbled streets and wooden fronted shops dominate York's shopping area. The most famous shopping street is the cosy Shambles, which is filled with charming shops and restaurants. The importance of tourism means numerous shops aim for tourist dollars, but York is also equipped with the sort of shops found in every other city. There's an abundance of pleasant restaurants, tea rooms and cafés, and a staggeringly large number of pubs and bars for a city the size of York. Fine drinking establishments include Ye Olde Star and The Rook and Gaskill. The latter is a York Brewery pub and curious drinkers can see how their tipple is made by visiting the aforementioned brewery.
York Maze lies a bus ride way from the city centre and offers visitors a labyrinth of Maize fields through which to plot a course. The Maze is a temporary, themed attraction, and can only be visited each summer. 2006's structure celebrates forty years of the Star Trek TV series, thus the vegetation has been streamrolled in such a way that a Maize picture of the crew and ship is visible from the air. Another treat outside the city centre is Beningbrough Hall, a Georgian House with an impressive Baroque interior and lovely gardens. Further afield lies the attractive countryside of the North York Moors, Yorkshire Dales and seaside resorts of Whitby and Scarborough. York is also close to Leeds, a large gritty northern city, which is a perfect contrast to York's quaintness.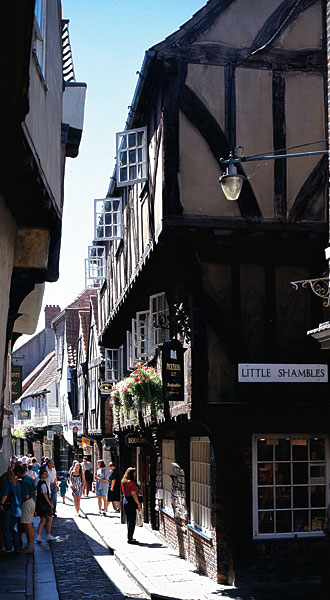 York has exploited its tourist potential to the full and thus provides visitors with a seemingly never-ending list of attractions and sights. Most are rather tasteful and give visitors an excellent taste of historical England, backed by an enjoyable city centre experience. York does not offer the same sort of city experience as its larger compatriots, but it is a lovely place for a summer visit, and offers a range of visitor delights not available elsewhere.

Jon Freer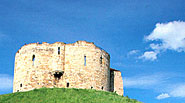 Jon Freer's City Guides – York
by Jon Freer
Published on August 10th, 2006