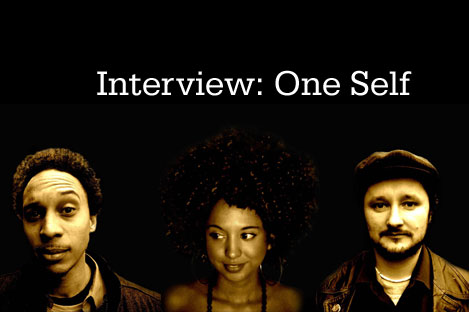 Interview with One Self
With a career marked by critical acclaim and a hardcore following, DJ Vadim could have continued to work as a producer with whoever he liked – the cream of MC talent from around the globe. As one of the few producers to straddle the divide between independent hip hop and more leftfield instrumental music, he could have stayed in the comfort zone. But this time out he decided to gather his closest musical collaborators together with him to create a true group ethic and radically freshen up his approach in the process. The results are sensational, a revelation.
Both Swedish-Brazilian Yarah Bravo and American Blu Rum 13 have been long term Vadim-associates but in addition have rhymed with everyone from TTC to Canibus to Luke Vibert to Kid Koala. Their voices, placed together for the first time, mesh into a lyrical, melodic blend which summons up memories of the best of Native Tongues updated for a new century – Blu Rum's gruff, musical growl the ideal foil for Yarah?s sweet, octave-hopping, spoken word stylings. Two intelligent MCs with sacks full of ideas but the subtlety not to ram it down your throat.
Have a listen / watch, of BlueBird; one of the dopest tracks off the new album:
Today we've had the chance to interview One Self , sadly Yarah was feeling a bit under the weather, but none the less we had the chance to hash it out with some fine gentlemen…
David: A few years ago I remember checking out a Dj Vadim function at the Night Gallery in Calgary, and I still remember one of the most moving moments from that event was when Yarah Bravo took the stage and swept the crowd off their feat. What an awesome experience!
Vadim: That sounds great I wish I was there!
David: How did you guys finally decide to roll it all together and make 'One Self'?
Blu Rum: We just kept putting the ingredients together and one day it was rolled! At that point we were forced to come up with a name. And after months of deliberation One Self decided on us.
Vadim: One Self is just a culmination of all the touring and recording we have done prior to this which is quite substantial. It was good, it felt good so we did it.
David: What sort of work ethic was involved in the creation of the album, and how long did it take? (Any crazy stories to tell?)
Vadim: A Proletariat work ethic. Where its all about the people and not the individual. All for the greater good. But seriously…it took a lot of hard work…editing, recording, takes, songs, something that wouldn't have been possible if we haven't had known each other prior to working together.
Blu Rum: All the work was done by Blu Rum, except the work done by Vadim and Yarah. 30 years in the making…6 months in the studio.
David: You all seem to have quite a diverse history, what were the turning points in your careers?
Vadim: Sometimes where you're in the middle of it it's hard top see what is happening to your career. It feels like a premature question, you don't know where you are going next, maybe this is the turning point, maybe your turning point is about to happen. It's like seeing the storm from the eye.
Blu Rum: my point is still turning.
David: Hip hop seems to be reaching almost a certain critical mass in the past few years, now that the genre is maturing where do you see the hip hop movement going?
Vadim: I think hip hop, however mundane it gets always seems to reinvent itself with a new interesting, creative artists. I think in general hip hop is a reflection of society and as society gets more materialistic hip hop on some aspects will reflect that . But as always since it's inception hip hop will always have a subculture and a rebellious attitude towards that…it not all doom and gloom.
Blu Rum: Only going up. To quote Yarah Bravo…"many will fall a lot more will follow"
David: Where do you see 'One Self' going? You guys are about to go on tour in Europe (as far as I can tell), how about having a tour back in North America?
Vadim: It's pretty exciting times, everyone seems very enthusiastic. Although however great the critical acclaim is, it doesn't always translate to fans buying it. You don't look back at great albums released along time ago and say "wow Miles Davies had good reviews" or "Jimmy Hendrix was on MTV" you just see those albums as the music. I am really excited to see what the punters think of the forthcoming album "Children Of Possibility" . In terms of touring the most Proletariat work ethic continues, meaning we will come to your town! We are going worldwide, every possible country, town, city, village, back yard, tent, villa, holiday camp, condo
Blu Rum: Yeah we're going north-east, following trade winds.
David: Favorite movie?
Blu Rum: Zatouichi 'The Blind Samuri'
Vadim: Lord Of The Rings
David: Favorite color?
Blu Rum: Puce
Vadim: Pantone 674
David: Favorite record?
Blu Rum: Eddie Murphy' Boogie In Your But' (dance remix)
Vadim: Andy Bey 'Celestial Blues'
David: Pet Peeve?
Blu Rum: no but i have a pet iguana
Vadim: non flushers
David: If I could _________________ the world would be a better place.
Blu Rum: If I could smoke the BC budd with the president the world would be a better place.
Vadim: If I could listen more, and speak less the world would be a better place.
David: Thanks again for taking the time to meet up with us here at R4NT Magazine. The new album sounds dope and I can't wait to hear more, if not a live show! If you guys happen to come back to Calgary again you'll have to make sure to give us a buzz and we'll buy you guys a round.
One Self: Thank you very much, Vadim wants Absinthe!

David Gluzman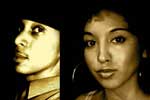 Interview with One Self
by David Gluzman
Published on January 1st, 2005
Artist:

One Self