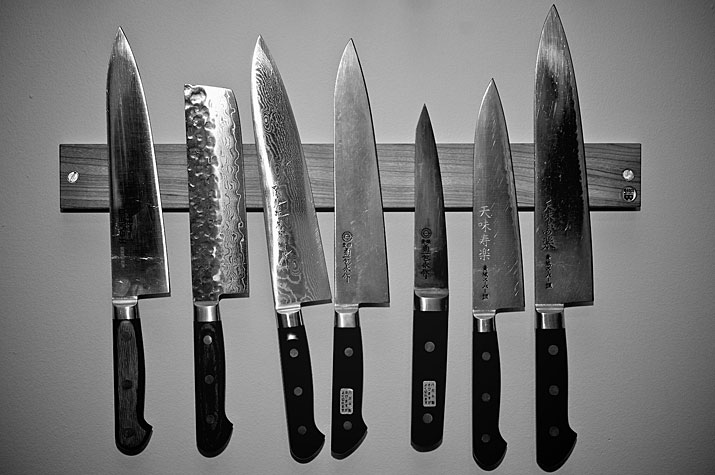 Does Your Knife Really Cut it?
I have a longstanding debate with my co-columnist as to which are the most important knives to have in your kitchen.At this point, I cannot recall which Mrs. Newington believes to be the best options, but they differed from mine, so to settle this debate we will have to explore some professional opinions.
For the record I did ask a professional chef this very question…
If you could only pick three knives to have in your kitchen, which would you pick?
He suspected a trap, and never answered me. (An astute man who prevented me from being victorious in my selection of knives…but I won't blame him, because he was accurate in his assessment of me setting him up to be the fall man of some long term discussion he had no awareness of). But my ego lives on, and I will get to the bottom of this matter!
The name of a knife enthusiast was passed onto me as a contact, and it ignited the need to revisit this topic. Knifewear is an exclusive shop in the district of Inglewood, Calgary. The owner Kevin Kent and his apprentice Will were gracious enough to spend time with me imparting pearls of wisdom to ensure my defeat in this little debate.
Knifewear
After learning about Kevin's anatomically correct tattoo of a heart, it was clear to me that this was a guy who valued details. The details were everywhere. He offers a distinct selection of high performance Japanese knives only available at his shop nation wide. The ambiance is bright and simplistic, featuring works by local artisans, and he also supports a project through the drop in centre in Calgary, which teaches trades in an industrial arts program. The care with product selection and attention to detail are what inspire you to categorize good knives along with the finer things in life.
Toss those horrific finds from your local department store that are wobbly tinfoil productions. That row of Henkles that you all spend time in searching for your kitchen tools drives me crazy. Get out of there! The confusion surrounding what to pick is too great, and you should refrain from settling for any low-brow options.
A good knife in the kitchen will revolutionize your style and hopefully inspire you to spend a little more time there. Open your drawer, take a long hard stare at what you've got and ask yourself, if you were dependent on this knife as a primary extension of yourself, would what you've got really cut it?
Sharpen up.
What Knifewear recommends is to get into a shop (where they know what they're doing) and feel things out:
What might be a good fit for you as a knife, might not feel as intriguing to the next, so personal preference wins this round. Feel 'em up!
One size does not fill all . What I pick as a 5'4" female for a knife preference will vary greatly from what a 6'2" male might choose.
Run from plastic packaged knife sets and those freaky knife counters in the mall. Cutting potatoes & tomatoes in a good shop will allow you to sense all the amazing knives on display, making knife shopping truly unique!
Geometry matters. The thinness of the Japanese blade as opposed to a wide German steel will be evident from your paper thin translucent super smooth slices!
What is price dependent on? Quality of steel. The harder the better, (we always had an inkling that was true, it just makes good sense!).
And here is the clincher… What three shapes of knives should all kitchens be stocked with? The answer was unanimous. Though the brands the knife enthusiasts would have picked varied, they were aligned in the shapes: Paring knife, Santoku or chef's knife and a Slicer
How to care for these sharp little wonders?
Refrain from dropping on tile floors (That has never happened to me, but I just wanted to point it out as a possibility for negative impact on your blades).
DO NOT cut on glass or marble cutting boards. A good rule of thumb: avoid surfaces that are harder than your knife. Wooden cutting boards maintained with mineral oil work best. Maple, cherry or walnut are premiere picks.
No knife will stay sharp forever. They all need maintenance, so take them into your knife shop for some tuning, or go to one of Kevin's knife sharpening classes ($60 for 2 people. An educational & witty session).
Storage can be art. Buy a beautiful knife, get a magnetic wooden wall hanger, and admire it or let it inspire your culinary side.
Scared of the wall hanger & the thought of the wrong person getting ahold your knife? Keep it in it's authentic packaging so that your cooking days become events of their own!
So, options weighed, do take the time to consider the knife as a kitchen essential that demands high quality to perform well. Choose wisely, find your optimal combination of shapes, care for diligently, and these shimmering carbon products will be your new best friends.
Knifewear
1316 9 Ave SE
Calgary, AB
T2G 0T3
Tel (403) 514 0577
www.knifewear.com

Pamela Hruska

Does Your Knife Really Cut it?
by Pamela Hruska
Published on January 30th, 2009
Photos:

David Gluzman

Website: