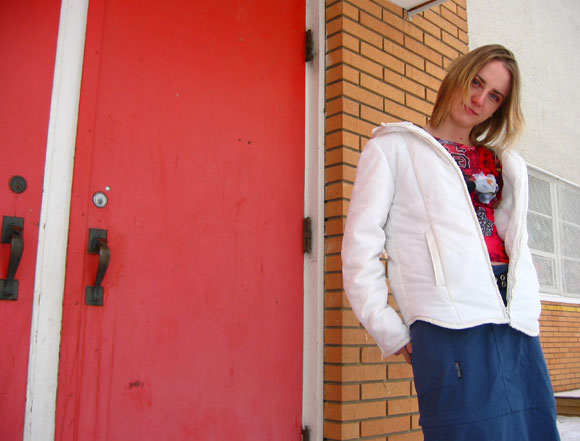 Digital Camera: Canon S30
After 3 long years with a suffering Toshiba digital camera, I finally got my hands on a compact and stylish next-gen Camera by Canon. Regardless that this camera is already getting dated, it still gets the job done extremely well.
Sporting a powerful 1/1.8-inch 3.2 megapixel CCD, combined with 3x optical (10x digital) zoom lens, 7.1-21.3mm (equivalent to a 35-105mm lens on a 35mm camera) with auto and manual focus. It maybe not be the top end most camera on the market; yet with continuing newer technology the prices for these midrange cameras keep falling. I suspect this camera being a value deal in the next couple of months.
The S30 is part of Canon's "High-end Digital Cameras", and is exactly the same as it's bigger brother the S40 (which has a 4 megapixel CCD). Actually after doing some research the S series cameras have the same guts as the much praised G2-G3 line ($1000cdn+ cameras), yet are squished into a much smaller package.
First thing you'll notice about this camera is it's small footprint. You can easily slip this bad-boy into your pant pocket and take it out at a moments notice without having to use your Jedi powers. The lens is covered by a sliding cover thus protecting it when turned off, which is handy since you won't be losing a lens cap anytime soon. The only downside to the sliding lens cover is that it's delicate and if you're not careful you might derail it and fubar the mechanism.
Other cool things to note about this camera are:
– White balance setting with seven adjustment modes.

– Built-in flash with five operating modes.
– Iso 50, 100, 200, 400 or 800 (the S40 doesn't go upto 800)
– Complete manual controls (ie: F-stops and shutter speed)
– Lithium ion Battery
– Compact flash memory (supports IBM Microdrives)

There are tones of features to explore with this camera, but just the fact that you can tweak it just like an SLR camera makes taking pictures all that more exciting. Since playing with this camera I'm finding myself much more dependant on it than my trusty old Minolta SLR camera. The quality from the digital camera is still behind film, yet for most printed / online works the high output (2272×1704) is more than enough for me.
The only thing keeping this camera from getting a perfect score is the fact that the camera only comes bundled with a 16meg CF card. I had to immediately upgrade to 128megs in order to take a decent amount of pictures at high res. (~80 pictures at the highest setting). If you don't want to spend an exuberant amount of money, but want to replace your day to day film camera I wouldn't hesitate to recommend the S30 by Canon.
*NB, this months photographs were taken with the Canon S30

David Gluzman

Digital Camera: Canon S30
by David Gluzman
Published on March 1st, 2003
Manufacture:

Canon

Specs:

3.2Megapixel CCD Compact Digital Camera

More Info:

Powershot.com (http://www.powershot.com)