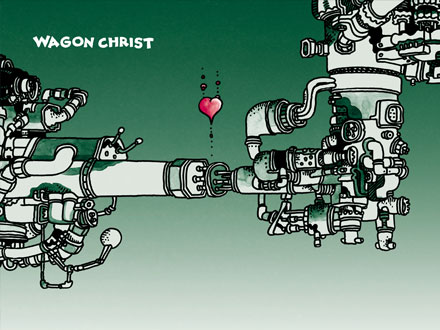 Wagon Christ – Sorry I Make You Lush
"oooh common put some music on…"
Who is Wagon Christ? Better yet who is Luke Vibert! Seems like everytime this guy jumps ship to a new label he changes his name. Doesn't matter though cause his reputation is hard to leave behind. This guy has recorded for such labels as: Rephlex, Warp, Mo Wax and now is onboard with the Ninjas as Wagon Christ.
Hot off the heals of a rather new release – Musipal which was released just in October of 2003 he's banged out a completely fresh album this month – Sorry I Made You Lush. Normally when I see artists go on release binges the quality takes a big dip and you can normally expect subpar quality with mediocre hits (see all top 40 musicians). Impressively enough this album is pretty darned solid.
Whistles, drums, funk, star wars loops, laughs, and some seriously intense bass (oh yes feel it).
I actually took this album for a spin for the first time while walking to work. I found myself contemplating building architecture along with observing people rush and panic towards their place of work. Calm and relaxed yet walking with a good beat in my ears I arrived at work in peace, and a new found appreciation for this album.
There is some beautiful vocals to be found in a few tracks (Shadows).. Shaddooooowwwwsss? As well as some rather electronic tracks that could easily sound like Chemical Brothers to the un-tuned ear. Yet one of my favorite tracks is Quadra Y Discos: This track has an awesome super low bass hit running the entirety of the track. Even listening to it on my mediocre headphones I was filled with groove and wanting to skip work to crank it out on my system at home.
Most notable about Wagon Christ is his continued progression of his musical talents. The Wagon is getting rather refined with age, and the sounds are smooth and silky. Expect new techniques crossed with fun new instruments and sounds in this album. Overall though it's a great listen, and I would highly recommend it.

David Gluzman
Wagon Christ – Sorry I Make You Lush
by David Gluzman
Published on July 1st, 2004
Artist:

Wagon Christ

Album:

Sorry I made you lush

Label:

Ninjatune

When:

June 21st, 2004

Rating:

9 / 10