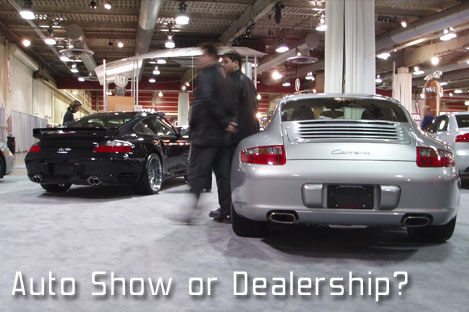 Autoshow or Dealership?
25th Annual Calgary International Auto and Truck Show: "100 Years of Motoring in Alberta"
Location: Stampede Park, Roundup Centre and Corral
I expected to become witness to some hot cars at this year's Calgary International Auto Show. What I got was a giant building stacked to the rafters with sales representatives and guys with dislocated jaw bones. Sure I expected there to be a lot of guys at the show, but sales reps? What the!
After a few rescheduled attempts at hitting up the show, I finally got to enter into the world of new cars. Having worked at a General Motors dealership for almost two years, I was overly familiar with the excitement of checking out all of the newest vehicles that big name manufacturers brought to the table. However, what I experienced wasn't too far off from where I had been before. In fact, it was way too similar. And I'm not talking about the vehicles.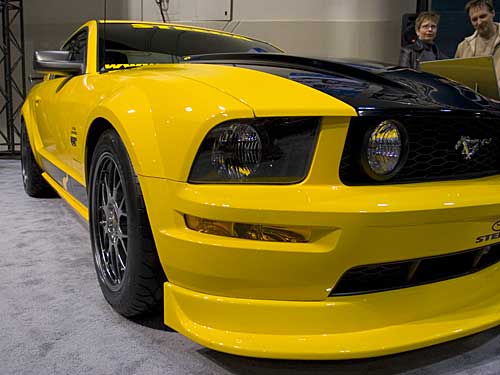 My initial goal was to check out everything that I hadn't seen before. Brands such as Cadillac, Pontiac, Buick, GMC, and Chevrolet were all on the bottom of my "need to see" list. However to make things easy, I decided to simply make an initial tour to soak everything in and then take the time to explore specific models in greater detail. There was just one problem; one small detail that kept me from taking full advantage of my second mission. I bet if you think about it, or if you have been to an auto show before, you would know what I'm talking about. Yep, that's right. PEOPLE, wicked masses of people. Every single automobile had at least two to five people around it, and if it were a popular model, well, it was swarmed like flies on a fresh pile of manure.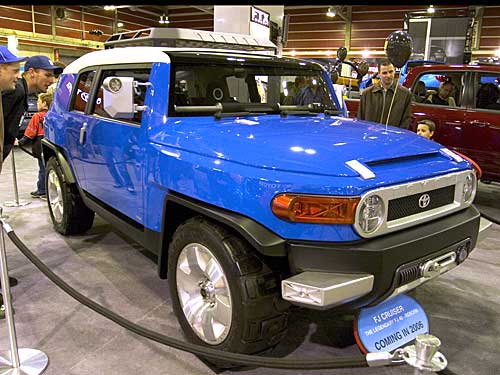 Making my way around the first of two large floors, I checked out models from almost every brand available in Canada (close to 35). Well, most of them anyway. Now don't get me wrong, there were a lot of automobiles, but after making the rounds, I must have had a slight look of disappointment on my face. If this was an "International" auto show, where were the international manufacturers? Ok, Porsche, Mercedes and Jaguar may very well be international, but here's my point. Where was Lamborghini? Where was Ferrari? What about Bentley, Rolls Royce, and Aston Martin? Why didn't they have anything at the show? Don't they want Western Canadians to get the full experience of and truly mind blowing auto show experience? Or do they simply feel that if we really wanted to see their vehicles we would spend the money to fly to another show elsewhere on the continent just to see them?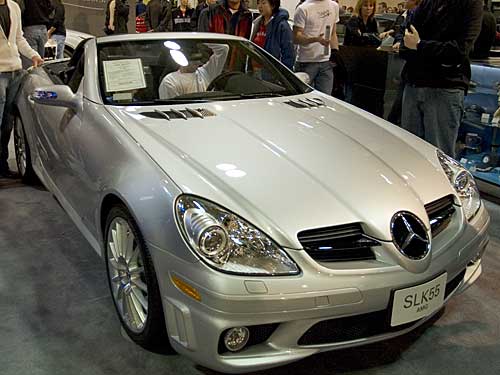 At any rate, it really wasn't much of an international show in my eyes. To tell you the truth, there were really only a small handful of models that really caught my attention once I saw them up-close. Looking passed the crowds and patiently waiting for young car-buffs and their fathers to clear a path for me to get close enough for a photo, I managed to admire some of the few concept vehicles that were on display.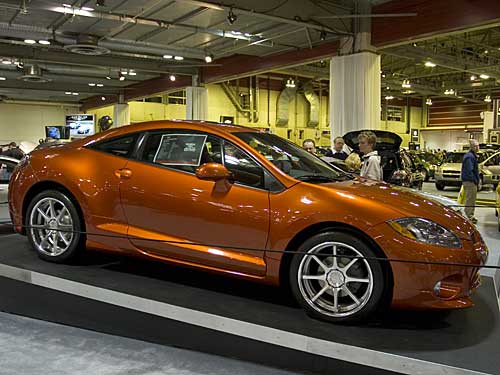 There was the Mitsubishi Eclipse Concept-E. A damn hot car and very sexy indeed, the Eclipse Concept-E was definitely a popular kid on the auto show playground. With a unique hybrid system called E-Boost that includes a motor for each of its two axels, the highly styled coupe can produce in excess of 470 horsepower. Moreover, it's plasma running lights and taillights were clearly not like anything else. In my opinion, Eclipse Concept-E was one of my favorites at the show.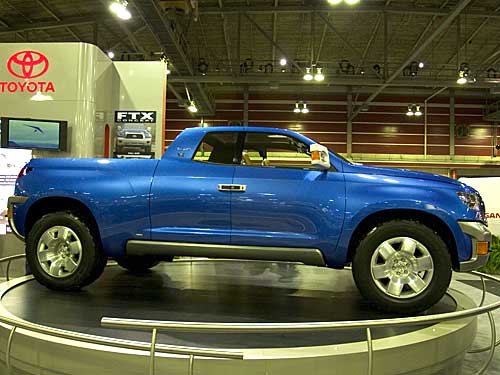 There was also the Toyota FTX Concept Pickup. First off, this isn't an ordinary truck. At nearly 19-feet in length and close to seven feet wide, the FTX Concept makes me wonder how much fun designing something like this would be. Not only was this thing big, but it was so unlike anything currently on the roads that you couldn't help but stare at it for a minute. If you actually took a moment to read some of the info on it, you'd find that it has many hidden features. For example, the rear tailgate has a smooth operating hideaway ramp hidden inside. The ramp can extend to the ground when the tailgate is open so that heavy items can be rolled into the back of the FTX instead of having to be lifted in.
Also on tap were the Hummer H3T and the Toyota FJ Cruiser. Both were very unique and had some cool qualities. However, the FJ Cruiser simply looked like something that someone had taken hours to build with Lego blocks.
Aside from the concepts, there were a few more models that managed to peak my interest. Being a fan of Dodge trucks I found the Ram Daytona to be a pretty hot. The Nissan NSX and Infiniti G Coupe also had my attention for a while. The Ford GT, although made by a company in which I would never purchase a vehicle from, had a bit of an aura around it. I think it was because it was out of reach on a rotating base so people couldn't get close to it.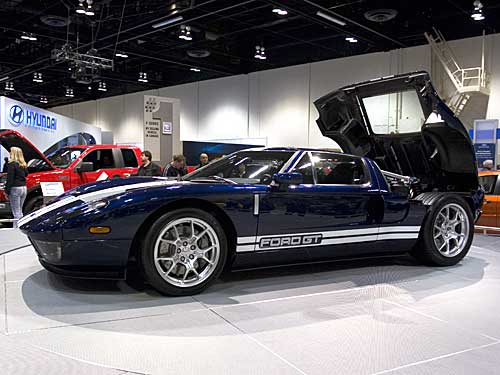 Finally there was the Mercedes Benz SL 65. Not just any SL 65 though? this was the AMG model. Now, if you had taken the time to read my previous article you would know that the Mercedes SL class takes the cake when it comes to my picks. But when you slap an AMG emblem on it, you're simply adding to how much it impresses. Compared to the SL 600, which throws out 493 horsepower, the supercharged AMG V-12 tacks on an additional 111 horsepower for a total of 604. And get this; even though the SL 65 AMG has a beefy price tag of around $265,000 Canadian, there was still a "sold" sign on the windshield. Was it there for show? Who knows!
So this brings me to the element of the auto show that reminded me of working at at a dealership. Why the hell were there so many sales representatives there? This show came across to me as one big showroom where dozens of greasy sales representatives flocked, simply because they knew that every potential buyer in the city might pass them buy. It was like a school of piranhas had just heard a poor creature fall in their river and each and every one of them wanted a piece of the action. They seriously made up almost a third of the population inside the building. It was insane. I made sure to stay clear of their speeches.
Anyway, I seriously enjoyed my experience at the auto show. Some automobiles were impressive, some were not-so impressive. It all comes with the show I guess. Regardless, I would love to make plans for a trip to a bigger and better show next year. What's the weather like in Detroit? Or better yet, Paris?

Ian Harding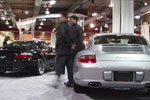 Autoshow or Dealership?
by Ian Harding
Published on April 1st, 2005