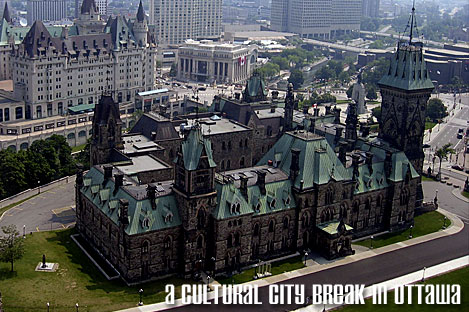 A Cultural City Break in Ottawa
When you?re only visiting a city for a weekend, you must be very selective about how to spend your time. I usually try to hit the top cultural landmarks, and my recent trip to Ottawa with MaxPower was no exception. In one and a half days we toured the Parliament Buildings, the National Gallery of Canada, the Canadian Museum of Civilization, and the Canadian War museum. Although I was very sore and tired on Monday morning, I did not regret a single minute of my stay. Hopefully after reading about the excellent exhibits and attractions on offer, you will be tempted to see them for yourself as well.
After first touring the Parliament Buildings, we found it was a short walk to the National Gallery of Canada (http://national.gallery.ca/). There are a number of permanent collections at this gallery: Canadian and Aboriginal Art, European and American Art, Contemporary Art, Inuit Art, Modern Art, a Photographs Collection, Canadian Prints and Drawings, and European and American Prints and Drawings. We were on a limited time budget, and decided to limit ourselves to the collections of the Canadian and Aboriginal Art, Inuit Art, Contemporary Art, and a temporary exhibition called ?Leonardo da Vinci, Michelangelo and the Renaissance in Florence?.
I was very excited about viewing the Canadian and Aboriginal Art collection, as I am a big fan of Canadian art and the Group of Seven in particular. I was not disappointed, as we were treated to room upon room of paintings, depicting Canadian landscapes and subject matter. The Group of Seven paintings were a highlight for me, and the National Gallery of Canada has the most comprehensive collection of these paintings in the world. MaxPower was not as enthusiastic about the Inuit Art collection, although I found it to be a very interesting display. The rooms we saw contained focused studies by a traditional Inuit artist, and were all done in ink and coloured pencil.
Both Max Power and I were unanimous in our praise of the Contemporary Art collection. These types of collections are always sure to amuse and surprise you, and there were a few pieces that stood out as definite highlights for us. One of these consisted of a series of speakers set at head level on either side of a hallway. Each speaker played a different recording of a conversation between two or more people, which had us feeling curious and straining to catch snippets of the conversations. Unfortunately, the temporary Renaissance exhibition left us both disappointed. There were only a limited number of works by Leonardo and Michelangelo, and the rest of the paintings consisted of copies and works by lesser contemporaries of the masters. If Renaissance art is your passion, you should probably go to Europe to see the real thing.
After spending a good amount of time in the National Gallery of Canada, MaxPower and I walked across the Rideau River to Hull, Quebec where the Canadian Museum of Civilization (http://www.civilization.ca/indexe.asp) is located. This museum is massive, and contains a number of what you might consider ?mini-museums?, such as the Canadian Children?s Museum. Wanting to avoid areas where large groups of hyper children might congregate, we opted to view some of the larger permanent and temporary collections instead.
Our first stop was to a special temporary exhibition called ?Pompeii?, and mainly consisted of (you guessed it) casts of dead bodies. I really enjoyed reading about the lifestyles of the citizens of Pompeii, and viewing the items they possessed when their city was covered by volcanic ash. MaxPower found the exhibition to be short, and as is the case with most special exhibitions the temporary collection did not do justice to the real thing.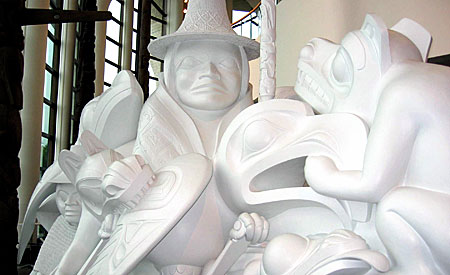 Our next stop took us to the Grand Hall, which displays the world?s largest collection of totem poles. This cavernous room also contains large informative displays explaining the cultural history of the First Peoples of Canada?s Northwest Coast. The artifacts and cultural items on display were truly amazing, and this area is a definite must-see for visitors to this museum. Another highlight of the Museum of Civilization was the Canada Hall, which takes visitors through one thousand years of Canada?s social history. Visitors are restricted to a narrow path, which effectively transports them through different time periods and regions of Canada?s history. This collection takes some time to view, but is extremely well thought out and worth a look.
There was obviously much that we did not see both in these museums and in the city of Ottawa as a whole. I hope that the brief glimpses offered in my article, and in the article by MaxPower will convince you to consider Ottawa as a vacation destination. The museums contain some of the best collections of art in the country, and the significance of Canada?s centre of government cannot be ignored. Every Canadian should visit the capital city once in their lifetime, and fortunately the quality of its attractions makes a trip to Ottawa a true pleasure.

Beauty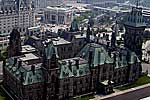 A Cultural City Break in Ottawa
by Beauty
Published on July 1st, 2005