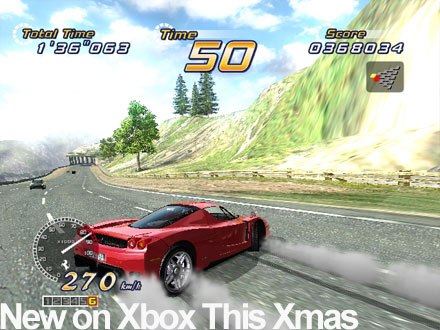 New on Xbox This Xmas
Maxpower and I had the opportunity to preview some great Xbox games that are being released this holiday season ? look for more info and previews in the forums over the month of September, we will be releasing exclusive mini-reviews throughout the month. However, there are many games being released between September and December that weren't discussed in our other articles.
If you're anticipating a game that wasn't mentioned, or if you just want to skim through the other titles being released, we?ve gathered all the information you?ll need right here. We tried to collect the Canadian specs when they were available, but sometimes had to use American data. It really only matters when you?re looking at the price and the release date. We triple checked the numbers before this article went to press, but some of the information may have changed slightly. By the way, there are two games I would have loved to include on this list, but the press kits were too skimpy on information to make it worthwhile. They are Prince of Persia 2, and Tom Clancy?s Splinter Cell Chaos Theory.
Battlefield: Modern Combat
Genre- Shooter
Publisher- Electronic Arts, Inc.
Developer- Electronic Arts, Inc.

Projected Street Date- Fall 2004
Projected Price- (USD) $49.99
Rating- Rating Pending
Xbox Live Enabled- Yes
Xbox Game Site
Burnout 3: Takedown
Genre- Racing

Publisher- Electronic Arts
Developer- Criterion Games
Projected Street Date- September 2004
Projected Price- (USD) $49.99
Rating- Teen
Xbox Live Enabled- Yes
Xbox Game Site
Crash Twinsanity
Genre- Action
Publisher- Vivendi Universal Games
Developer- Traveller?s Tales
Projected Street Date- Fall 2004
Projected Price- (CAD) $64.99
Rating- Everyone
Xbox Live Enabled- No
Dead or Alive Ultimate
Genre- Fighting
Publisher- Tecmo
Developer- Tecmo, Inc.
Projected Street Date- October 2004
Projected Price- Pricing Pending
Rating- Rating Pending
Def Jam Fight for NY
Genre- Fighting
Publisher- Electronic Arts, Inc.
Developer- Electronic Arts Canada and AKI Corporation
Projected Street Date- September 2004
Projected Price- (CAD) $64.99
Rating- Rating Pending
Delta Force Black Hawk Down
Genre- Shooter
Publisher- NovaLogic, Inc.
Developer- Climax
Projected Street Date- November 2004
Projected Price- (CAD) $64.99
Rating- Rating Pending
Xbox Live Enabled- Yes
EA Sports NHL 2005
Genre- Sports
Publisher- Electronic Arts, Inc.
Developer- EA Canada
Projected Street Date- Fall 2004
Projected Price- Pricing Pending
Rating- Rating Pending
Xbox Live Enabled- Unknown
FIFA Soccer 2005
Genre- Sports
Publisher- Electronic Arts, Inc.
Developer- Electronic Arts, Inc.
Projected Street Date- October 2004
Projected Price- (CAD) $64.99
Rating- Everyone
Xbox Live Enabled- Yes
Ghost Recon 2
Genre- Shooter / Action
Publisher- Ubisoft
Developer- Red Storm Entertainment
Projected Street Date- October 2004
Projected Price- Pricing Pending
Rating- Rating Pending
Xbox Live Enabled- Yes
Guilty Gear X2 #Reloaded
Genre- Fighting
Publisher- Majesco Games
Developer- Arc System Works
Projected Street Date- September 2004
Projected Price- (CAD) $64.99
Rating- Teen
Xbox Live Enabled- Yes
Juiced
Genre- Racing
Publisher- Acclaim Entertainment, Inc.
Developer- Juice Games
Projected Street Date- September 2004
Projected Price- (CAD) $64.99
Rating- Rating Pending
Xbox Live Enabled- Yes
Men of Valor
Genre- Action
Publisher- Vivendi Universal Games
Developer- 2015
Projected Street Date- October 2004
Projected Price- (USD) $49.99
Rating- Mature
Xbox Live Enabled- Yes

Official Site- http://www.menofvalorgame.com/
NASCAR 2005: Chase for the Cup
Genre- Racing
Publisher- Electronic Arts
Developer- Electronic Arts Tiburon
Projected Street Date- Fall 2004
Projected Price- (CAD) $64.99
Rating- Everyone

Xbox Live Enabled- Yes
NBA Live 2005
Genre- Sports
Publisher- Electronic Arts, Inc.
Developer- Electronic Arts, Inc.
Projected Street Date- October 2004
Projected Price- (USD) $49.99

Rating- Rating Pending
Xbox Live Enabled- Yes
NCAA March Madness 2005
Genre- Sports
Publisher- Electronic Arts, Inc.
Developer- EA Canada
Projected Street Date- Fall 2004
Projected Price- Pricing Pending

Rating- Rating Pending
Xbox Live Enabled- Yes
Need for Speed Underground 2
Genre- Racing
Publisher- Electronic Arts, Inc.
Developer- EA Canada
Projected Street Date- Fall 2004
Projected Price- Pricing Pending

Rating- Rating Pending
Xbox Live Enabled- Unknown
OutRun 2
Genre- Racing
Publisher- Microsoft Corporation
Developer- Sega / AM2
Projected Street Date- October 2004
Projected Price- (CAD) $64.99

Rating- Rating Pending
Xbox Live Enabled- Yes
Pitfall: The Lost Expedition
Genre- Action
Publisher- Activision, Inc.
Developer- Edge of Reality
Projected Street Date- Winter 2004
Projected Price- (USD) $39.99

Rating- Everyone
Xbox Live Enabled- No
Official Site- http://www.pitfallharry.com/
Silent Hill 4: The Room
Genre- Action
Publisher- Konami Digital Entertainment
Developer- Konami Computer Entertainment Tokyo
Projected Street Date- September 2004

Projected Price- (CAD) $64.99
Rating- Mature
Xbox Live Enabled- No
Trailer- http://www.xbox.com/en-ca/xboxtv/default.htm?t=4979&v=87027&bw=hi
Star Wars Knights of the Old Republic II: The Sith Lords
Genre- Role Playing
Publisher- LucasArts

Developer- Obsidian Entertainment
Projected Street Date- Winter 2004
Projected Price- Pricing Pending
Rating- Rating Pending
Xbox Live Enabled- Yes
Steel Battalion: Line of Contact
Genre- Simulation
Publisher- Capcom

Developer- Capcom
Projected Street Date- Winter 2004
Projected Price- (USD) $49.99
Rating- Teen
Xbox Live Enabled- Yes
Terminator 3: The Redemption
Genre- Action
Publisher- Atari

Developer- Paradigm
Projected Street Date- September 2004
Projected Price- (CAD) $64.99
Rating- Teen
Xbox Live Enabled- No
The Incredibles
Genre- Action / Adventure
Publisher- THQ

Developer- Heavy Iron Studios
Projected Street Date- Fall 2004
Projected Price- Pricing Pending
Rating- Rating Pending
Xbox Live Enabled- Unknown
The Spongebob Squarepants Movie
Genre- Action / Platform
Publisher- THQ

Developer- Heavy Iron Studios
Projected Street Date- Fall 2004
Projected Price- Pricing Pending
Rating- Everyone
Xbox Live Enabled- No
Tron 2.0: Killer App
Genre- Shooter
Publisher- Buena Vista Games

Developer- Climax
Projected Street Date- October 2004
Projected Price- (CAD) $64.99
Rating- Teen
Xbox Live Enabled- Yes
The URBZ: Sims in the City
Genre- Simulation / Strategy
Publisher- Electronic Arts, Inc.

Developer- Maxis
Projected Street Date- Fall 2004
Projected Price- Pricing Pending
Rating- Rating Pending
Xbox Live Enabled- Unknown
Tiger Woods PGA TOUR 2005
Genre- Sports
Publisher- Electronic Arts

Developer- Electronic Arts Redwood Shores
Projected Street Date- September 2004
Projected Price- (CAD) $64.99
Rating- Everyone
Xbox Live Enabled- Yes
Official Site- http://www.tigerwoods2005.com/
World Championship Pool 2004
Genre- Sports

Publisher- Jaleco Entertainment
Developer- Blade Interactive
Projected Street Date- Winter 2004
Projected Price- (USD) $39.99
Rating- Everyone
Xbox Live Enabled- Yes
Worms 3D

Genre- Action
Publisher- Acclaim Entertainment, Inc.
Developer- Team 17
Projected Street Date- Fall 2004
Projected Price- (USD) $49.99
Rating- Teen
Xbox Live Enabled- Yes

Beauty

New on Xbox This Xmas
by Beauty
Published on September 1st, 2004