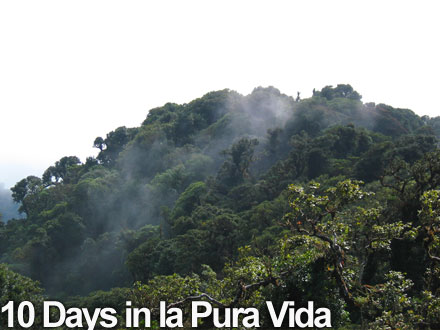 10 Days in la Pura Vida
Winter had crept it's frosty self only a few weeks prior to me purchasing two tickets to San Jose, Costa Rica and I couldn't have been more excited. I had lingered on Kayak (www.kayak.com) searching for the best deals possible for almost two weeks, then finally I found a flight almost $200 cheaper on United Airlines and I just couldn't pass it up. It was high time to pack up some shorts and head out to experience Central America!
I have not been out of the country in at least 5 years, and I was looking forward to an escape with my girlfriend to a foreign land for almost two weeks. We had pondered about an all inclusive vacation for two weeks on some beach, a few times over, but in the end we decided to get on a plane without planning anything instead.
After flying for about 14 hours or so with two stop overs, (one in Los Angeles and another in Guatemala City), we had arrived in San Jose International airport. We initially did crazy activities at the airport, such as watching all passengers jump up in the aisle of the plane 20 minutes before stewardesses let us out, and were even able to push and shove those lovely fellow travelers who think it is o.k. to glue themselves to the baggage claim carousel. We got our backpacks and haggled for a $75 cab ride (the most expensive we haggled for started at $140USD) to La Fortuna. This small town was first since it was about 3 hours away, was not rated a high mugging area like San Jose, and was also home to one of the most active volcano's in the world, 'Arenal'. After what we think was a time record breaking trip through the torturous twisting ascending and descending gravol, yes the drug, demanding roads, we arrived to a tiny hostel to meet Mario our tour guide extraordinario!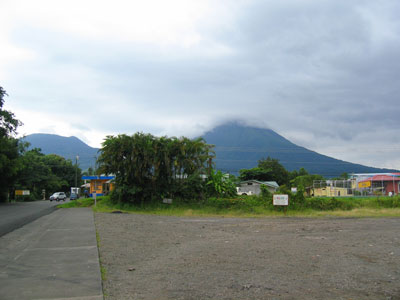 Arenal Volcano (covered in clouds)
Our kind 'tica' Mario hooked us up with a guided rain forest tour, with a legitimate guide! (which later we found out was a rarity that day). Tucans, marsupials, and monkeys, oh my! The volcano at night time was explosive to see, and though it was not flowing lava, the rock eruptions were a first for us. Later that night, the Baldi hot springs. This experience is quite simply la pura vida. Choose the temperature of hot pool you like best, grab a pina colada, sit, swim, sip, and reeelax.
After taking a load off and finally getting some sleep after 30 or so hours of traveling we were off to a 'Jeep-Boat-Jeep' transfer to Monteverde. ('Jeep-Boat-Jeep', say it a couple of times quickly, it's a blast!). Anyway, the 'jeep-boat-jeep' was a time saving trip that took 7 hours less to get to our next destination than the bus option, and it was definitely worth the sights! Arenal Lake with its rolling hill landscape was impressive, and the staggering climb that the jeep (which, by the way was really a van), made after the boat ride was sincerely incredible.
Venida Monteverde! Tica's will potentially mobb you when you are fresh off the jeep, I mean van, oh but jeep is more fun in a spanish accent, but keep a cool head, go to a genuine 'soda' and have a lunch or an excellent yogurt shake. We tried a bunch of different fruit flavors, as per recommended by our travel tip expert, Mr. J. Chan. The hostel we decided on was a little cabina in Pension Santa Elena, which was full of staff who helped us discriminate between which were the best activities to book. A genuine offer of advice was so appreciated, and we found to be very rare in Costa Rica. Thanks Noel!
In our two days in cloud forest heaven, we manged to visit some amazing rain forest, do a canopy tour (SkyTrek), take a guided night tour, and visit an insect bubble. By far the coolest thing to do here was the Canopy tour, where you take these insane zip lines thru and across scores of rain forest. It's definitely a rush and you get to see a lot of cool stuff on the way. I'd have to say that our stay in Monteverde happened to be one of the key highlights of our entire trip.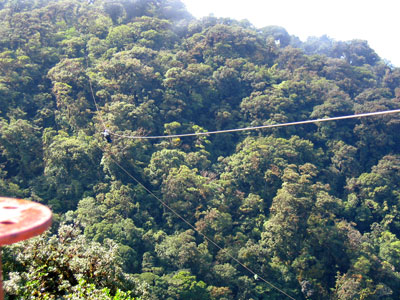 SkyTrek Canopy Tour
4am. The 'secret bus'. A 'tica' bus headed to Puntarenas (one of the largest cities outside of San Jose, right off the Nicoya Peninsula). Stops every 500m for a new passenger, may pit stop for a tire repair, includes authentic dust, but provides the most incredible sunrise landscape tour with the added intimacy of local Costa Ricans. It is sincerely worth the experience, and ended up costing us 3200 colones ($4US/person). We hopped a quick cab to the ferry (because the ferry was leaving in 10 minutes) and were bound for Paquera. We finally felt the heat we were looking for; mmm, hot, hot weather! While we had been traveling outside the coast it had been in the 20's or so, but the minute we sat in the sun on the deck of the ferry we quickly realized it was a lot hotter near the water (at least 35C). We promptly got a nice sunburn and disembarked.
Once off the boat we were again blitzed by cab drivers asking for ridiculous amounts of money to take us to our next destination. Luckily someone I had meet on the boat pulled me aside from the mob and told me to jump on the bus with him, since it would be just as fast and costs a fraction of the cost (a couple of bucks each). I'm very grateful of this passer by since we totally expected to just take a cab. This bus was pure luxury coming from the local transport bus earlier that day as it was more like a greyhound versus city transit styles.
We arrive in Montezuma: beach town / hippy paradise. Lodging for two: $12. Location: Right on the beach. Aww jeah. We finally got to really chill out for a bit. We had been going non stop seeing everything possible in the few days behind us, and now that we have arrived at a beach, we knew we could just sit and relax. And this we did, while doing a bit of exploring around the town and outskirts. One of the coolest things we saw here was a playful group of about 15-20 Squirrel Monkies. We could have watched them all day; they were simply amazing playing in all the trees around us. We ended up staying two nights here and then leaving via private taxi boat across the awesome Nicoya Gulf, ($30USD ea), for a 1 hour transfer to the to town of Jaco (which would have taken us at least 8 hours of busing / ferries to get to otherwise.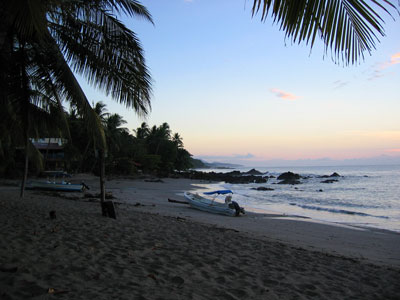 Sunrise at Montezuma
The night prior to leaving we watched as the boat we were going to take the next morning come in. It was a tiny 6 seater which they managed to turtle high up on the beach. The entire time I was watching this I was wondering how in the world they were going to get that back in the water at 6am the next morning?!
6am the next morning. All 6 passengers are pushing the boat back into the water (and believe me, this wasn't easy). We jumped into the ocean and boarded for our trip thru some huge waves to Jaco. This trip was quite the rush as you could watch how incredibly vast the ocean is, as well as how rough a tiny boat can get shoved around. A very fun trip, and we even managed to watch a bunch of fish flying out of the water a few feet into the air. We landed onto the much softer beach of Jaco, and then quickly found a cab to Quepos/Manuel Antonio with a couple we met on the boat.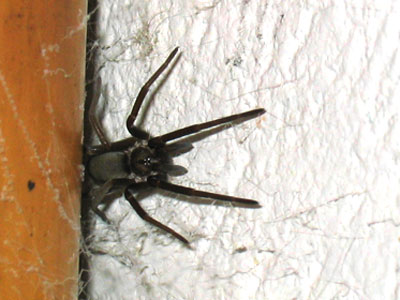 Spider!
The rest of trip was basically spent on the beach and was a blast. Got a good tan, stayed in some cool places, took in some waves, and got to enjoy our time away in the sun. We eventually had to leave, so we headed off to a town called Alajuela (which is about 3kms from the airport) to stay the night before having to depart back home. Our last night in Costa Rica was at an awesome new place (you will not find it any guide book) called Hostel Trotamundos. The owner, William, was super nice and even fed us a tropical fruit breakfast. I'd highly recommend checking it out if you have stay a night close by the airport for a early morning departure.
All in all, this was a fantastic trip. My only disappointment about Costa Rica is that this place has been fully discovered and tends to exploit tourists. Granted, if you are head strong and know how to barter (let alone in broken Spanish), you can get around just fine. We didn't notice much crime (though heard lots about it), yet we did manage to avoid going into San Jose (which everyone seemed to recommend). I don't think I'll be heading back to Costa Rica anytime soon, as I think I'd rather checkout Panama or Nicaragua, however if you did plan on going I'd try to go for at least 2 weeks if not a lot longer since this country offers an immense amount of variety, and some of the most amazing animals and phenomenal ecotourism available.

David Gluzman

10 Days in la Pura Vida
by David Gluzman
Published on December 1st, 2004
Where:

Costa Rica
Time: 10 days
Booked online @: www.kayak.com
Do it? Yes


Book used: Lonely Planet 2005