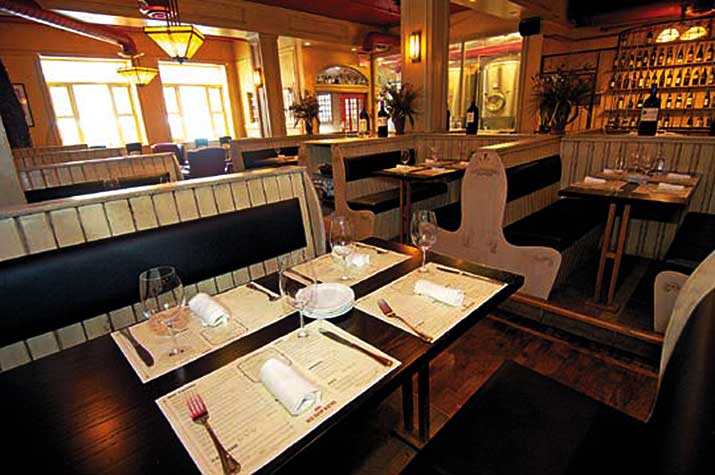 Sustainable Dining at Red Door Bistro
Sometimes we are privileged as observers of society to provide context around interesting ideas that are being shared with the world. These ideas can be simple or they can be complex and can be interpreted in different ways, depending on who you ask. The idea tonight being presented was sustainable dining by Red Door Bistro. I wrestled with the definition of what sustainable dining is and I have found that it is up for interpretation.
The Chefs Tasting Menu was designed to showcase their approach to sustainable dining using 8 courses as evidence of this. Using local and provincial producers, Red Door Bistro has tried to ensure that where possible, their materials are as organic and are as free from hormones, pesticides and all those other undesirable ingredients as possible. In any sustainable situation, the reduction of waste is paramount and kitchen staff took this into account with their presentation of the charcuterie plate and the lambs neck and barely soup.
Onto the food, some of the highlights of the tasting were the oysters which were meaty and seasoned just so. The delicate yet flavourful sea bass preparation was a standout along with the incredibly simple but delicious presentation of mushrooms on toast and finally the masterpiece; the roast strip loin of beef with duck Yorkshire Pudding. The Vegreville, Alberta sourced beef was cooked and seasoned to perfection and had a wonderful freshness to it that you couldn't help but enjoy and the pudding had a richness due to the use of duck fat, simply wonderful! By the time the last course of cheeses arrived, all we could do was try a bit of each delicious example as we were all so full.
With the many hits of evening, there were also some misses and I think that not enough consideration went into the discussion with the diners as to the wine served with each course. This is to me is an important aspect of any chefs table experience and I think that the service staff / sommelier missed the mark here by not presenting and talking about the reasons the food and wine were paired. That being said, there were some outstanding wines served and I think they two deserve honorable mention, especially since they come from the same New Zealand based producer, Villa Maria.
Villa Maria
Varietal: Sauvignon Blanc
Alcohol: 14%
Price: ~$20.00
The examples that were served were the Sauvignon Blanc and the Pinot Noir both from the Private Bin line with each retailing for around $20.00 The Sauv Blanc was served with the salad course and just had an amazing, perfumed nose of apple blossom and pear. On palate, it paired nicely with the fennel and blue cheese dressing of the salad and had a nice crispness and acidity with a touch of sweetness. A great wine and a great pairing and I would give it a solid 86 points. It is available everywhere so keep you eye open for it.
Villa Maria
Varietal: Pinot Noir
Alcohol: 13.5%
The Pinot Noir was served with our first meat course and it had a very nice berry aspect coming through on the nose ( some people said cherry, I thought more strawberry but berries nonetheless) and on the palate it was light and fruity and very smooth and refined due to its 10 or so months in oak. This is a wine that you could trick your wine snob friends or parents with as it is a good example of what pinot noir should be minus the crazy price tag. For it being more memorable than the food it was served with plus all of its other redeeming qualities, I gave it 87 points.
Red Door Bistro might not be considered 100% sustainable, but they are leading by example and are proving that it is a major consideration in all the decisions that are made from the kitchens perspective. You can sense that their approach is one they stick by as their standard menu mirrored some of the chefs creations and approaches. I applaud their efforts and would like to thank them for trying to separate themselves by not just talking about it as an afterthought but actually implementing their ideas. Overall, the night was filled with great company, great food and an interesting take on the classic idea of bistro food.
Red Door Bistro
607 – 11th Avenue S.W.
Calgary, Alberta
T2R-0E1
Phone: (403) 233-2433
reddoorbistro.com

Adrian Bryksa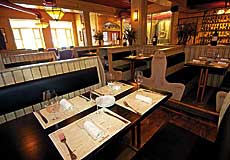 Sustainable Dining at Red Door Bistro
by Adrian Bryksa
Published on January 21st, 2009
Where:

Red Door Bistro

Photos:

Care of Red Door Bistro

Website: