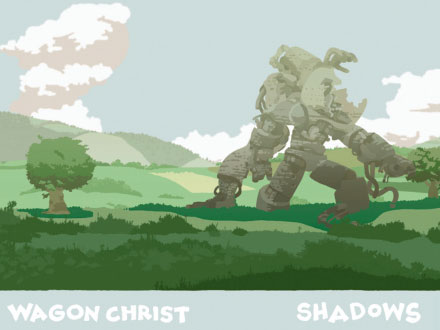 'Shadows' from Wagon Christ
Mr Christ swings in with 3 new mutant disco tracks to back up the utterly mournful and also utterly ludicrous 'Shadows' taken from the critically acclaimed album 'Sorry I Make You Lush'. Accompanied by a stunning video by Fizzy Eye that brings us prehistoric robots, lush countryside and sums up the mood of this track quite perfectly. Just like the album, 'Shadows' displays all the trademark Wagon Christ tricks – woozy, gaudy, beautiful kitschtronica. Come to us Luke. Forsake all others. You are from Cornwall and machines are the new celts. We have no peripheral vision. There are no peripheries. On release now on Ninja Tune.
Celebrating the release of 'Shadows' from Wagon Christ, below you will find all the 'direct to file' hyperlinks for four audio streams and one video stream, in both Real Audio & Windows Media – Infact it's a Virtual Single ;)
Shadows
The Groove (Souled Out)
Loose Loggins
Deux Ans De Maia
'Shadows' video!
Many thanks to 'Ninja Tune' for supplying this special feature. For more information checkout http://www.ninjatune.net

Ninja Tune

'Shadows' from Wagon Christ
by Ninja Tune
Published on November 1st, 2004