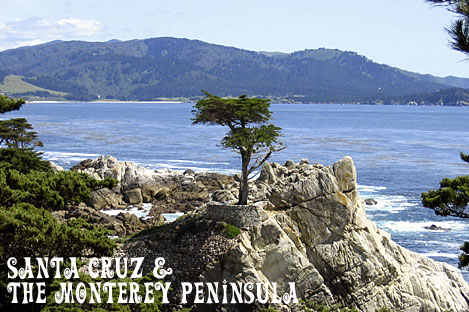 Santa Cruz & The Monterey Peninsula
As part of a continuing series on travel destinations around the world including; London, Toronto, Costa Rica and an upcoming trip to Ottawa (stay tuned); R4NT traveled to the Santa Cruz and Monterey Peninsula in California. This area in central California is a perfect vacation destination if you are staying in San Francisco for a couple of days and are looking to get outside the city or if you are looking for a west coast travel destination that is off (relatively) the beaten track. These parts of California (unlike LA or the other big cities) made me realize why more than 30 million people make their homes there ? it is just a great place to visit. Enjoy and check out the travel links included in the side-bar for more information.
Pacific Coast Highway: Known as one of the most spectacular drives in the United States, the Pacific Coast Highway (aka Route 1) is a great way to start your trip. After leaving the San Francisco International airport head south on Route 1 for gorgeous views on a windy road which will take you from sea level to high up in a cedar forest. Stop and take in the view at places like Pacifica, Moss Beach, Half Moon Bay and Pescadero. The drive from San Francisco to Santa Cruz will take you about 1.5 hours (depending on the number of times you stop to take pictures) versus about an hour if you take the interstate through San Jose.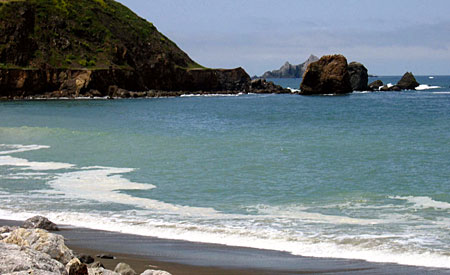 Views from the Pacific Coast Highway
Santa Cruz: On the north side of the Monterey Bay is the city of Santa Cruz. Santa Cruz is not your typical vision of California. Sure it has a nice downtown area for shopping, a beach front amusement park with one of the oldest roller coasters in the US and a pier with shopping. However, there is an aura about it, exemplified by the locals? bumper stickers reading ?Keep Santa Cruz Weird?. Weird may be an overstatement, but it is definitely different. There are no rows of huge chain hotels; rather, accommodation is made up of ?Sideways-esque? California-style motels. The pier? Well it has tacky tourist shops but they are family run with many new age trinkets competing with the novelty t-shirts. Santa Cruz also has a wonderful colony of sea lions that live around the pier, jumping up onto the wooden pier mountings in high tide to relax for the rest of the day. Their ?barking? can be hard in many parts of the town (especially in the morning) and reminds you constantly that you are in California.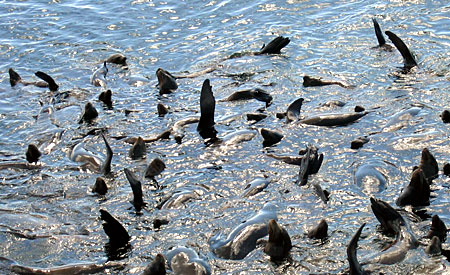 Sea lions frolic in the surf off the Santa Cruz pier
Big Basin Redwood State Park: Northern California is known for its redwood trees and the Big Basin state park is a great place to see them. It is about a 45 minute drive from Santa Cruz on a very small and windy road. The road is part of the uniqueness of the area and in keeping with the whole ?Keep Santa Cruz Weird? thing, don?t be surprised when you pass 1) a Masonic temple, 2) a ?compound? with bunk-style housing and many ?Private Property ? Keep Off? signs, 3) A Buddhist temple and 4) three towns each with two or more ?new age healing institutes?. Once you reach the Big Basin you are treated to a state park that covers 18,000 acres and was established in 1902 as California?s first state park. It is $5 to park and 25 cents for a trail map of some of the hikes available. A popular hike is the ?Redwood walk? which is a half mile hike featuring huge redwoods. On that hike you can see wildlife (we saw deer), the largest tree in the park ? 329 feet high (and 18 feet in circumference) and trees that are estimated to be 2,000 years old. The park is highly recommended for both those who want a serious hike or a casual stroll.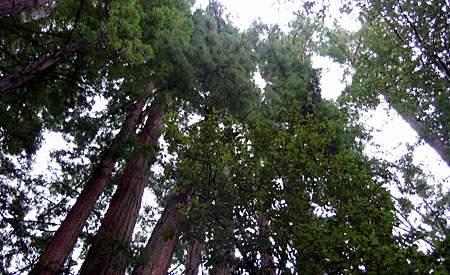 2,000 year old trees
Monterey Aquarium ? Traveling south from Santa Cruz down Route 1, you travel around the coast of the Monterey Bay and enter a region known as the Monterey Peninsula, home to the cities of Monterey and Carmel, famous Pebble Beach and some gorgeous scenery. On the way down to Monterey make sure you stop at some of the roadside fruit stands (when in season). We picked up a pound of fresh strawberries for under two dollars US; and they were so fresh that they still had the stems attached. On arrival in Monterey you will likely be pulled down to ?Cannery Row? which was made famous by John Steinbeck?s novel of the same name. I would highly recommend picking up the book if you are traveling in the area as it gives a colourful look at life on the Monterey peninsula in the early twentieth century. The highlight of Monterey is the Monterey Bay Aquarium (http://www.mbayaq.org/efc/) which is housed in buildings that made up the canneries of ?Cannery Row?. It is a bit pricey at US$20 a pop to get in, but the quality and size of exhibits are excellent. Visit: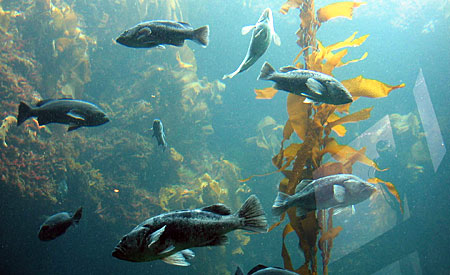 A three storey tall Kelp Forest
A three storey tall Kelp Forest
The ?Outer Bay Galleries? which contains tuna, barracudas, sharks, and sea turtles in a million gallon tank.
A Sea Otter exhibit where you can see rescued sea otters frolic and feed. They like eating fishcicles (ice cubes with fish pieces in them which they have to break open with rocks)
The Sharks: Myth & Mystery exhibit and;
Jellies: Living Art which is a very large exhibit on Jelly Fish that won the award for best Zoo & Aquarium Exhibit in the US in 2003. There are so many different kinds of jelly fish, each with an astonishing array of colours and tendrils that the one picture here can?t do it justice. A highlight.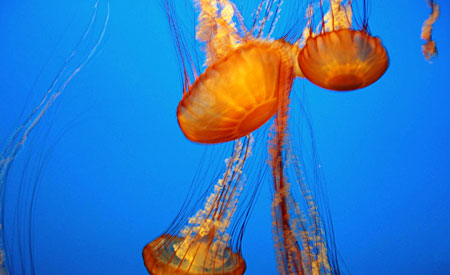 Jellies
After the day in Monterey at the Aquarium and Cannery Row, you can finish the time off with a drive on the famous ?17 Mile Drive? (http://www.pebblebeach.com/page.asp?id=1241) which is the only private toll road west of the Mississippi. It contains many large houses set up in the hills, fantastic sea views, sand dunes and deluxe golf courses ? including Pebble Beach (play a round for US$300). It isn?t as commercialized as it sounds, one of the major attractions of this area of California is that is just isn?t that crowded. On our drive some of the beaches were declared off-limits with large fences put up to protect birthing seals. Lots of small shops, cute B&Bs and family run businesses abound. There are also some excellent wineries in the area, especially up Carmel valley which won?t be as crowded as the ?super-wineries? of the Napa Valley area. So even though this area is within a day?s drive of both San Francisco and LA it really isn?t the California that you normally imagine. It is highly recommended by R4NT for a low-key relaxed California trip.

MaxPower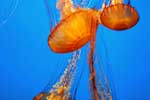 Santa Cruz & The Monterey Peninsula
by MaxPower
Published on June 1st, 2005