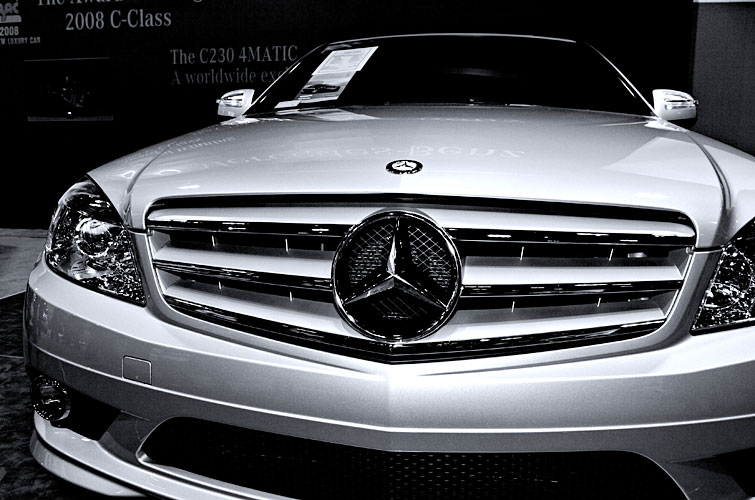 Do You Guys Drive a Truck?
When attending an Autoshow in the heart of Canadian truck country it maybe isn't surprising that D4V and myself got approached by an enterprising salesman with the line "Hey, do you guys drive a truck?" However, neither D4V nor myself look even remotely like people with a propensity to drive trucks. I was wearing a baseball hat, perhaps that is a secret code for "I drive a truck" or something. Regardless, we at R4NT have, for the fourth year in a row, visited the Calgary Autoshow and present here the best and worst in show.
Best High End Car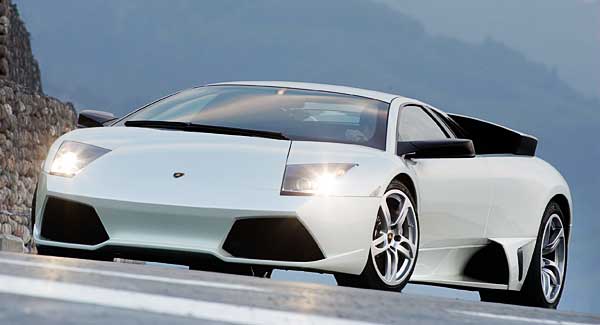 Lamborgini Murciélago – Even though this car is 6 years old (although the new LP640 was introduced in 2006), it still has to take best-in-show (for the cars actually at the autoshow) for me. You can see the styling cues from Lambo's Diablo. However, without the Diablo's wings, fussy surfaces and in-your-face angles, the Murcielago is a clean-looking supercar. When laying down $399,000 for the coupe version ($430,000 for the roadster) you had better be getting some kick-ass features. 640 horsepower is a pretty good feature, comparing well with other high end cars such as the Ferrari 599 GTB Fiorano at 620, the Benz SLR at 617 or the Bentley Continental GT at 600 (also at the autoshow, with Bentley showing off for their new Calgary dealership that is under construction at an old BMW dealership). The Murcielago ain't no Bugatti Veyron (with 1001 hp), although the Lambo doesn't cost $1.7M, and the Veyron wasn't at the autoshow, sooo yeah. If you're still looking for the best feature – look no further than the (optional) carbon ceramic brake pads that can be painted to match your choice of interior leather covers (yellow, silver or black), for $16,250. Yes, brake pads which cost more than some small cars.
Worst Low End Car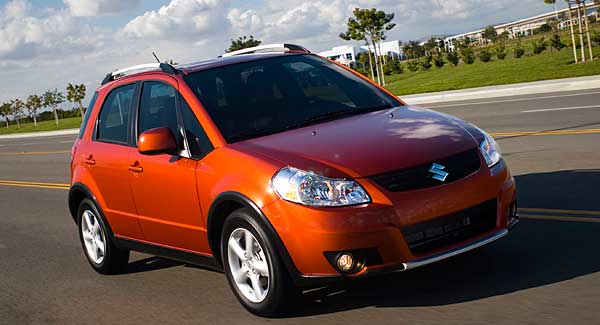 Suzuki SX4 – Not every car can be a Lambo. There needs to be a market for low end cars. I have no beef with low end cars, as long as they make sense. The Suzuki SX4, a subcompact, simply does not make sense. The SX4 starts at $18,445 (manual, stripped of options) and goes up to an insane $25,045 (auto, AWD). The one we saw at the Autoshow was $22,000. There was a lady exclaiming to her husband "what a great deal that is", to which D4V and I thought "people are stupid". Not only is the SX4 damn ugly, it compares poorly to a vast array of cars which can be had for under $20K. The problem is with the way auto dealers and journalists compare cars. For a "subcompact" the SX4 has a large engine at 143 hp and AWD as an option, things most subcompacts do not have. However, other subcompacts include the Toyota Yaris ($13,135 – $18,335), Nissan Versa ($14,698 – $17,398), Dodge Caliber ($15,995 – $25,395 for R/T AWD version) and Volkswagen City Golf ($15,300 – $19,995). So rather than congratulate the SX4 on having features that most other subcompacts don't, I'm condemning them for not really being comparable to a subcompact. The SX4 is a rip-off. The Chevrolet Aveo, another subcompact, starts at $12,995, the Hyundai Accent starts at $14,250, the Chevrolet Cobalt at $15,175, Pontiac G5 $15,595. Even much larger (and better) cars are priced below the SX4's entry level – Mitsubishi Lancer $16,598, Mazda 3 $16,895, Honda Civic $16,990. At the top end, you could get a Nissan Sentra, Mazda 6, Nissan Altima, Dodge Avenger, Mini Cooper or even a Ford Mustang (all under $25,000). Why would anyone buy a SX4? Crazy.
Best Intro-Luxury Car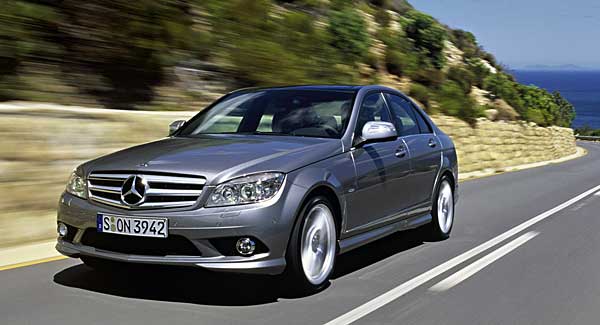 Mercedes-Benz C-Class – Being a BMW fan, I've typically looked down my nose at the old-money Mercedes. Stodgy, slow, automatic-equipped. However, the new styling of the C-Class has started to sway me. At the autoshow there was a 2008 C230, which is the base model, stripped down but came in at a respectable $40,885. Granted you're only getting 201-hp for that coin, but design wise the new sporty look of the C-Class makes it seem like the car should cost significantly more. The biggest negative with the Class as a whole is that it is still underpowered when compared to new offerings from Infiniti. The Mercedes C300 comes in at 228 hp (and starts at $41,000) and the C350 has 268 hp at $47,900. As a comparison the Infiniti G35 starts at $39,990 and has 306 hp while the BMW 328i has 230 hp at $41,000. With the revamped styling, Mercedes has a better entry into the intro-luxury market than it has had for 6 to 8 years.
Worst Trying-To-Be-A-Intro-Luxury Car
Kia Amanti – I generally have nothing positive to say about any Kias but the brand positioning and pricing of the Kia Amanti ($38,650) is bad enough for it to earn a mention here. Go to Kia Canada's webpage and you're greeted by the byline "Affluent Luxury". Riiight, kind of repetitive no? The Amanti is said to be "sophisticat(ed), luxurious, lavish, advanced and exceptional". My adjectives would be "pedestrian, utilitarian, plastic-filled interior, exceptionally over-priced". The Amanti's front grill looks, as D4V put it, like it is trying to be a Mercedes and a Bentley, at the same time. It has a 264 hp engine (decent), only comes in one trim level and has no options in Canada, what you see is what you get. That includes the massive seat adjustment buttons on the inside of the door panel which you will look at every time you exit and enter the vehicle and will probably only use once a year. When you look at Edmunds or Cars.com they lump the Amanti in with the Toyota Avalon and the Chrysler 300 as kind of mid-sized mid-priced cars. Ok, it would fare a bit better in that class, but who in their right mind would pay $38,500 for a Kia? To the older guy who was looking admiringly at the front grill when I walked past: Spend another $2,500 and buy a BMW or a Mercedes dude. I can't even describe how much I would prefer a C230 or a BMW 323i over a Kia Amanti. For $2500 more! Oh and if you live in the US you can get that same Kia for $31,635. Nice.
Quick Hits & Misses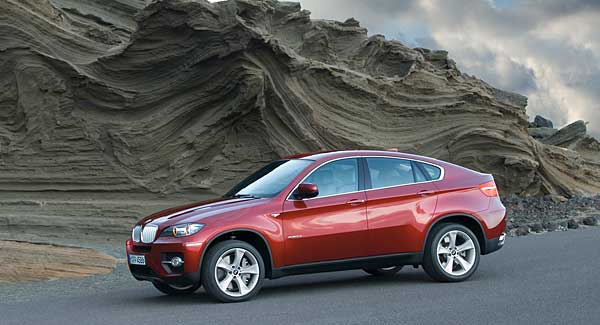 Hit – 2009 BMW X6 – Super aggresive styling, like a Infiniti FX35 on (more) steriods. Longer and lower than the X5 – less seats and better performance. Another good looking entry into the 'crossover' market – smaller and better to drive than an SUV but with some additional utility over a sedan.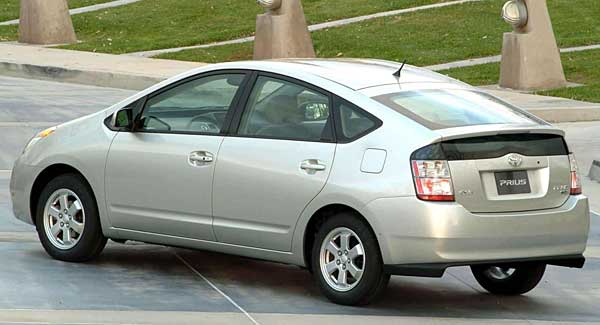 Miss – 2008 Toyota Prius – Another year of ugly ass styling and more enviro-guilt-assauging than you can shake a organic fair trade stick at. Tried to get a look at the interior but couldn't wade through the crowds. No one tell them about how bad those batteries are for the environment ok?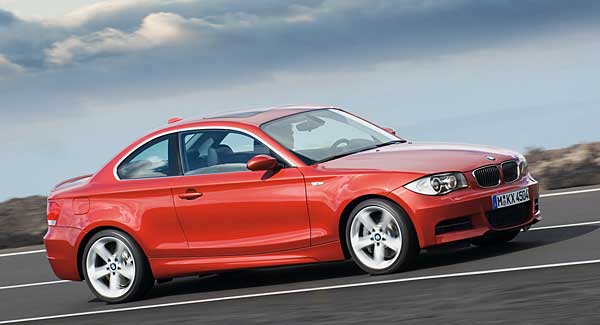 Miss – 2009 BMW 1-Series – A new entry-level BMW, which looks like a slightly smaller 3-Series and comes in at just shy of $40K. It will allow people who can't scrape together enough for a 323i to get into a BMW to show up the Joneses, 'cept everyone will know it is a baby-bimmer. Does have M1 rocket-sled potential with a huge engine and tiny frame. The first time, D4V and I walked right past it without even noticing it.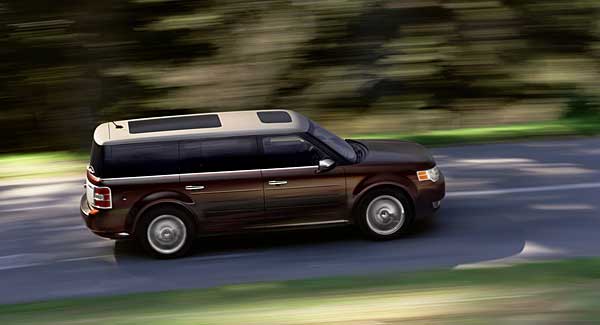 Miss – 2009 Ford Flex – Looks like a elongated ugly knock-off of the exceedingly ugly Honda Element. Don't know how much it is going to cost because it was up on one of those rotating panels and didn't have any pricing information.

MaxPower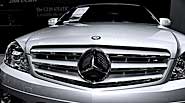 Do You Guys Drive a Truck?
by MaxPower
Published on March 16th, 2008
When:

March 12-16th, 2008

Photos:

Some care of NetCarShow.com

Previous Coverage: