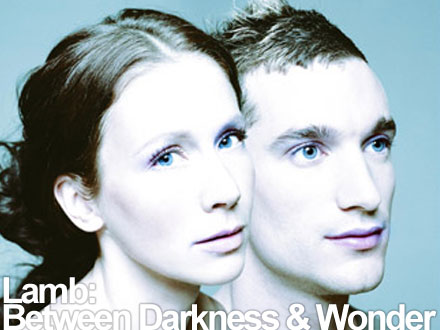 Lamb – Between Darkness and Wonder
The mid 1990's introduced me to a new style of music that has forever changed the way I listen to music. I remember when I first heard Massive Attack and the dark sounds of Tricky I had immediately found a new direction to take my CD collection. Morcheeba also had a huge amount of influence in how I see the Trip hop sound. Granted I was greatly disappointed when they turned to the dark side and went with a new Pop/Alternative album. It seems that Trip Hop was almost forgotten.
What happened to trip hop? Did it transgress into hip hop (those words do sound similar)? Maybe it left the scene of the crime and jumped on board with the techno infused blips and blops of ambient. There is no question that Trip hop has changed, and I don?t think anyone can ever fill the shoes of it?s conception (even it's creators).
So where are we with the fourth release from Lamb.. Between Darkness And Wonder?
To be dreadfully honest I didn't put much faith in this album. Their previous release What Sound didn't really impress me and I thought their sound seemed a bit lost. Regardless I still had hopes that Lamb might have produced something worth listening to in 2004; considering how great their first two albums were (Lamb (1997), and Fear of Fours(1999)).
So, is this as good as their debut albums? Simply put, no.
Is it cliched better? No.
It's no slouch mind you. Lamb has found a new sound. The sound is tasty. I'd like to promptly order some fine dinning with all the fixings. The fixings in this album are so diverse in each track you'll be lost in a whirlwind of genres and the only thing you'll notice consistent is the fine voice of or their lead female vocalist (Louise Rhodes). What kinda take out is this? Did I order Chinese food? This pretzel is making me thirsty!
Seriously though; it?s a good record. You might think you?re listening to Boards of Canada or maybe even Axel F (*cough* remember Beverly hills cop?). I will say however, if you haven't listened to Lamb before, do not start with this album get Fear of Fours or their self titled debut instead. Like Lamb? Might as well download it and if you like it buy it. This album will not please the masses but it's good.

David Gluzman

Lamb – Between Darkness and Wonder
by David Gluzman
Published on April 1st, 2004
Artist:

Lamb

Album:

Between Darkness & Wonder

Label:

Koch Records

When:

February 24th, 2004

Rating:

6.5 / 10

Genre:

TripHop? Maybe Not