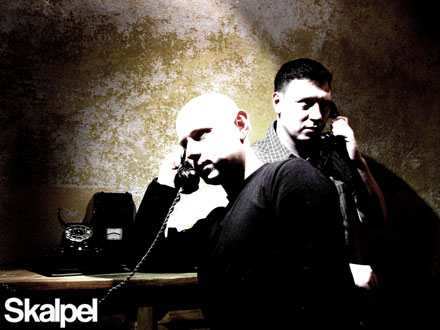 Interview: Skalpel
Skalpel is Marcin Cichy and Igor Pudlo who hail from the city of Wroclaw in Poland. The pair are talented DJs, who have had five mixes aired on Ninja's Solid Steel radio show over the last two years. Two of these sessions were also released as "Virtual Cuts", which critics widely praised as the best mix tape in the history of electronic music in Poland.
The year 2000 was a landmark year for Skalpel. Having interviewed DJ Vadim for a Polish hip hop magazine, the duo were soon discussing samples, obscure breaks and the Polish music scene with him. That led to a combined tour with Skalpel and Vadim's Russian Percussion, during which they presented an amazing 4-deck show. Later that year, Skalpel released a demo CD titled "Polish Jazz", which gained praise in their native country, and also led to the duo signing a contract with Ninja Tune.
Over the past few years Marcin and Igor have been digging in their record crates, trying to build the most exciting collection of samples from Polish jazz records. Ultimately, they want resurrect the spirit of 60s and 70s Polish jazz and then re-work it for tomorrow. "The Polish music scene is very poor at the moment", Skalpel said in their exclusive interview with R4NT. Additionally, they elaborated in previous interviews; "Nothing really interesting happens. The majority of music on TV and radio is kind of 'World Idol'. Very little individuality – just copies of American music."
Their efforts came through with the limited edition single, "Sculpture" that sold out on release and caused a huge stir in Poland. It also led to a nomination for the "Paszport Polityki," the most prestigious culture award in Poland, and now R4NT is introducing them to a North American audience.
---
Witaj (hello) and thank you for taking the time to answer a few questions from the R4NT crew here in Canada.
R4NT: How long have you guys in Skalpel known each other, and how did you hook up?
Skalpel: We have known each other for about 8 years but we have been together as Skalpel for about 5 years. We met at a music store where we were exchanging records, talking about music. Then one day Igor called me and asked me to help him with his music. We finished up like 3 tracks, then deleted it and started to do music that we had in our head.
R4NT: What is the inspiration for Skalpel's sound?
Skalpel: When we were thinking of the music that day we fell in love in Polish jazz. This music from Poland sounds so good and different. So basically our sound is a connection of Polish jazz plus inspirations taken from surrealism (we often talk about surrealism when drinking coffee), ambient sounds of Brain Eno and Miles Davis with his "Big Fun". A very important part of our sound is the sound of dust on the record. We want Skalpel to sound old and dusty.
R4NT: What sort of equipment or instruments do you guys use / play?
Skalpel: It's enough for us to have turntables, a PC and a sampler to make music. We have it and we try to do our best. We use keyboards of other equipment less and less.
R4NT: Big things started to happen after you collaborated with DJ Vadim, who else have you collaborated with recently?
Skalpel: The collaboration with Vadim was not on an artistic field, we performed with him on his first Polish tour with his Russian Procussion Group (RPG). After the last gig in Poland we did some free styling and we recorded it under name "freestyle from Poland" (we saw it on Soul Seek some time ago).
R4NT: Your first album (Skalpel – Skalpel) was a huge hit and now you've released a new Single titled '1958' which builds off the already quick paced track and gives us more tasty delights. We were also pleasantly surprised to see 3 full length videos on the single.
How involved are you guys in the productions of the videos?
Skalpel: We only did some in cooperation with the 'Break In' video. Really we are more interested in making music then anything else. All the videos are made by our friends.
R4NT: How has MP3's and the internet influenced you?
Skalpel: We listen to some Internet shows, but what we don't like is quality of MP3 files so we don't download albums in mp3 format – they sound very shitty.
R4NT: What's the music scene like in Poland? And where would you recommend checking out if we came down for a visit?
Skalpel: You should try young jazz groups from Poland – Robotobibok. Its also from Wroclaw, but basically the Polish music scene is very poor at the moment.
R4NT: Do you paint?
Skalpel: No, but Kid Koala and Mr. Scruff do.
R4NT: Digital or Analog?
Skalpel: Both.
R4NT: Vodka or Gin?
Skalpel: Gin? What is Gin? Ok, we choose Vodka. Polish Vodka if you please.
R4NT: Do you play video games? If so, what's your favorite?
Skalpel: No – I don't think we have any game installed on our PCs.
R4NT: Do you plan on ever coming down to Canada to put on a show?
Skalpel: Yes, let us know when and we're on the way.
R4NT: Thanks very much for the interview and we're looking forward to hearing more luscious tunes from the Skalpel due out in the future.

R4NT

Interview: Skalpel
by R4NT
Published on February 29th, 2004
Interview with Skalpel
Skalpel is: Marcin Cichy + Igor Pudlo
Where: Wroclaw Poland
Lable: Ninjatune
Latest Release: Skalpel 1958
Release Date: March 22nd, 2004