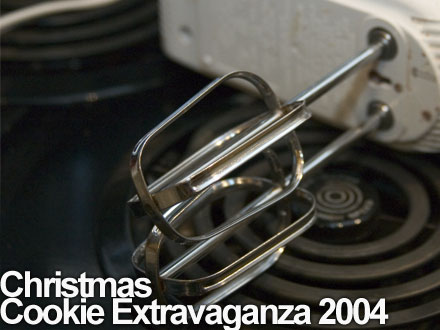 Christmas Cookie Extravaganza 2004
It?s that festive time of year again, and back by popular demand we bring you? cookies! No, we?re not doing another one of those giveaways. We?re just posting some Christmas cookie recipes so you can bake them yourself. Hey, don?t be disappointed. Baking is fun! Didn?t your mother ever tell you that? The first recipe is super easy so even noobies should be able to get it right. The second recipe is more time-consuming but allows you to express your creative side. We know it?s in there somewhere. So get baking, and in the spirit of sharing, post some pictures of your masterpieces in our forum for us all to enjoy. Mmmm… cookies…
Butterscotch Confetti
? cup butter or margarine
? cup smooth peanut butter
1 cup butterscotch chips
8-ounce bag small coloured marshmallows
Line a 9?x9? pan with wax paper.
Melt the butter and peanut butter in a large saucepan over low heat.
Add the butterscotch chips and stir until melted.
Remove the pan from the heat and let it cool until you can hold your hand on the bottom of the pot. To speed this process you can stir the mixture while holding the pan in cold water until it?s cool enough (*it takes a while for the pan to cool down, so don?t touch it right away. Use your common sense here, people*).
Add the marshmallows and stir until they are all well coated.
Pour the mixture into the prepared pan and pack it down.
Refrigerate. This recipe makes about 36 squares.
Gingerbread Cookies
1 cup Crisco shortening
? cup white sugar
1 cup molasses
? cup milk
2 eggs
5 cups flour
1 ? teaspoons ginger
1 ? teaspoons cinnamon
1 teaspoon baking soda
Pinch of cloves (optional)
Blend the shortening and the sugar in a large mixing bowl.
Stir in the molasses and the milk.
Add the eggs and mix well.
In a separate mixing bowl, mix together the flour, ginger, cinnamon, baking soda and cloves.
Add the dry ingredients to the wet mixture and blend them all together well.
Put the mixing bowl in the fridge and chill the dough for 1 hour (chilling the dough makes it easier to roll out).
Break off a section of the chilled dough and roll it out to ?? thickness on a large, lightly floured surface with a rolling pin.
Re-roll the dough, adding pieces from the chilled mixture each time.
Use cookie cutters to cut shapes into the dough, and place the cut shapes on an ungreased baking sheet. Don?t let any of the shapes touch each other on the pan.
Bake the cookies in a preheated 350? F oven for 10 minutes. You will need to do many batches before you use up all of the dough.
Cool the baked cookies on a cooling rack. The cookies must be cooled completely before you can decorate them.
Here?s where the fun really begins. You can use basically anything to decorate your cookies, preferably something edible. Some items you might want to try are: icing (either home-made or store-bought), sparkles, sprinkles, mint candies, raisons, licorice sticks, Red Hots, crushed candy cane, any small penny candies, chocolate chips or any other flavoured chip.

Beauty

Christmas Cookie Extravaganza 2004
by Beauty
Published on December 1st, 2004