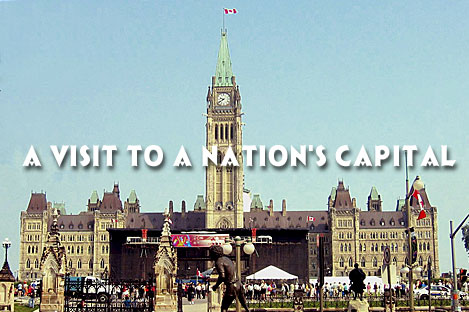 A Visit to a Nation's Capital
As part of a continuing series of R4NT Travel features, R4NT staffers recently visited Ottawa, Canada's capital city. The Ottawa articles this month also coincide with Canada Day on July 1st. Ottawa is a study of contrasts – the architecture on Parliament Hill is stunning, built in the mid to late 1800's there are many great pieces of modern gothic revival architecture utilizing stone. However, some of the architecture in the government and business areas are less than stunning, built during the1960's and 70's in a mish-mash of modernist and post-modernist architecture using concrete. That being said, Ottawa's compactness is a draw, visitors can easily walk around the downtown core in less than thirty minutes. R4NT visited some of the highlights of the city and present them here in a two article review of Ottawa. You can read Beauty's review of the National Gallery of Canada and the Canadian Museum of Civilization here while this article will cover the Parliament Buildings and the Canadian War Museum.
We started off our tour of Ottawa with the natural destination – Parliament Hill. These grand gothic revival buildings were built in the 1840's and destroyed by fire in 1916. They were then rebuilt (using predominately stone inside rather than wood) in 1919. The East and West blocks flank the Centre Block with the Peace Tower figuring prominently in the middle. It all looks very impressive from a distance and once you get close to the Centre Block you will notice hundreds of gargoyles and friezes on the fa?ade. In fact, there are 370 gargoyles, the most impressive of which are four flying gargoyles on buttresses which are situated on the corners of the Peace Tower. When we arrived on the Hill we just happened to catch a Changing of the Guard-type event complete with the Governor General Adrienne Clarkson, inspecting the troops (So that's her job). The pomp and circumstance was nice and if you have ever been to London you will immediately see the British influence in this ceremony. The American tourists in front of us stood during the playing of O Canada (as a sign of respect they said), but then asked if the band would play the American national anthem after. Why, I'm not sure, but it was nice they stood.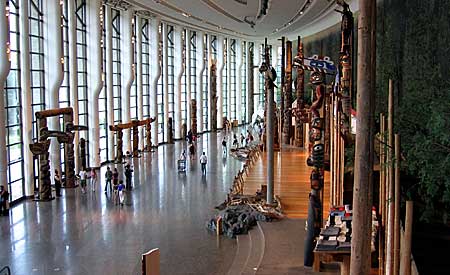 After getting a bit bored of Clarkson checking out some guys with guns we walked over to the "Info Tent" and signed up for a guided tour of the Parliament Buildings (it's free) and were taken on the tour by a hyper-enthusiastic bilingual University student. After making it through security which is stricter than at airports (I had to take off my belt and watch to go through the metal detector) we were off. The tour itself lasted about 45 minutes, after which we went up the Peace tower for great views of downtown Ottawa. On the tour you visit the House of Commons, Senate, Library and the "corridors of power" so to speak. I would recommend this free tour to anyone visiting Ottawa as the guide had enough Canadiana trivia to satisfy Canadians and enough basic content so that foreigners could get a good handle on how the Canadian government works. Our group of about 30 was split roughly 50/50 foreigners and Canadians. It also stirred up an occasionally dormant feeling of pride and awe about our dysfunctional government (The Senate felt underused and pretty much useless – even in person). What is really great is that you can even get a tour of the heart of a democracy. I can't speak for all nations but I know that in England, the US and Germany you can not get full-fledged tours of the legislative sections of the government. The whole tour took over an hour to complete (not including gift shop time) and you can also get tours of the East and West Block if you desire. Bottom Line: Make Parliament Hill a stop on any tour of Ottawa. And Canadians: I think everyone should see our government centre at least once.
Canadian War Museum (www.warmuseum.ca)
The new Canadian War Museum is billed by Ottawa Tourism as "Ottawa's new must-see destination" and I don't disagree. Anyone who is in Ottawa should check this new museum out, pay respect to Canada's vets and marvel at how a country with a small population could have had a hand in so many global events. The museum opened up in May 2005 on the 60th anniversary of the end of WWII, after moving out of embarrassingly small digs (a converted streetcar barn) in central Ottawa. The new location is about a 30 – 45 minute walk from the Parliament buildings. The theme of the building is "regeneration" and it is constructed out of glass, steel and concrete in a way that doesn't upstage the visuals of the museum. The museum doesn't take a decidedly pro or anti-war stance, endeavoring to report the facts and illustrate the role Canada has played in many international conflicts. There are numerous veterans who have volunteered to walk around the exhibits giving enlightening comments. That fact alone makes it worth a visit before the men who fought in WWII have all died.
The museum is split up into five galleries:
Battleground Wars on Our Soil – Earliest Times to 1885. This exhibit has warfare from earliest Canada to 1885, including the French and British battles over Canadian land, the Plains of Abraham and the War of 1812. In an interesting exhibit the museum goes so far as to say: if the Canadian and British forces hadn't won the Battle of 1812, Canada would currently be part of the United States, which of course is true but not politically correct. There was also a sequence of great exhibits about the US/Canadian battles that was a highlight.
For Crown and Country – South African and First World Wars 1885 – 1931. This exhibit looks at wars in South Africa and documents Canada's coming of age in WWI. WWI was a major turning point for Canada in which its performance on the battlefield played a large measure in securing its nationhood separate from Britain. For someone like me who has been to the WWI battlefields in Ypres, Belgium and Vimy Ridge, France, this gallery was still an impressive monument to an army that was one of, if not the most effective force in WWI.
Forged in Fire – The Second World War 1931 -1945. Canada was one member of the Allied forces during WWII and a key ally to Britain in the early days of the war. This gallery hits the highlights of Canada's involvement in Italy, D-Day and the Atlantic where Canada had the third largest navy in the world by 1946 (including two aircraft carriers – the HMCS Warrior and HMCS Magificent).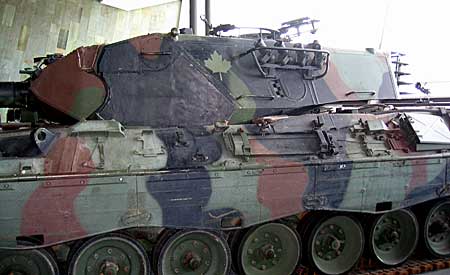 A Violent Peace – The Cold War, Peacekeeping and Recent Conflicts, 1945 to Present. This gallery explores Canada's most well-known contribution to international conflicts, the modern peacekeeper. However, there are also interesting exhibits on Canada's participation in the Korean War and Canada's status as a nuclear power for over 30 years, when Canadian fighter jets were stationed with nuclear warheads.
The LeBreton Gallery – This gallery was a great way to end a visit. In a hanger-like structure under the main galleries, the Canadian War Museum displays one of the most comprehensive collections of military vehicles, artillery, uniforms and aircraft in the world, each with an informative display beside it. Check out the CF-101 Voodoo fighter, Canadian tanks from WWII to present, a WWII German Panzer and Russian Tank, UN Peacekeeping vehicles and Afrika Korp transport vehicles. This gallery is a definite must see.
Bottom Line: The Canadian War Museum is now a place of remembrance, pride and sadness. I would suggest any visitor and especially any Canadian to visit this museum and remember Canada's military history.

MaxPower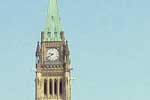 A Visit to a Nation's Capital
by MaxPower
Published on July 1st, 2005