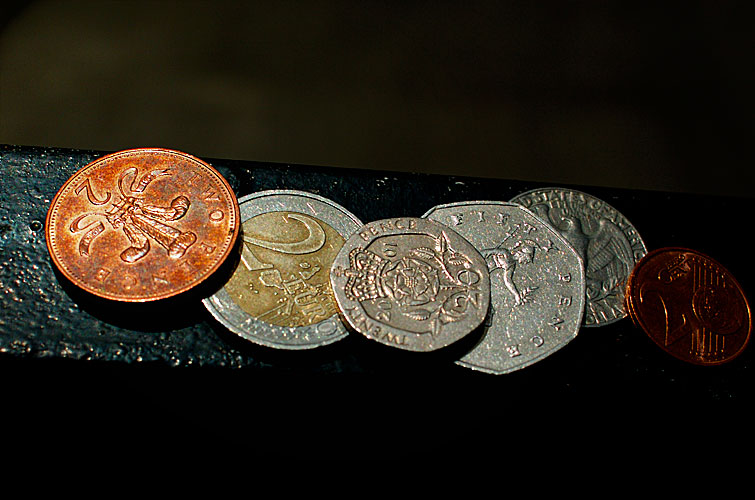 An Interview with Anthony White
In a previous article R4NT readers were introduced to The Money Series by Australian artist Anthony White. The Money Series is what I call 21st century conceptual art. Art for a reason, art as an investment and art with a subtle subversive implication on the financial reasons people like to collect art. I personally bought a piece of The Money Series (a US$ piece) based on my appreciation for the concept and the harmonization between the concept and the medium for selling – in this case the internet. The Money Series would likely not have been feasible as few as 15 years ago and Anthony White would have definitely not have the international following that he does. R4NT had a chance to conduct an interview with Anthony to get a little bit of the artist perspective on the series and art in general.
R4NT: The Money Series is an interesting and exciting concept. I'd like to call it 21st century conceptual art. How would you explain the overarching concept?
Anthony White: It is meant to look at the relationship between money and art. It also highlights that some people paint and sell art for financial gain and not just visual beauty. As an emerging artist it is satisfying seeing my prices go up in relation to my sales which is essentially how the art market is meant to work.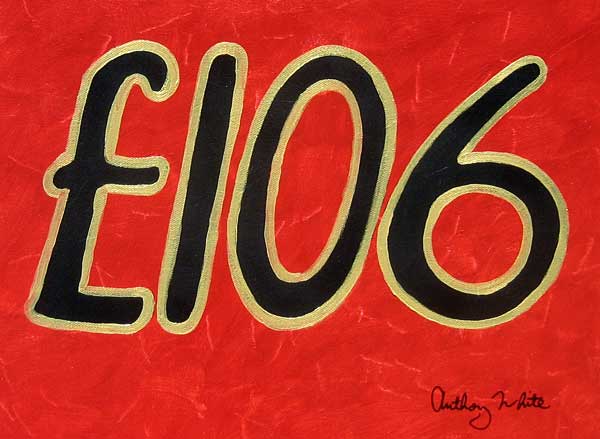 R4NT: Could The Money Series have been a success without the internet or is the internet a fundamental part of the artistic process?
AW: The internet is a fundamental part of The Money Series and the artistic process. It would not work without the internet. If you want internet immortality you just have to buy one of my paintings.
R4NT: Do you market your art solely on the internet or do you do traditional galleries/shows as well?
AW: I have exhibited in a couple of galleries in Yeppoon (the artist's hometown in Australia) but I don't bother anymore. Yeppoon is a small town of about 12,000 people and does not have a big tourist trade. Local people who are interested in my work have seen it many times or have already bought some. I am interested in having an art exhibit in New York or London not for the purpose of selling more artwork but rather to catch up with the people who have bought my work.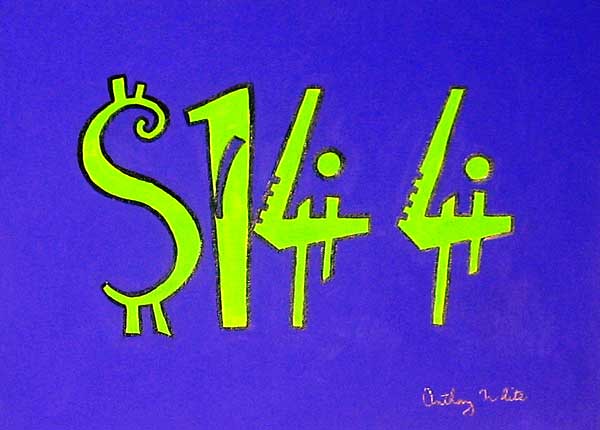 R4NT: On your website you have a link to what you call the Art Exchange on which you have the following quote: "In order to have a strong primary market you must also have a strong secondary market. History is won and lost on the secondary market." Did that concept help you create The Money Series?
AW: Yes. I always wanted my artwork to be a good investment.
I have spent a lot of time studying artists who are making a good living out of art. To do this you have to have sales. What I found is that the artists who were selling a lot of art always had a strong secondary market and even better if their art was proving to be a good investment. No one wants to wait for the artist to die first. It needs to be a good investment in a reasonable timeframe. When someone makes a good investment they like to brag and this is the best form of advertising.
That concept created the "Art Exchange" page on my web site. I am the only artist I know of who is willing to help people resell artwork they have bought off me free of charge. I am also the only artist I know who publishes the resale price of my artwork on the same page.
R4NT: Can you explain how your background in finance contributed to the idea for the series?
AW: At the time I was working as a stockbroker and on the weekends I was renovating some cheap real estate. Basically I was thinking money seven days a week. My girlfriend was a bit concerned about this and thought that I should get back to art as a way to put some balance back into my life. Unfortunately the Money Series was the first art to come out.
R4NT: It has become clear from the resale market on eBay and the Art Exchange that your art has become popular, however, as the artist you must be of two minds about the success of The Money Series "investors" as you don't profit directly from resales. Is this something you anticipated?
AW: I have a love hate relationship with a few people regarding the resales of my work. People making money from my art really is part of the art.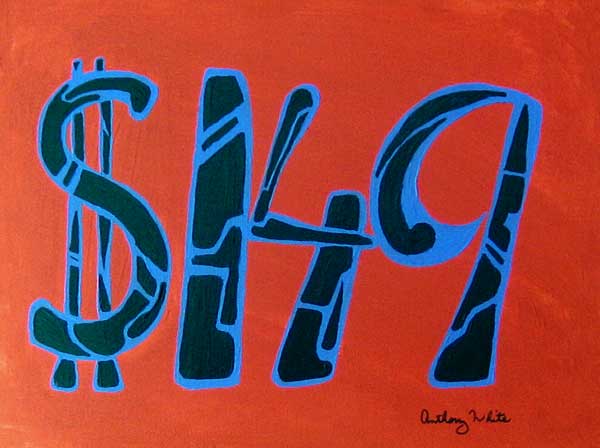 R4NT: The world of art can be cut-throat, has being a full time artist lived up to your expectations?
AW: I think what makes the art world "cut-throat" is that most art galleries owners lose a lot of money and discover that owning an art gallery is not as much fun as they thought it would be.
The internet and eBay etc have been the best thing for artists like myself because I can now avoid dealing with grumpy gallery owners. My customers know a lot more about me because it is a lot easier to interact with me via email and my web site. I believe that the artists of tomorrow are the ones who are building a web presence today.
R4NT: You are painting from a small (and beautiful looking) town in Australia. Does your surroundings inspire your choice of paint or colours?
AW: Yeppoon does not inspire my choice of paints or colours but I do enjoy painting from my balcony overlooking the Yeppoon township and Keppel Bay. A glass of wine really helps as well.
We at R4NT would like to thank you for taking the time to answer the questions and wish you success in the future.

MaxPower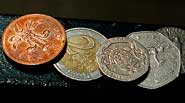 An Interview with Anthony White
by MaxPower
Published on June 10th, 2007
Website: