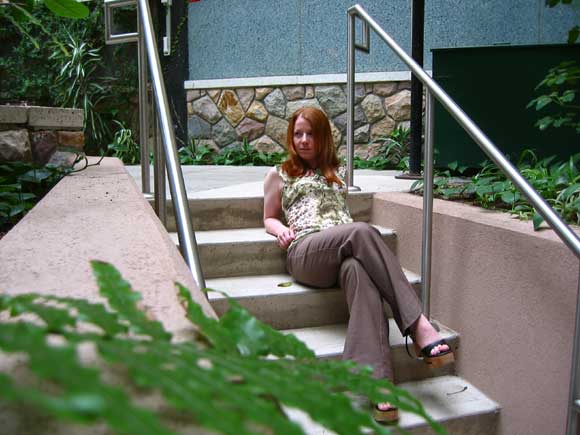 Tourist vs. Traveler
I wake up to the sound of birds chirping, chickens clucking someone using aluminum pots and the everyday sounds of India outside my door. My travel companion Jessica says to me. "Hey lets be tourists today". The thought being odd to me. You mean as opposed to every other day? She asks what I mean. "Are we ever not tourists?" "Of course! We are travelers!", is her highly enthusiastic response. I am not one to dismiss an opportunity discuss a matter of principal, one that defines my nature if only for a moment, one of complete futility and utter unimportance. "Travelers or tourists, what's the dif, and who really cares"?
There is a saying amongst backpackers, who frequently refer to themselves as travelers. "If you have money and no time you are a tourist, if you have time and no money you are a traveler". Hogwash, I say.
I understand the resistance to being a tourist. No one wants to be associated with the over 50 generation who shows up on a bus to go trinket shopping in a market. Or that has a tour leader point out the key points in a church, monastery, ruin, castle or any tourist destination. Worse yet there is a complete disinterest in being perceived as wealthy and prosperous when you are living on $5 a day out of a backpack. I dislike being considered wealthy because I am white. My belief is that this is the primary reason to not want to be a tourist.
Jessica lets me know what she is thinking. "I meet the people, I want to understand the culture, I live close to the people… I provoke her. "You are a trend setter you are broadening the definition, but you still are one". This unacceptable to her "…I take trains and buses and not taxis. I eat in small local restaurants." she continues. "Yes but you know where the buses and restaurants are because of your guide book, and your tour guide is the lonely planet. You can't even interact with that. It is also the same info that everyone else gets. In fact we are mildly a step up on someone who has read the book cover to cover. The step up is that we have seen it with our own eyes. Besides we are in the same tourist destination, we see the tourists we do not want to become."
She is a little disappointed, but she knows what I am getting at. "So we are tourists then" she says. "Yep", I say "and damn good ones too. We bring a little piece of us where ever we go. We take pride in who we are and want to share a little of our country with people we meet. We have put this journey at the top of our priority list. We have sacrificed and will pay for this trip long after we return home. We have no lucrative career to return to. We seek knowledge and understanding and most of all want to learn". She jumps at this "thats what I mean we are different!"
We are not though. We are different people doing the same action differently. Blue tops (a reference to old ladies who mistakenly dye their hair blue- an unknown phenomenon to me) bring who they are. If they were at home they would be trinket shopping anyways. They are being themselves. We bring ourselves.
"So what is a traveler?" She asks. Well, in my opinion this is someone who goes somewhere for a greater purpose, to understand cultures. They seek understanding for the first time. They study the language to become an intricate part of the society. Travelers don't carry cameras tourists do. Travelers are too busy.
However, I will tell you a secret. This is what wakes me up in the morning. This is what makes each day exciting for me. I get to choose what to do with each day. I search for the adventure of my generation. The merging of the people of the world. I want to hear stories, learn histories, experience cultures, understand languages, religions and both modern and ancient technologies. I search for smiles even amongst the crying. I hope to use this understanding to help people become aware of what it is we are doing on this planet. Living. The human ecosystem. I search for honesty. Well intentioned and inspired as I might consider myself. I am still a tourist. I take photos of everywhere I go. I visit the beautiful places. I see some of the other places, I meet locals but I can not become a one. I will only understand what they tell me. I only see what they want me to see. Hear what they want me to hear.
Jessica is one of those exceptional people in the world who is open minded enough to listen to something from someone as opinionated as me. She has sunk into contemplation in the wicker chair in the corner of the room. The morning sun warming the side of our little hut in the jungle. Streams of brilliant sunlight slipping through the cracks in the wall. Incense smoke hazy and sunlit in the room from the small shrine outside casts a warm pleasant aroma in the room.
"Cool", she smiles her playful smile, "Wanna go take some photos?"

Steve McGrath

Tourist vs. Traveler
by Steve McGrath
Published on May 1st, 2003