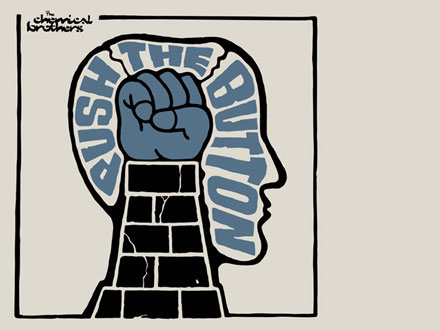 The Chemical Brothers
From the classic dance floor and radio hit "Block Rockin' Beats" to the Brit-pop influenced gem "Let Forever Be", The Chemical Brothers have been pushing the boundaries of pop and electronic music for well over a decade. The dynamic duo of Tom Rowlands and Ed Simons has taken dance music to a whole other level through their studio innovation and inspiring collaborations with a wide array of performers including: Noel Gallagher, New Order's Bernard Sumner, Beth Orton, Wayne Coyne of The Flaming Lips, Mercury Rev and countless others.
After an almost three year hiatus, The Chemical Brothers are set to release Push The Button, the follow-up to 2002's full-length studio album Come With Us, on January 25th. In true Chemical Brothers' fashion, Push The Button, showcases the guys penchant for exciting collaborations and awe-inspiring beats. The first single "Galvanize" lays vocals from hip-hop luminary Q-Tip (A Tribe Called Quest) over a Middle Eastern-flavored music bed. Other noteworthy collaborations include long-time co-conspirator Tim Burgess on "The Boxer", Kele Okereke from art-rock newcomers Bloc Party and up-and-coming UK band The Magic Numbers. In addition, Anwar Superstar (Mos Def's brother), steps in as MC on the edgy "Left Right". To get you pumped for the album's release I have included audio and video streams for "Galvanize" below.
Audio Streams
Video Streams
Also be sure to enter the Push The Button contest running now and you could win a limited edition Chemical Brothers iSkin or a complete home recording studio featuring state of the art equipment handpicked by Tom and Ed.
http://www.astralwerks.com/chemical/contest/

Astralwerks

The Chemical Brothers
by Astralwerks
Published on February 1st, 2005